Back to Recipe
Print Recipe
Air Fryer Pork Belly Recipe
---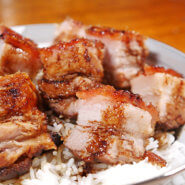 Prep time: 15 Minutes
Cook time: 1 Hour
Total time: 1 Hour & 15 Minutes
Serves: 6
Ingredients
1 kg (2.2 lb) pork belly
2 tsp salt
Seasoning
2 tsp brown Sugar
1 tsp five spice
1 tsp salt
½ tsp onion powder
½ tsp garlic powder
¼ tsp pepper
Soy Glaze
2 tsp ginger
2 Tbsp honey
4 Tbsp brown sugar
6 Tbsp soy sauce
½ tsp chili flakes
---
Instructions
Using paper towel, pat the pork belly dry.
Score the top of the pork belly in a criss-cross pattern. Rub the salt into the top of the pork belly.
Combine the seasoning ingredients in a small bowl.
Rub the seasoning into the bottom meat part of the pork belly.
Preheat the air fryer to 200°C (390 °F).
Place the pork belly into the air fryer basket and bake for 30 minutes.
Lower the temperature to 180°C (350 °F) and bake for 30 minutes longer.
Meanwhile, in a pot, mix the glaze ingredients and bring them to a boil.
Once the top of the pork belly is crispy and cooked, slice into serving size pieces and pour the glaze over the top.
Serve & Enjoy.
---
Recipe Tips
If you have a larger piece of meat than the recipe recommends, you may need to cook the meat for longer. Using a meat thermometer will help ensure you cook the pork belly correctly. I recommend getting the internal temperature to roughly 75°C (170°F).
I recommend using a sharp knife to cut the pork belly. Placing the crackling face down on the chopping board will help prevent squashing the meat as you cut through it.
You can leave the chili out of the glaze if you do not like your food to be spicy.
I am using a 7.2L (6.6 qt) air fryer, so you may need to cut your pork belly in half to make it fit into your air fryer. A smaller air fryer might also cook your meat faster.
Did you make this recipe?
We want to see! Tag
@cookingperfected
on Instagram or use the hashtag
#cookingperfected
so we can find you!
---