Back to Recipe
Print Recipe
Corn Dogs Recipe
---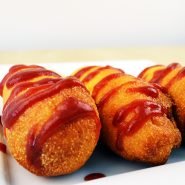 Prep time: 10 Minutes
Cook time: 5 Minutes
Total time: 15 Minutes
Serves: 4
Ingredients
8 hot dogs
1 cup plain flour
1 tsp salt
1 cup cornmeal
4 Tbsp sugar
2 tsp baking powder
2 eggs
1 cup milk
Oil for cooking
Wooden skewers
---
Instructions
Mix the dry ingredients until combined.
Add the eggs, milk and mix until there is little to no lumps left.
Pour the mix into a tall glass for easy coating.
If deep-frying, start preheating the oil to 175°C (350°F)
Insert a skewer into each of the hot dogs.
Coat the hot dogs in the batter mix one by one then add to either a deep fryer or shallow pan.
To Deep Fry
Deep fry at 175°C (350°F) oil. Cook for about 5 minutes, turning them if required.
Once they are completely golden brown remove and drain on some paper towel.
To Shallow Fry
Heat the frypan until it is nice and hot.
Place the hot dogs into the pan and cook for about 1-2 minutes on each side or until golden brown.
Once they are completely golden brown, remove from the oil and drain on some paper towel.
---
Recipe Tips
You can make mini-corn dogs that are great for parties or platters. To do this just cut the hot dogs into thirds or quarters and use toothpicks instead of the skewers.
A great way to easily coat the hot dogs is to fill a drinking glass with the batter and then merely dip the hot dogs into the glass.
If you scale down the recipe, you may need to use a half an egg, so make sure you use half an egg and not put a full one into the mixture. Otherwise, your mix will be runny and very hard to use.
You can adjust this corn dog batter recipe to make it more to your liking. Adding mustard powder and other spice and herbs can significantly change the overall taste of the corn dog hot dog.
If you plan on baking these in the oven, you should make note that these will not come out as well as the batter may slide off of the dog.
Did you make this recipe?
We want to see! Tag
@cookingperfected
on Instagram or use the hashtag
#cookingperfected
so we can find you!
---