Back to Recipe
Print Recipe
Cornflake Chicken Recipe
---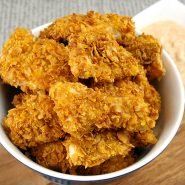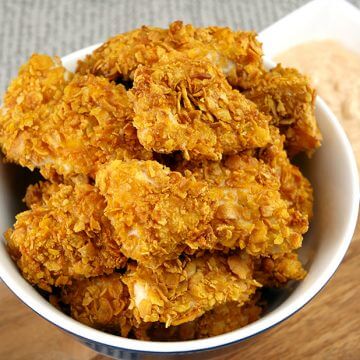 Prep time: 20 Minutes
Cook time: 15 Minutes
Total time: 35 Minutes
Serves: 4
Ingredients
500 g (1.1 lb) chicken breasts, cut into strips
2 cups corn flakes, crushed
1 cup plain flour
2 eggs
---
Instructions
If baking, preheat an oven to 180°C (350°F)
In a bowl, add the flour and season lightly with salt and pepper. Mix slightly.
Add the eggs to a separate bowl and beat together.
Lastly, add the crushed cornflakes to a third bowl.
One by one, first coat the chicken in the flour, then into the eggs and lastly in the cornflakes.
The chicken should be well covered in the cornflakes, once done, put to the side.
Repeat until you're out of chicken.
Place on a lightly greased baking tray and bake for 15 minutes or until the chicken is cooked all the way through. Turning halfway through cooking will help guarantee they will cook evenly.
Serve & Enjoy.
---
Recipe Tips
You can make this recipe gluten-free by changing the plain flour to a gluten-free plain flour or using cornstarch. You will also need to ensure that your cornflakes are gluten-free.
Depending on how thick or thin you cut the chicken, the cooking time will vary. Keep this in mind to avoid under or overcooking your chicken.
A meat thermometer comes in handy when determining if the chicken is cooked or not. Just make sure the internal temperature of the chicken is above 75° Celsius (165°F).
You can add some parmesan cheese to the crumb for a cheesier and much different flavored crumbing.
Double coating is an efficient way of getting a thicker batter on the chicken. Once you have finished the first coating merely repeat and you should end up with an extra thick crust.
Adding some herbs such as chives or Italian herbs into the crumb mix is a great way to get some extra flavor into the chicken.
Chicken thigh is an excellent alternative to using chicken breasts.
You can easily fry the chicken rather than using the oven. I recommend deep frying for the best results, but a shallow fry will work just as well.
Did you make this recipe?
We want to see! Tag
@cookingperfected
on Instagram or use the hashtag
#cookingperfected
so we can find you!
---