Back to Recipe
Print Recipe
Air Fryer Roast Potatoes Recipe
---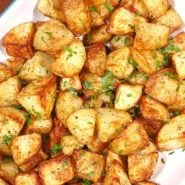 Prep time: 15 Minutes
Cook time: 20 Minutes
Total time: 35 Minutes
Serves: 4
Ingredients
1 kg (2.2 lb) potatoes, cut into large chunks
1 Tbsp olive oil
1 tsp garlic powder
1 tsp salt
1 pinch of pepper
Extra Herbs (Optional)
1/2 tsp rosemary, dried
1/2 tsp oregano, dried
---
Instructions
Preheat the air fryer to 180°C (350°F). It will take roughly five minutes to heat up.
In a large bowl, toss the potatoes in the oil, garlic powder, salt, pepper, rosemary, and oregano.
Place the potatoes into the air fryer basket.
Cook for 20 minutes. Halfway through cooking, flip the potatoes.
Season to taste with salt and pepper.
Serve & Enjoy.
---
Recipe Tips
You can shake the air fryer basket or flip the potatoes using tongs or a spoon. I find flipping the potatoes is the easiest way to get an even cook.
Preheating the air fryer is optional, but I highly recommend preheating it to help achieve a better and faster cook.
My roast potatoes turned out fine without any extra preparation, but if you feel the need, you can par-cook the potatoes before cooking them in the air fryer. Alternatively, you can soak them in water for 30 minutes.
Pat the potatoes dry before air frying for the best results.
You can peel the potatoes if you do not like potato skins. However, I prefer to leave the skin on as it adds flavor and helps the potato go crispy.
For more flavor, you can add more seasonings such as thyme, oregano, paprika, and so much more.
Did you make this recipe?
We want to see! Tag
@cookingperfected
on Instagram or use the hashtag
#cookingperfected
so we can find you!
---