Using the air fryer is the perfect way to achieve some of the most delicious roast potatoes ever.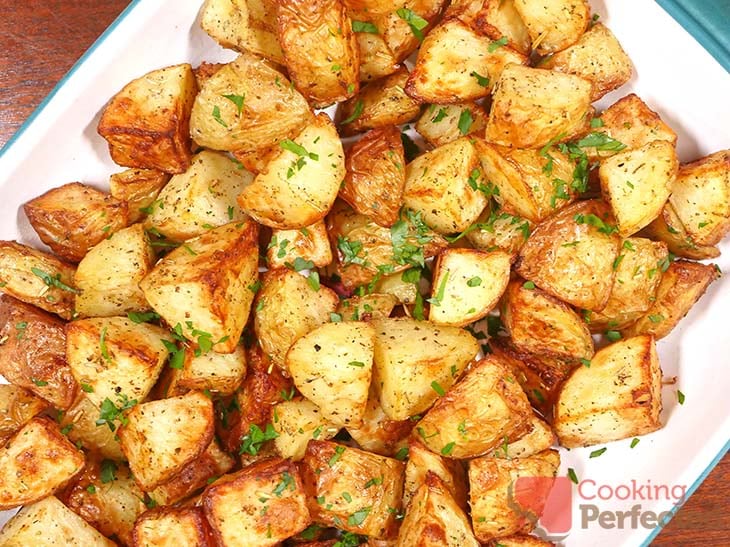 These potatoes cook to have a deliciously crispy exterior and a tender inside. The extra touch of oil, garlic powder, herbs, and seasonings add a ton of flavor. Of course, you can always tweak the seasonings to be more to your liking.
A single batch of this recipe will cook enough food to feed roughly four people. I highly recommend that you serve the potatoes alongside another meal, such as a roast. Otherwise, I recommend doubling the recipe if you are not cooking anything extra.
For something a little different, you can use a slow cooker for cooking some baby potatoes. The cooked baby potatoes are deliciously tender and are coated in a gorgeous butter and garlic sauce. Certainly, worth a try if you have a slow cooker.
What to Serve Alongside Roasted Potatoes?
Plenty of meals go great with roasted potatoes, but nothing beats a good roast pork or roast beef. If you have a spare air fryer, you can cook a roast in that; otherwise, a traditional oven will work just fine.
You can serve these air-fried roast potatoes alongside a wide variety of side dishes, such as creamed spinach or cauliflower cheese sauce. Alternatively, a simple salad such as lettuce, tomato, cucumber, and red onion is an excellent lighter option.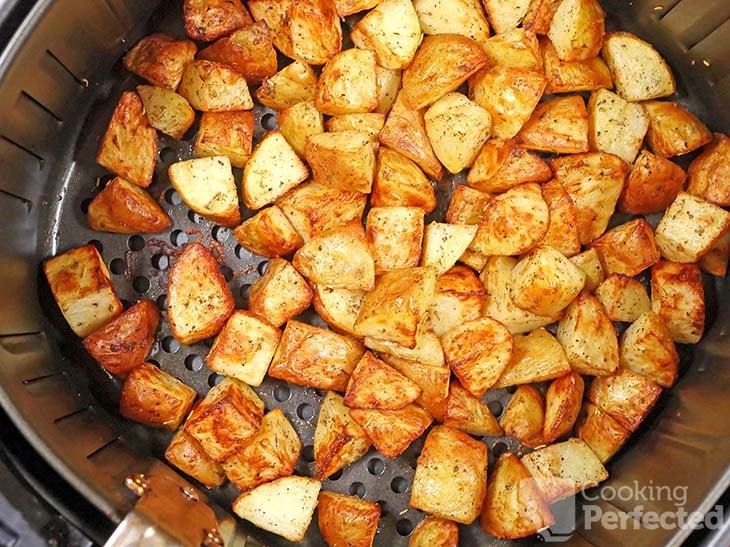 Chicken schnitzels are also the perfect match for roasted potatoes. However, I recommend cooking them separately from the potatoes, so you may need another air fryer or a decent way to keep food warm. Homemade chicken parmigiana is also a pretty good option if you have some spare time to make them.
I love to dip the potatoes in some sauces, with my favorite being mayonnaise. However, other sauces such as tomato sauce, BBQ sauce, ranch dressing, gravy, and blue cheese sauce are great choices. Feel free to let us know your favorite sauce that you like to eat with your potatoes.
Adjusting the Recipe
Adding more herbs and spices is the easiest way to add more flavor to the potatoes. I kept things simple for this recipe, but other spices and herbs such as paprika, cayenne pepper, parsley, basil, cajun seasoning, Italian seasoning, or chili powder work great with potatoes. However, be careful not to go overboard as they can all overpower other flavors very quickly.
Using a different oil or fat on the potatoes is a great way to change the flavor. For example, you can replace olive oil with butter, lard, bacon fat, or even regular cooking oil. These will all impart a different flavor to the potato. However, be careful using oils with a low burning point as they may spoil your food.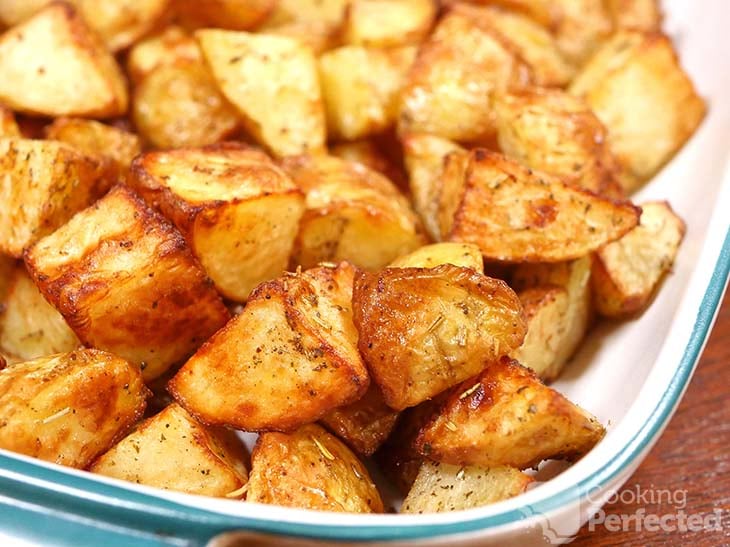 I use garlic powder in this recipe, but crushed garlic is an excellent alternative. I find either option will work great, but nothing beats the flavor and smell of freshly crushed garlic.
Lastly, you can add a little bit of cheese over the top of the potatoes for some cheesy roast potatoes. I recommend sticking to parmesan cheese, but for a cheesier experience, cheddar and mozzarella will both work great. Again, I recommend adding the cheese for the last ten minutes of cooking.
Best Potatoes for the Air Fryer
The type of potato you use is entirely up to you, and you should get decent results no matter what you use. However, I get the best results with varieties such as Creme royale potatoes, Yukon Gold potatoes, or even Desiree potatoes.
I find roast potatoes are best to cut into large chunks, but you can cut them smaller if you want. You may need to adjust the cooking time if the potato pieces are much smaller than the recipe's size. Use a skewer or knife to check whether the potatoes are ready to eat.
The recipe below will take you through all the steps to baking some of the most delicious roast potatoes in the air fryer. If you have any suggestions, please do not hesitate to leave a comment at the bottom of this page.
Air Fryer Roast Potatoes Recipe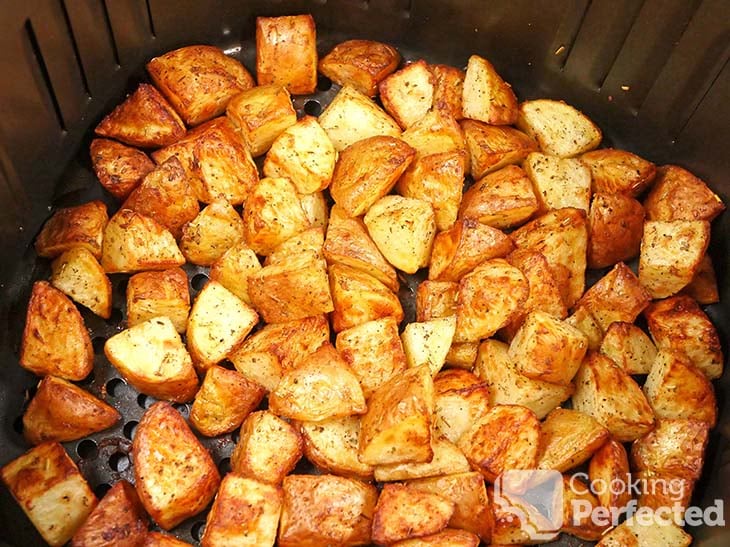 Ingredients
1 kg (2.2 lb) potatoes, cut into large chunks
1 Tbsp olive oil
1 tsp garlic powder
1 tsp salt
1 pinch of pepper
Extra Herbs (Optional)
1/2 tsp rosemary, dried
1/2 tsp oregano, dried
Instructions
Preheat the air fryer to 180°C (350°F). It will take roughly five minutes to heat up.
In a large bowl, toss the potatoes in the oil, garlic powder, salt, pepper, rosemary, and oregano.
Place the potatoes into the air fryer basket.
Cook for 20 minutes. Halfway through cooking, flip the potatoes.
Season to taste with salt and pepper.
Serve & Enjoy.
Recipe Tips
You can shake the air fryer basket or flip the potatoes using tongs or a spoon. I find flipping the potatoes is the easiest way to get an even cook.
Preheating the air fryer is optional, but I highly recommend preheating it to help achieve a better and faster cook.
My roast potatoes turned out fine without any extra preparation, but if you feel the need, you can par-cook the potatoes before cooking them in the air fryer. Alternatively, you can soak them in water for 30 minutes.
Pat the potatoes dry before air frying for the best results.
You can peel the potatoes if you do not like potato skins. However, I prefer to leave the skin on as it adds flavor and helps the potato go crispy.
For more flavor, you can add more seasonings such as thyme, oregano, paprika, and so much more.
Nutrition Information
Serving Size: 256g (9 oz)
Servings Per Recipe: 4
Calories Per Serving: 224
Saturated Fat: 0.5g
Trans Fat: 0g
Dietary Fiber: 6g
Sugars: 2g
Cholesterol: 0mg
Sodium: 597mg
Protein: 5g
The information above is an estimate generated by an online nutrition calculator.
More Air Fryer Potato Recipes
Below are a couple of potato dishes that cook perfectly in the air fryer. They are both delicious, so I recommend giving both a try.
The air fryer is fantastic for cooking some of the best-tasting baked potatoes. The skin cooks to be crispy, and the inside is deliciously fluffy. I recommend topping with your favorite cheese and some crispy bacon.
I also love cooking some Tater Tots in the air fryer as they always cook to be deliciously crisp. The Tater Tots will go great with another meal, such as a delicious roast.
I hope that you love these air-fried roasted potatoes as much as I do. If you have some feedback, please do not hesitate to leave a comment below.