I love using my air fryer to cook some of the most delicious chicken parmesan ever.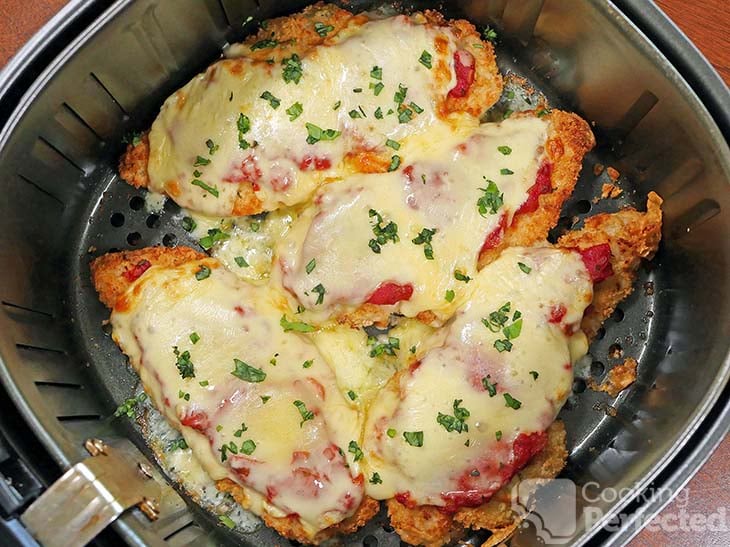 Once you take a bite out of the chicken parmesan, it will be hard not to go back for even more. The crispy crumbed chicken, flavor-packed tomato sauce, and gooey cheese are a combination that even the fussiest eaters will find hard to resist.
The classic chicken parmesan goes by different names. For example, in Australia, it is often to referred to as a parmi, parma, or even parmy. In North America, it is sometimes called a chicken parm. But, whatever you call it, it is still the same delicious dish.
You should get roughly six servings from this recipe, which equals roughly one chicken parmesan per person. I highly recommend that you make some side dishes to go with the chicken. I have a few suggestions further down the page.
If a chicken parmesan does not take your fancy, you can always try out regular chicken schnitzels. Our recipe is very simple and completely homemade. I highly recommend giving it a try if you love crumbed chicken.
For something different, you can cook chicken parmesan in the slow cooker. Of course, it is not as crispy as the deep fryer or air fryer version, but it is still certainly very delicious.
Serving Ideas for Chicken Parmesan
My favorite side dishes that I love to serve with air-fried chicken parmesan are some delicious thick-cut chips and a simple green salad. This combination is super popular in Australia but might not be in other countries.
A popular way to serve the chicken is over the top of some freshly cooked pasta. I love to add some of the leftover marinara sauce to the pasta for a bit of extra flavor. Also, a bit of chopped basil over the top will complete the dish.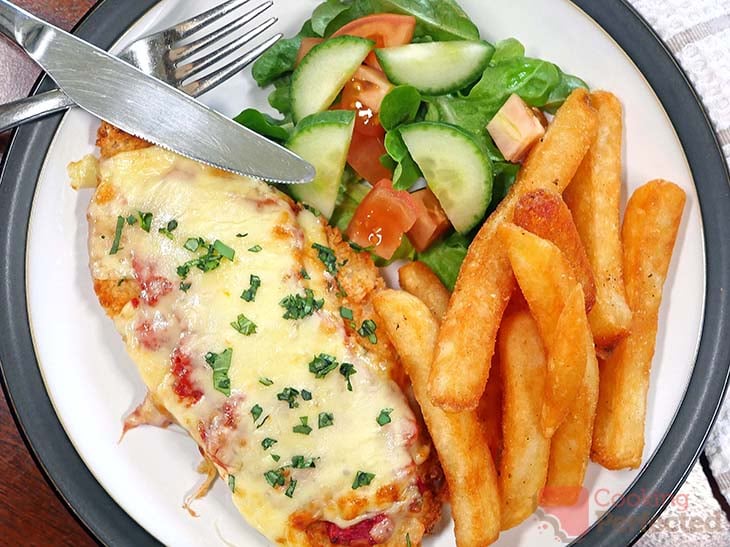 You could make a delicious burger featuring the chicken parmesan inside of it. I would add some extra ingredients such as some lettuce, tomato, red onion, and mayonnaise. I have not tried it, but it is a combination that will certainly work very nicely.
Another combination this dish will work with is rice and vegetables. I love to cook the rice in either a rice cooker or the Instant Pot. For the vegetables, some steamed broccoli, green beans, and cauliflower will work a treat.
Adjusting the Ingredients
A great way to shake up a chicken parmesan is by changing the cheese we use on top. For example, you can replace the mozzarella with cheddar cheese, swiss cheese, or another cheese of your choice.
You can easily add different ingredients into the sauce for a completely different topping on the chicken. A popular addition is some pineapple and ham for Hawaiian-styled chicken parmesan.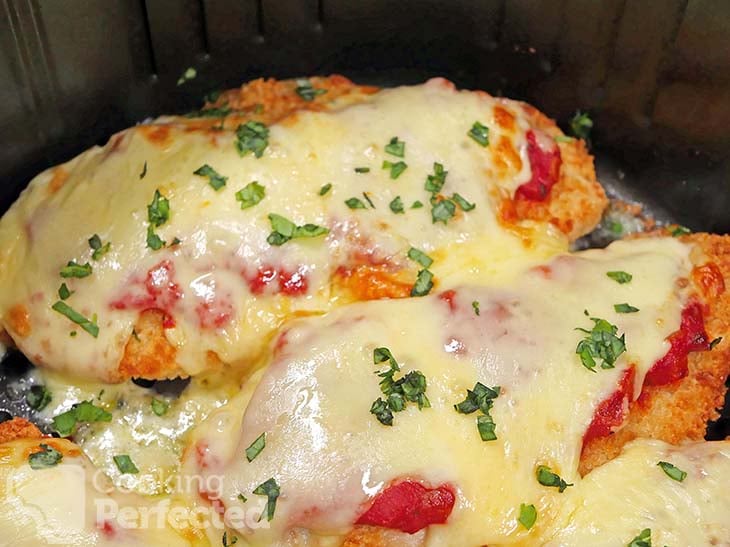 You can make the sauce from scratch using our recipe, or you can buy some store-bought marinara sauce. Both will yield excellent results, so pick whatever works out best for you. I prefer to keep things as homemade as possible.
I use panko breadcrumbs for the chicken, but you can easily replace it with a different type of crumb. Regular breadcrumbs, gluten-free breadcrumbs, almond flour, or even shredded coconut will work nicely as a crumb on the chicken.
The recipe below will take you through all the steps to cooking the perfect chicken parmesan in the air fryer. If you have some feedback, please do not hesitate to let us know.
Air Fryer Chicken Parmesan Recipe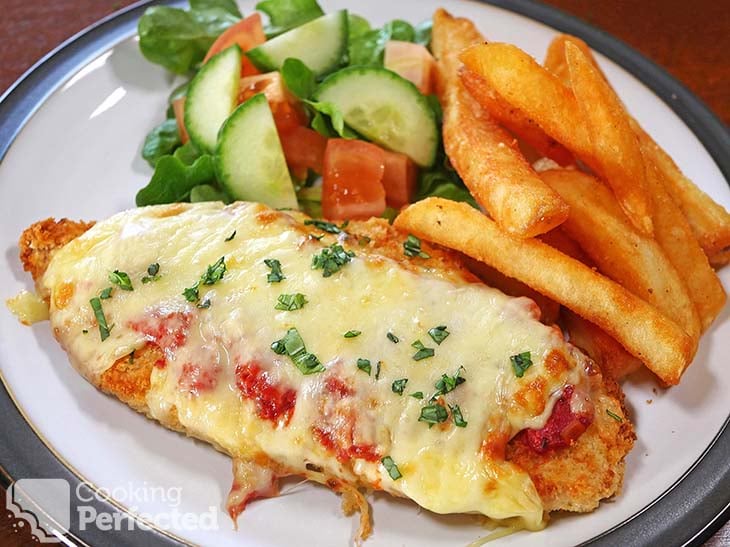 Ingredients
750 g (1.7 lb) chicken breasts, butterflied
100 g (3.5 oz) plain flour
1 tsp onion powder
2 tsp garlic powder
1 tsp salt
1/2 tsp black pepper
1 egg
180 g (6.3 oz) panko breadcrumbs
Sauce
1 tsp oil
1 onion, chopped
2 tsp garlic, crushed
400 g (14.1 oz) tomato passata
1/2 tsp oregano
1/2 tsp basil
1 tsp sugar
Topping
250 g (8.8 oz) mozzarella cheese, sliced
50 g (1.8 oz) parmesan cheese, shredded
Instructions
Sauce
In a pot over medium heat, add the oil.
Once the oil is hot, add the onion and garlic. Cook until the onion is translucent.
Next, add the passata, oregano, basil, and sugar. Bring to a simmer, then put to the side.
Chicken
Pound out each piece of chicken breast so they are an even thickness.
In a bowl, combine the flour, onion powder, garlic powder, salt, and pepper.
Crack the egg into a separate bowl and beat slightly.
Lastly, add the breadcrumbs into yet another bowl.
One by one, coat the chicken in the following order. First, coat the chicken in the seasoning mixture. Next, coat in the egg. Lastly, coat in the breadcrumbs. Repeat until you have coated all the chicken.
Preheat the air fryer to 200°C (390°F). It should take roughly 5 minutes.
Cook for 10 minutes, flipping halfway through.
Once the chicken is cooked, add a spoonful of sauce on top of each piece of chicken. Next, evenly add cheese over the sauce.
Cook for a further five minutes or until the cheese has melted.
Serve & Enjoy.
Recipe Tips
Placing the crumbed chicken into the fridge for a couple of hours will help the crumb stick better to the chicken.
You can lightly spray the chicken with a little bit of oil to get a better cook.
Do not stack or layer the chicken, as it will prevent the crumb from becoming crispy.
To ensure that the chicken is cooked thoroughly, I recommend that you use a meat thermometer. The thickest part of the chicken should reach at least 75°C (170°F).
Nutrition Information
Serving Size: 318g (11.2 oz)
Servings Per Recipe: 6
Calories Per Serving: 486
Amount Per Serving
Saturated Fat: 5.1g
Trans Fat: 0.2g
Dietary Fiber: 3g
Sugars: 4g
Cholesterol: 122mg
Sodium: 1114mg
Protein: 48g
The information above is an estimate generated by an online nutrition calculator.
More Air Fryer Recipes
There is a huge number of different meals that you can cook in the air fryer. Below are a couple of my favorite recipes that work perfectly in the air fryer.
The air fryer is great for cooking some frozen chicken nuggets to perfection. It takes just fifteen minutes, and the result is delicious. I highly recommend giving it a try.
Our seasoned chicken thighs are delicious, thanks to our incredible spice rub. The spice rub has a little bit of oregano, garlic powder, onion powder, and cayenne pepper. It is always a huge hit whenever I cook it up for friends and family.
I absolutely loved our air-fried chicken parmesan, and I hope that you do too. If you have any feedback, please do not hesitate to leave a comment below.