These air fryer caramelized bananas are one of the most delicious and easiest sweets I have ever tried.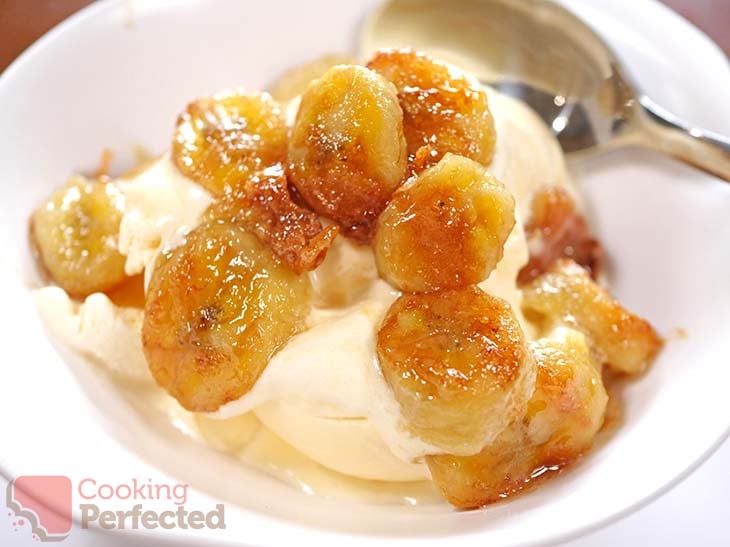 Once the bananas are ready to eat, they will have a delicious crunchy caramel on the outside but be soft on the inside. When you take a bite, you are greeted with flavors from the caramel and a ton of banana flavor. It is a delicious combination that will have you going back for seconds.
You will get roughly two to four servings out of a single batch of this recipe. However, it heavily depends on how you are serving the bananas. For example, if it is the main component of the meal, you are likely to get only two serves.
I recommend eating the caramelized bananas fresh as they will not last long in the fridge. However, if you have loads of bananas that need to be used, you can always consider freezing the bananas or making a loaf of banana bread.
Serving Ideas for Caramelized Bananas
The perfect way to serve these caramelized bananas is over the top of some delicious vanilla bean ice cream. You might want to allow the bananas to cool slightly; otherwise, they will melt the ice cream super-fast. The banana will also work great in a sundae.
If you make a homemade rice pudding, these caramelized bananas are a great way to elevate the dish with minimal effort. You can either top the rice pudding with bananas or simply mix them in. I highly recommend giving it a try.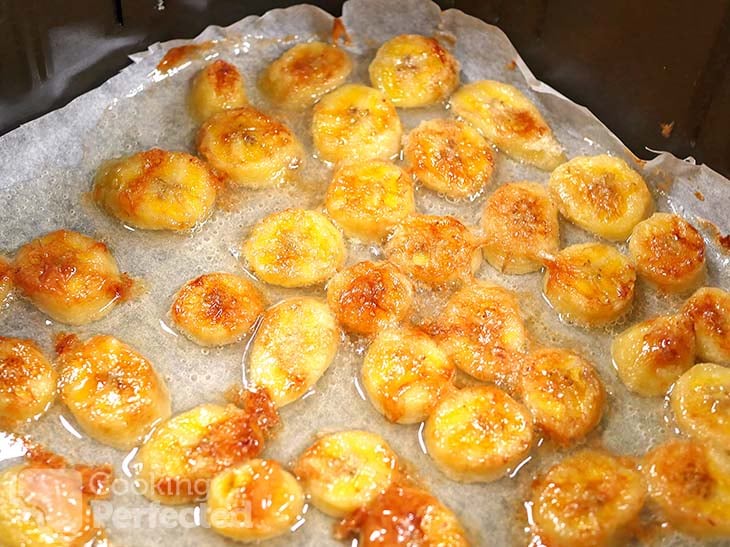 Another great way to serve the bananas is with some pancakes or waffles. I love topping the pancakes with the bananas, whipped cream, and chopped peanuts. It is a truly amazing combination.
You can serve the bananas with some homemade granola and vanilla yogurt for a delicious breakfast or dessert. If you do not have any homemade granola, then store-bought will work fine too.
Tweaking the Recipe
Different sugars will produce different outcomes. I typically use regular granulated sugar, but other sugars such as brown sugar or demerara sugar will work great. Pick whichever sugar you like the most.
In this recipe, I cut the banana into coin-sized pieces. However, you can instead cut the banana lengthways. Both methods will work great, so try the one you reckon will work best.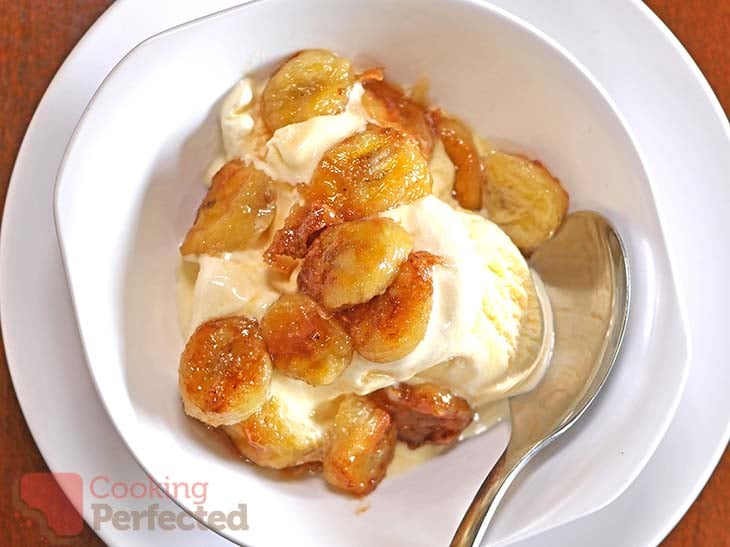 You can add a touch of cinnamon for a bit of extra flavor. Roughly a quarter of a teaspoon should be enough to flavor half a cup of sugar. You can also try adding other spices such as nutmeg.
Lightly spraying the banana with oil may help achieve better caramelization. I recommend using an oil without a strong flavor, such as vegetable oil. However, I do not think the oil is necessary.
The recipe below will take you through all the steps to cooking some caramelized bananas in the air fryer. If you have some feedback, please leave a comment at the bottom of this page.
Air Fryer Caramelized Bananas Recipe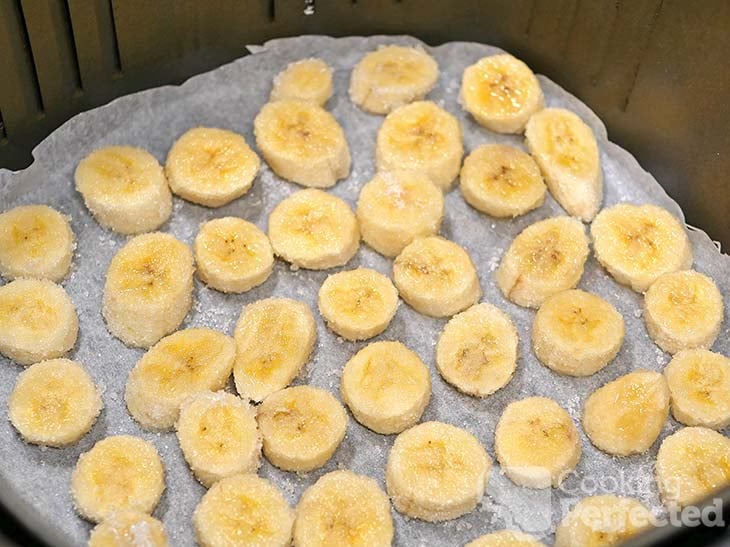 Ingredients
2 large bananas, cut into fat coin-sized slices
1/2 cup granulated sugar
Instructions
Preheat the air fryer to 200°C (390°F). It will take roughly five minutes to heat.
Line the air fryer basket with parchment paper.
In a small bowl, add the sugar. Roll each slice of banana in the sugar and place into the air fryer basket.
Cook for 8 minutes or until the banana starts to caramelize.
Serves & Enjoy.
Recipe Tips
To get both sides of the banana caramelized, you will need to flip them. However, the banana will likely be soft and difficult to flip, so it may be safer to leave it alone.
You can cut the bananas lengthways instead of into coins. You shouldn't need to adjust the cooking time either way.
Keep an eye on the bananas in the air fryer as sugar can quickly burn.
I highly recommend using parchment paper to reduce the likeliness of a messy cleanup.
Nutrition Information
Serving Size: 177g (6.2 oz)
Servings Per Recipe: 4
Calories Per Serving: 233
Amount Per Serving
Saturated Fat: 0.2g
Trans Fat: 0g
Dietary Fiber: 4g
Sugars: 43g
Cholesterol: 0mg
Sodium: 2mg
Protein: 2g
The information above is an estimate generated by an online nutrition calculator.
More Air Fryer Recipes
There are many more fruity recipes that you can cook in the air fryer. Below are a couple more recipes that I reckon you will love.
Cooking French toast in the air fryer is incredibly easy, and the result is absolutely delicious. I love topping the toast with a generous amount of berries and other fruits. My favorite combination is strawberries, raspberries, and banana.
You can bake apples in the air fryer and have them cook beautifully. You get a deliciously tender apple loaded with a flavor-packed filling. I highly recommend giving it a try.
These caramelized bananas cook perfectly in the air fryer for me, so I hope they cook perfectly for you too. If you have some feedback or recipe adjustments, please do not hesitate to leave a comment below.