The air fryer is the perfect way to cook bacon. It takes a few minutes and is easier and cleaner than cooking it in a frypan.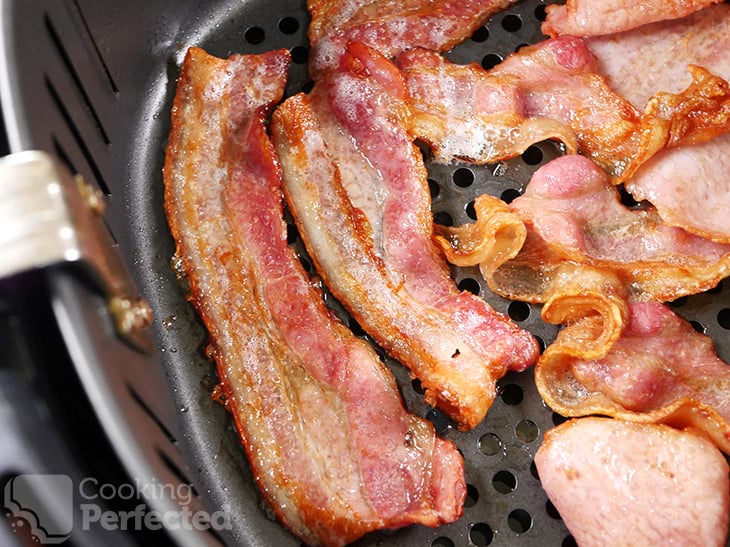 By following this recipe, you will have bacon that is slightly crispy and very tasty. If you are a fan of almost burnt bacon, you can increase the cooking time by another eight minutes.
The air fryer is perfect for cooking bacon as it will contain any splattering and free up space on the stovetop. The only downside is that you will need to cook the bacon in batches to achieve the perfect cook.
This recipe will cook enough bacon for roughly four people. I recommend cooking some extra food to go alongside the bacon. I have a few ideas a bit further down the page.
Serving Ideas for Bacon
You need bacon to make the perfect burger. I love to cook my hamburgers in the air fryer as it cooks them perfectly. You will need to either precook the bacon or have multiple air fryers to cook both the burgers and bacon.
Bacon is the perfect match with delicious homemade French toast. I love serving the French toast with a drizzle of honey, crispy bacon, and maybe some cinnamon sugar. I highly recommend giving it a try.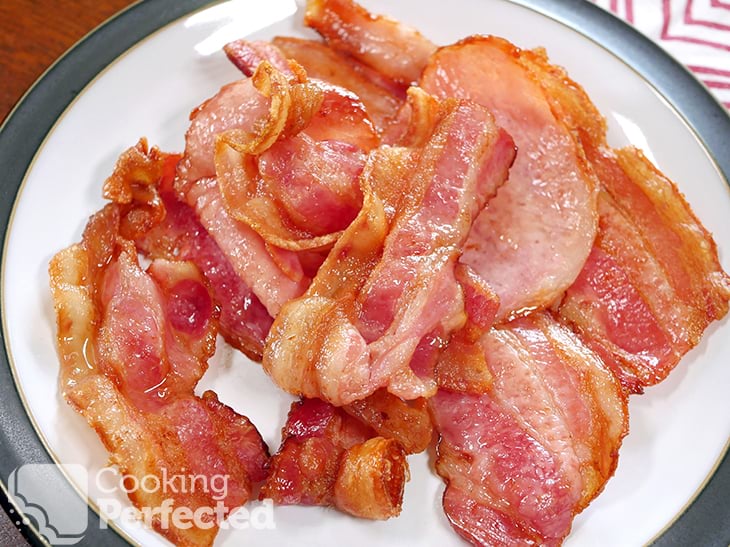 One of my favorite breakfast dishes is a delicious egg and bacon muffin. You can cook the bacon in the air fryer so you can concentrate on achieving the perfect eggs. Our breakfast muffin recipe is absolutely delicious and is well worth giving a try.
The classic full breakfast works excellent with air-fried bacon. I love to do a combination of garlic mushrooms, baked beans, halloumi, poached eggs, and some hash browns. Feel free to let us know what your favorite combination is.
Achieving the Perfect Bacon
There are a few things that you will need to consider to achieve the perfect bacon. Below are a few ideas on how you can guarantee delicious bacon.
You may need to adjust the cooking time depending on your bacon preference. For example, for super crispy bacon, you will need to increase the cooking time. You may also need to increase the cooking time if you have thick-cut bacon.
The size of your air fryer may impact the cooking time. I have a large air fryer, so it takes a little longer to cook food. If you have a small air fryer, consider reducing the cooking time by a few minutes.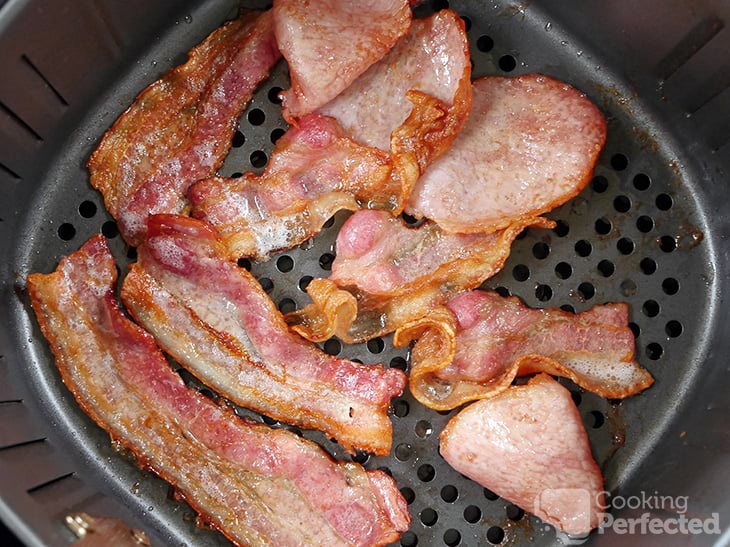 Adding water to the bottom of the air fryer will help reduce the chance of the excess bacon fat from smoking. I personally have not had the problem, but it may happen with your air fryer.
Below is the recipe that will take you through all the steps to cooking bacon in the air fryer. If you have some feedback, please leave us a comment at the bottom of this page.
Air Fryer Bacon Recipe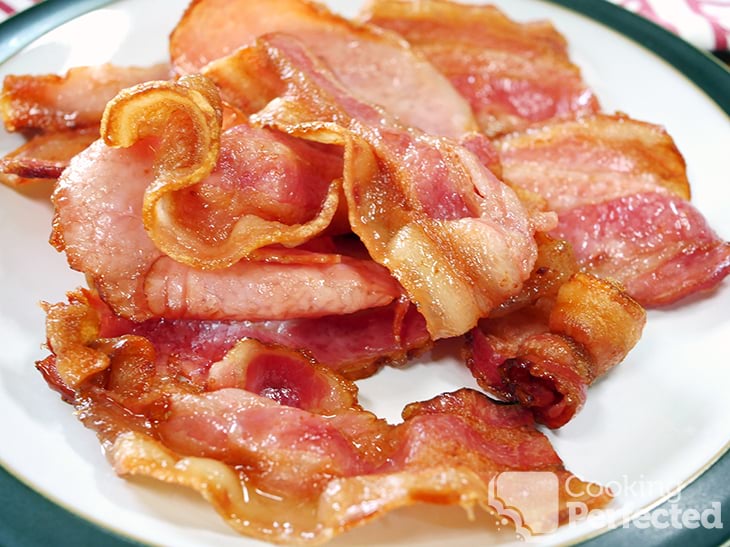 Ingredients
500 g (1.1 lb) bacon slices
Instructions
Preheat the air fryer to 200°C (390°F)
Place the bacon into the air fryer as a single layer. Try not to overlap too much.
Cook for 10-12 minutes. Turn the bacon halfway through cooking.
Once cooked, transfer the bacon to a plate lined with paper towel.
Repeat until all the bacon is cooked.
Serve & Enjoy.
Recipe Tips
You may need to adjust the cooking time. If you prefer super crispy bacon, then I recommend cooking for longer. If you prefer it soft, then reduce the cooking time.
I recommend cutting super long slices of bacon in half.
Better quality bacon will always produce better results.
Add water to the bottom of the air fryer if it starts to smoke, or you can add it before you start cooking. A slice of bread is another option if you do not want to use water.
Empty the grease from the bottom of the air fryer after each batch of bacon to avoid having the bacon swimming in grease.
Nutrition Information
Serving Size: 125g (4.4 oz)
Servings Per Recipe: 4
Calories Per Serving: 509
Amount Per Serving
Saturated Fat: 0g
Trans Fat: 0g
Dietary Fiber: 0g
Sugars: 1g
Cholesterol: 0mg
Sodium: 588mg
Protein: 16g
The information above is an estimate generated by an online nutrition calculator.
More Air Fryer Recipes
There are so many foods that you can cook in an air fryer. Below are a few recipes that I highly recommend giving a try.
The air-fried seasoned pork chops are an absolute must-try. When you take a bite, you are greeted with an explosion of flavor thanks to the seasoning. The pork itself is beautifully tender and will have you going back for seconds.
I have also got to recommend the pork belly. The meat cooks to be tender and topped with one of the most delicious cracklings you will ever try. It is so easy to get perfect every single time. I do highly recommend giving it a try if you love pork.
I hope that you love this air-fried bacon as much as I do. If you have some feedback, then please do not hesitate to leave a comment below.