I love cooking hot dogs in the air fryer as they turn out slightly crisp and deliciously hot.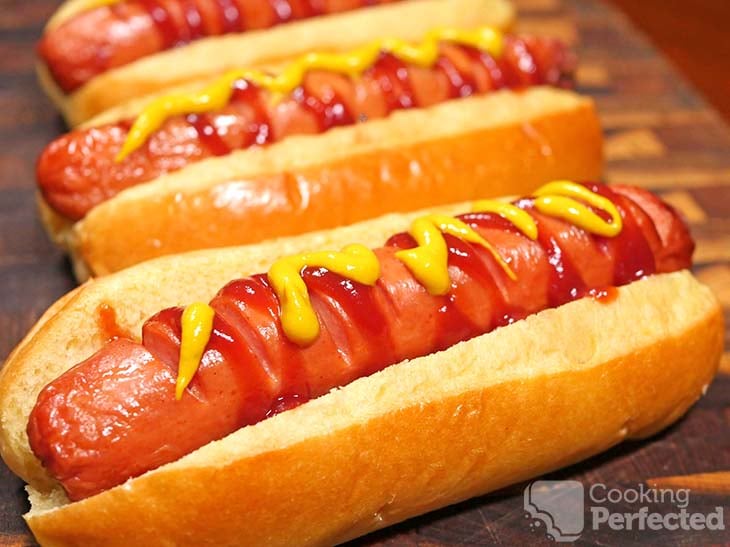 The flavor and outcome of this recipe will heavily rely on the quality of the hot dogs you have. I recommend buying your favorite brand for the best result. Once cooked, the hot dogs should have slightly crispy skin and be hot inside.
Without adjusting the recipe, you should get roughly three to six servings. I recommend making some additional side dishes and serving the hot dogs with condiments. Whatever you decide, you will be happy with the result.
If you rather take things slow, you can cook the hot dogs in a slow cooker instead. The result is slightly different but is extremely effective if you need to cook hot dogs in bulk.
Side Dishes that go Great with Hot Dogs
Some French fries or thick-cut steak fries will work very nicely as a side dish to these hot dogs. If you want a bit of extra flavor, you can make some sweet potato fries instead. It would be best to have another air fryer to cook these. Alternatively, you can use the oven or deep fryer.
If you are a huge fan of onion, some crumbed onion rings will be the perfect side dish. You can make these from scratch, or you can get some from your local supermarket. Either way, you could use the air fryer for cooking them if you wanted to.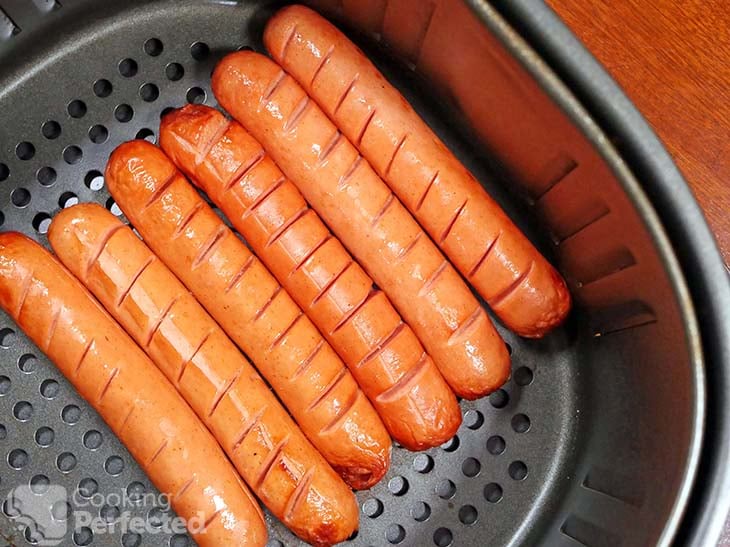 A classic salad will work nicely as a side dish but will require utensils to eat. I usually make a simple green salad with lettuce, tomatoes, red onion, and some feta. However, more complicated salads such as potato salad or taco salad will work very nicely as a side dish.
Corn on the cob is another classic that will go great with hot dogs. You can pick them up and eat them with your fingers, so they are perfect for eating alongside the hot dogs. Of course, if you feel like eating comfort food, you can always try making creamed corn.
Condiments to Serve with Hot Dogs
There is a massive range of different sauces that will match perfectly with hot dogs. Some of my favorites include ketchup, mustard, mayonnaise, BBQ sauce, tomato relish, and so many more.
Caramelized onion is one of my all-time favorite condiments to serve with a hot dog. I like to make some caramelized onion at home, but store-bought will be just as nice. Alternatively, raw diced onions are an excellent addition.
Other ingredients such as guacamole, sauerkraut, coleslaw, or even jalapenos are a great way of adding even more flavor to your hot dog. Each ingredient has unique flavors, so make sure you like it before adding it to your hot dog.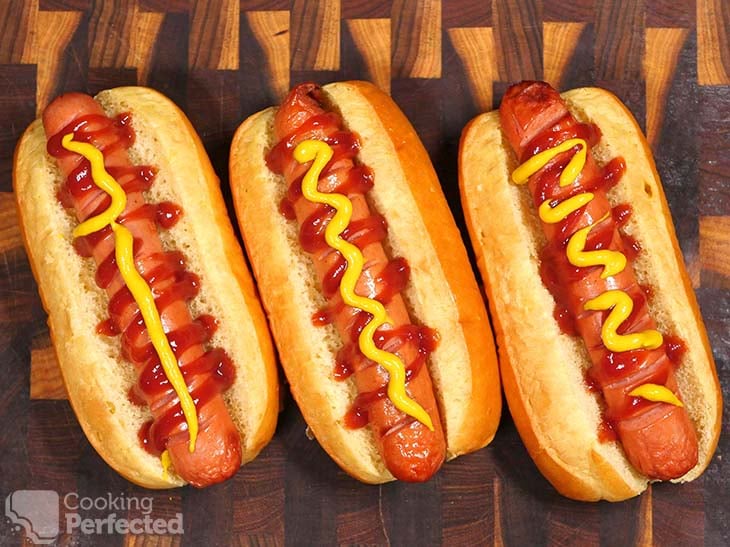 You can add meats such as chili, pulled pork, shredded beef, or crispy bacon. Adding chili is very popular worldwide as it adds a ton of flavor and a bit of spice. However, any of these meats will be perfect for adding more flavor.
My last recommendation is to melt some cheese over the hot dogs. Of course, regular cheddar is the perfect match, but other cheeses such as mozzarella, brie, parmesan, or even gouda will work very nicely.
The recipe below will take you through the few easy steps to cooking hot dogs in the air fryer.
Air Fryer Hot Dogs Recipe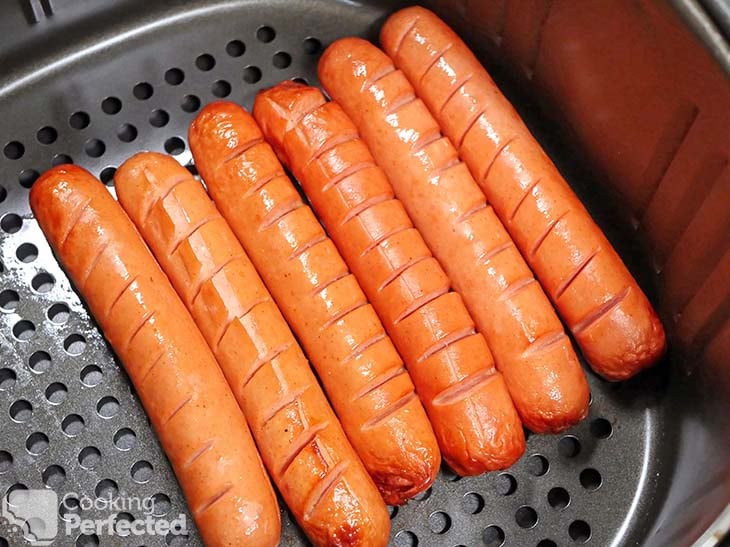 Ingredients
Instructions
Preheat the air fryer to 180°C (350°F). It will take roughly five minutes to heat up.
Slightly slice or prick the skin of the hot dogs. Either of these methods will help prevent the hot dog from exploding.
Place the hot dogs in the basket and cook for 3-5 minutes.
Serve & Enjoy.
Recipe Tips
Hot dogs are sometimes gluten-free, but you will need to check with the butcher or package.
You can heat hot dog buns in the air fryer if you want them to be hot and slightly crispy.
I highly recommend serving the hot dogs with a selection of condiments.
Pricking the hot dogs will help prevent them from exploding in the air fryer.
Try and keep the hot dogs as a single layer for the perfect cook. I do not recommend that you stack the hot dogs.
The cooking time might vary if your hot dogs are thick. You can always check the internal temperature by using a meat thermometer. Even though hot dogs are pre-cooked, a rough recommendation is heating the hot dog to 70 °C (160° F).
Nutrition Information
Serving Size: 100g (3.5 oz)
Servings Per Recipe: 6
Calories Per Serving: 308
Saturated Fat: 6.7g
Trans Fat: 0g
Total Carbohydrate: 19.3g
Dietary Fiber: 2g
Sugars: 4.9g
Cholesterol: 30mg
Sodium: 910mg
Protein: 12.4g
The information above is an estimate generated by an online nutrition calculator.
More Air Fryer Recipes
Below are a few more air fryer recipes that I recommend checking out. Both are delicious, but the homemade hamburgers are my favorite.
The air fryer is surprisingly good at cooking some SPAM until it is deliciously crisp. I love cooking some SPAM alongside poached eggs, crispy bacon, and some amazing garlic mushrooms. You could even add some halloumi if you are feeling extra hungry.
I love using the air fryer for cooking some homemade hamburgers to perfection. I recommend serving the hamburgers between a burger bun with some lettuce, sliced tomato, sliced red onion, and cheese.
I love using the air fryer for cooking hot dogs as they always turn out absolutely fabulous. If you have any feedback, please do not hesitate to leave a comment below.