The air fryer is great for cooking some frozen hamburgers to perfection.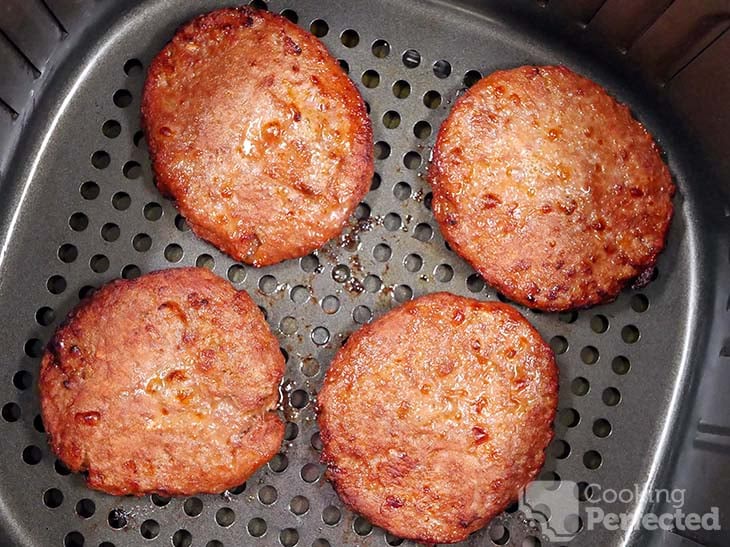 The flavor and texture of the frozen hamburgers will heavily depend on the brand you buy. I recommend buying your favorite brand for the best result. For this recipe, I bought some fresh hamburgers and froze them.
Without making any adjustments to this recipe, you should get roughly four serves. However, I assume that one burger patty will feed one person, so you may need to cook more if you are feeding big eaters.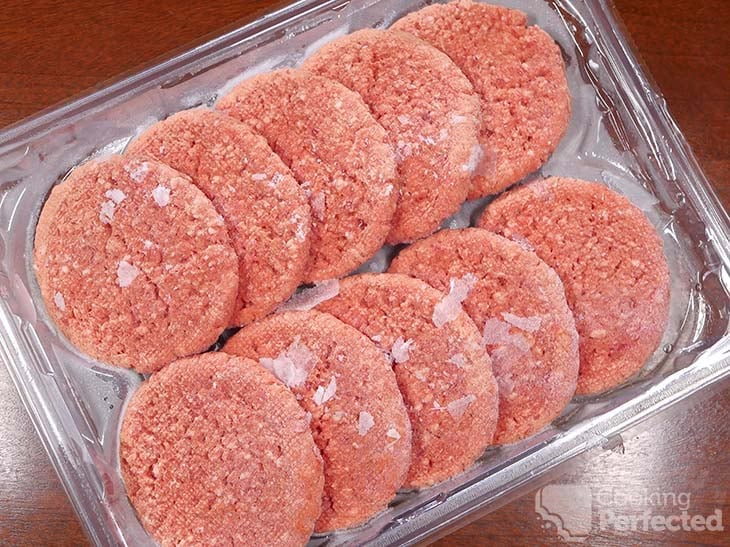 If you have some spare time on your hands, you can make the hamburgers from scratch instead. It is super easy to do but is a little more time-consuming.
Extra Food to Serve with the Burgers
Some French fries or Tater Tots are the perfect matches for burgers. I recommend cooking them in either another air fryer or using a traditional oven or deep fryer. For something a little healthier, you can give some sweet potato fries a try.
Crumbed onion rings are also a great side dish to go alongside some hamburgers. If you feel experimental and extra hungry, you can always add the onion rings into your burger. It is a delicious combination.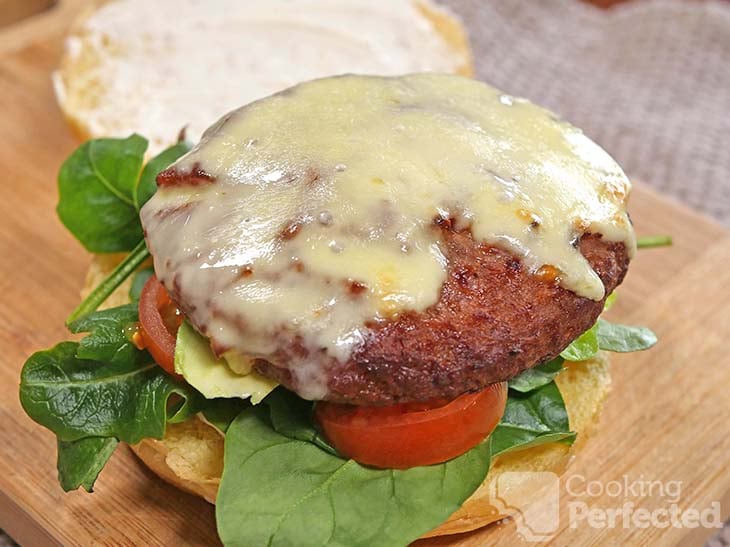 A simple salad is an excellent side dish to have alongside the burgers. I typically make a salad that consists of cucumber, lettuce, baby tomatoes, red onion, and some feta. But, of course, you can always make some heavier salads such as taco salad or potato salad.
Another couple of heavy side dishes that will work great with burgers is garlic mushrooms or mac n cheese. Both complement the burgers nicely and will help ensure that everyone is as full as possible.
Assembling the Perfect Burger
For this recipe, I use some delicious brioche buns purchased at our local bakery. However, any burger bun will work great with these delicious air-fried frozen hamburgers. If you have some spare time, you can even make them yourself.
The type of sauce that you use on the burger will heavily influence the overall flavor profile. I typically use a combination of some homemade mayonnaise and ketchup. However, other sauces such as mustard, BBQ sauce, sriracha, and many more will work great.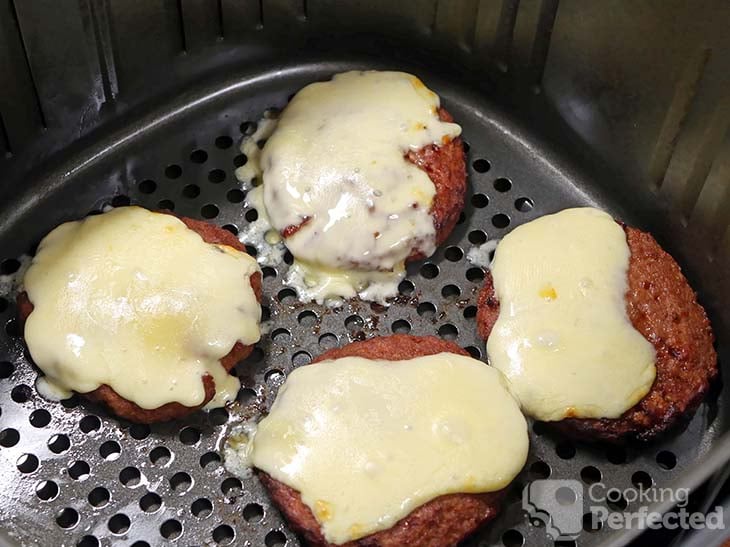 There are loads of other condiments that you can add to the burgers. I use tomatoes, onion, and some lettuce. However, foods such as jalapenos, guacamole, pickles, caramelized onion, or sliced avocado will be fantastic.
You can swap the cheddar cheese slices for a different type of cheese. Cheese such as brie, mozzarella, gouda, American cheese, or even goat cheese will be a match made in heaven. I highly recommend experimenting to get the best combination.
The recipe below will go through all the steps to cooking some frozen hamburgers perfectly in the air fryer. If you have some feedback, please do not hesitate to leave a comment at the bottom of this page.
Air Fryer Frozen Hamburgers Recipe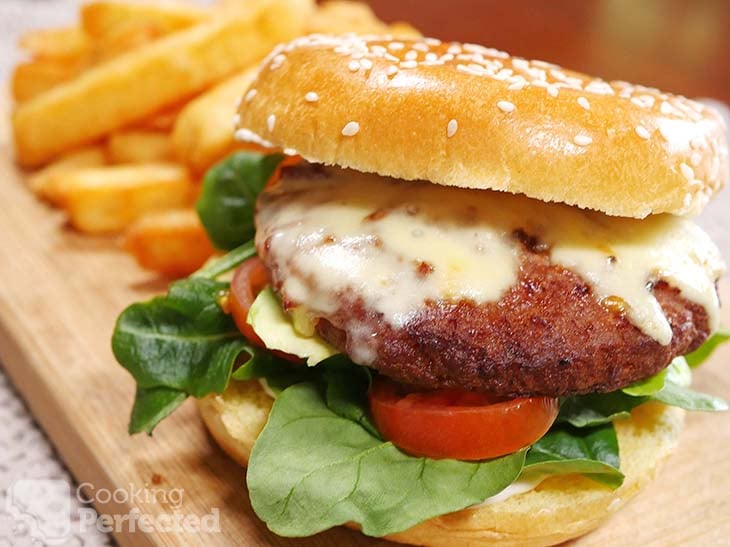 Ingredients
4 frozen hamburger patties
4 slices of cheddar cheese
Burger Ingredients
Burger buns
Mayonnaise
Lettuce
Sliced tomatoes
Sliced red onion
Instructions
Preheat the air fryer to 190°C (375°F). It will take roughly 5 minutes.
Place the hamburgers into the air fryer and cook for 15 minutes. Flip midway through cooking.
Top the hamburgers with the cheese and cook for a further minute.
Assemble your burger buns. I typically layer it in the following order; burger bun bottom, mayonnaise, lettuce, tomato, burger patty, red onion, any extra sauces, and the burger bun top.
Serve & Enjoy.
Recipe Tips
The frozen hamburgers should be gluten-free but double-check the package to be one hundred percent certain.
You may need to adjust the cooking time if your frozen hamburgers are quite thick. For example, the hamburgers in this recipe are roughly 1 cm (0.4 in).
Do not overlap the hamburgers as it will affect cooking times and result in a less even cook.
The cheese is optional but does help add a ton of flavor to the burger. I like to use cheddar cheese slices.
I recommend using a meat thermometer to check the temperatures of the hamburgers. Ideally, you want the burger to be at least 72°C (160°F).
If your air fryer starts to smoke, you may need to add a bit of water to the base of your air fryer basket. The water will help prevent the grease from the hamburgers burning and causing the air fryer to smoke.
Use a fish slice or spatula to flip the hamburgers. Tongs may break up the meat patty when you go to flip it.
Nutrition Information
Serving Size: 153g (5.4 oz)
Servings Per Recipe: 4
Calories Per Serving: 346
Amount Per Serving
Saturated Fat: 5.1g
Trans Fat: 0g
Dietary Fiber: 2g
Sugars: 7g
Cholesterol: 35mg
Sodium: 569mg
Protein: 17g
The information above is an estimate generated by an online nutrition calculator.
More Air Fryer Recipes
We have an ever-growing number of recipes that work perfectly in the air fryer. Below are just two of my favorite recipes that I highly recommend giving a try.
Our homemade chicken parmesan is always a huge hit and is well worth the time it takes to prepare and cook in the air fryer. I recommend making some extra side dishes to go along with the chicken.
Another air fryer meal that I highly recommend is the pork chops. The pork cooks to be super tender and loaded with flavor thanks to our delicious homemade seasoning rub. Much like the chicken, I recommend making some side dishes as well.
I hope that you love these air fryer frozen hamburgers as much as I do. If you have some feedback, please do not hesitate to leave a comment below.