I love using my air fryer to cook some homemade croutons until they are deliciously crunchy.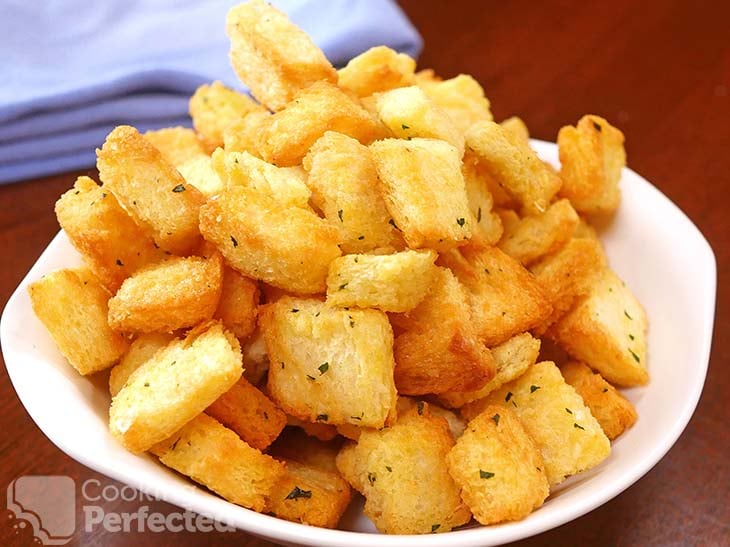 These crunchy cubes of bread are an absolute delight and are super easy to prepare. They are great as an easy snack and are delicious in a wide variety of meals such as salads, stews, soups, and more.
A single batch of these croutons will be enough to feed roughly four people, but this number will vary heavily depending on what you are doing. For example, if you are making a soup, you should get four serves, but you will probably need to make more if you have them as a snack.
The croutons are safe to store in an airtight container in the cupboard for roughly a week. Alternatively, you can freeze the croutons, but you might find they are not nearly as good fresh.
If you have too many leftover croutons, you can easily blend them until they are breadcrumbs. You can then use the breadcrumbs in a huge variety of other dishes such as chicken schnitzels or even meatloaf.
Serving Ideas for Homemade Croutons
One of the most popular ways to serve croutons is in a delicious soup. The croutons tend to work best with a thick soup such as pumpkin soup. Alternatively, they go great in a French onion soup topped with some delicious cheese such as gruyere.
If you are making Caesar salad, then some croutons are an absolute must. However, other salads will also benefit from the addition of these delicious crunchy cubes of bread.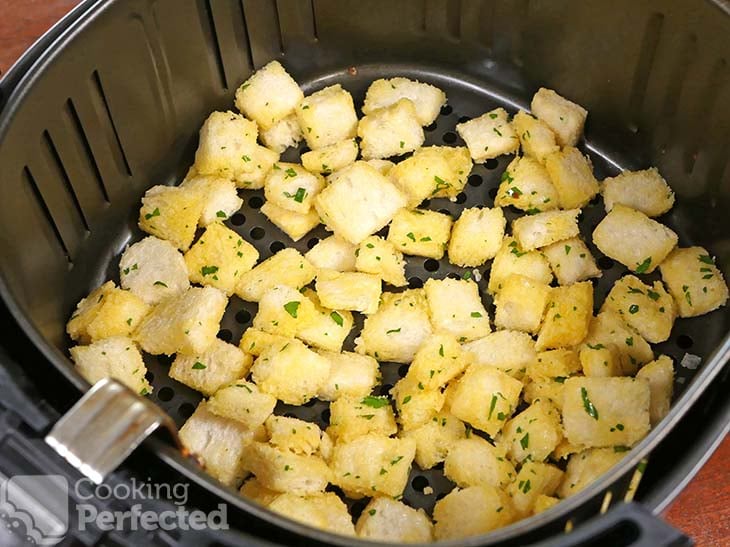 You can elevate hearty stews with the addition of a few croutons. They work best with a traditional beef stew, but other types of stews and casseroles will likely work great with these pieces of bread.
You can simply eat these croutons as a delicious crunchy snack. They are surprisingly delicious just on their own, but if you want to go one step further, try dipping them in a sauce, relish, or dressing.
Adding More Flavor to the Croutons
For a bit more flavor, you can add some minced garlic to the butter mixture. I recommend a couple of teaspoons of garlic for the best balance of garlic flavor. To make things easier, you can use garlic powder instead.
Herbs such as parsley, thyme, oregano, or basil are a great way to add more flavor to the croutons. Dried or fresh herbs will work equally well, but I prefer to use fresh if possible. Roughly one teaspoon of fresh herbs or half a teaspoon of dried herbs should be enough.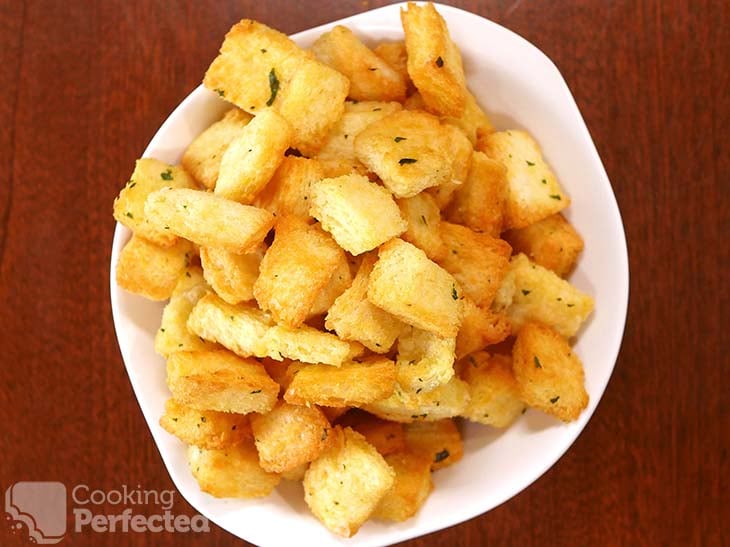 Shaved parmesan cheese is an excellent way of adding a bit of extra flavor and texture to the croutons. Roughly 50g (1.7 oz) of parmesan should be enough to cover the croutons evenly. Alternatively, you can experiment with other cheeses such as cheddar or gruyere.
The recipe below will take you through all the steps to cooking the most perfect croutons in the air fryer. If you have any feedback, please leave us a comment at the bottom of this page.
Air Fryer Croutons Recipe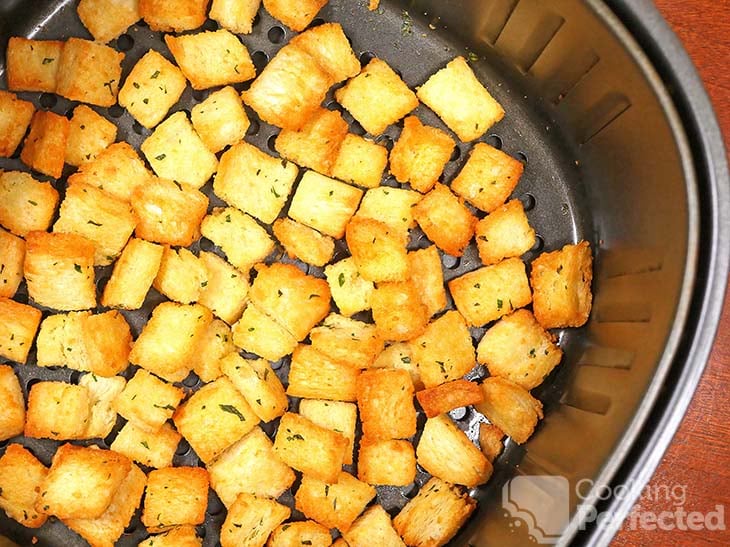 Ingredients
4 thick slices of bread, cut into large cubes
60 g (2.1 oz) unsalted butter, melted
1 tsp parsley, chopped
1 tsp salt
Instructions
Preheat the air fryer to 180°C (350°F). It will take roughly five minutes to heat.
In a mixing bowl, add the cubed bread, butter, parsley, and salt. Mix until well combined.
Add the bread into the air fryer. Cook for 10 minutes or until the bread is crispy. Toss the bread halfway through cooking.
Serve & Enjoy.
Recipe Tips
Do not store in a container until the croutons are cold. Warm croutons may cause condensation, which will make your croutons go soggy and expire early.
Feel free to adjust the recipe for a bit more flavor. You can easily add extra flavorings such as cheeses, seasonings, spices, and herbs.
For the best results, I recommend using a stale loaf of bread. However, fresh will still work perfectly fine. I made use of fresh bread when I tested this recipe, and it worked fine.
Most loaves of bread will work great for making croutons. I usually use a regular loaf, but sourdough bread or baguettes will work.
I do not recommend overloading your air fryer basket as the croutons will not cook the best. Try to keep to a maximum of two layers of croutons.
Nutrition Information
Serving Size: 47g (1.7 oz)
Servings Per Recipe: 4
Calories Per Serving: 155
Saturated Fat: 5.4g
Trans Fat: 0g
Dietary Fiber: 1g
Sugars: 2g
Cholesterol: 16mg
Sodium: 734mg
Protein: 3g
The information above is an estimate generated by an online nutrition calculator.
More Air Fryer Recipes
We have loads more delicious recipes that cook perfectly in the air fryer. Below is a couple that I highly recommend checking out.
Our air-fried seasoned pork chops are an absolute must-try. The chops are great on their own, but even better with a few delicious side dishes. If you love pork, I highly recommend giving this recipe a try.
Another great side dish you can make in the air fryer is some Tater Tots. The Tater Tots cook to be crispy, delicious and are always a huge hit. I find they cook much better in the air fryer than in the traditional oven.
I love these air-fried croutons and will be making this recipe again. If you have some feedback regarding this recipe, please do not hesitate to leave a comment below.