This fresh tomato salsa tastes amazing and is great on its own or alongside another dish.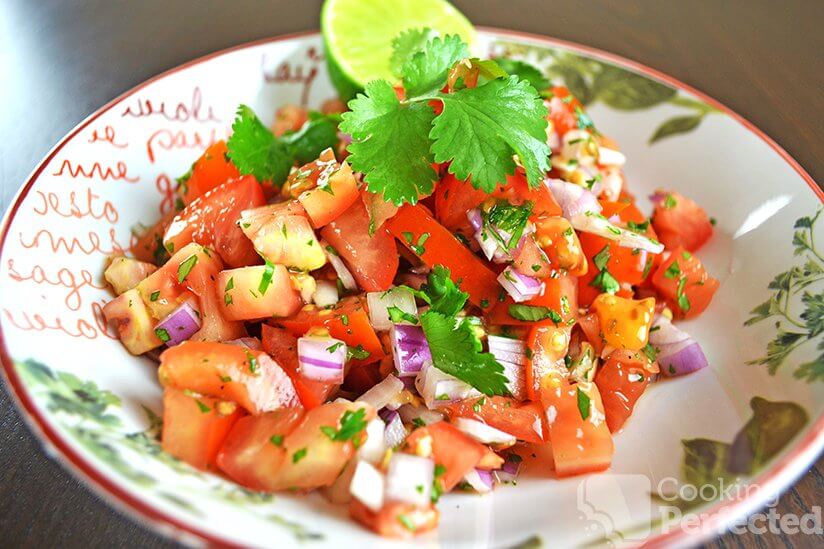 A salsa like this is a delicious balance of flavors. In this recipe, we have a delightful combination of red onion, tomato, herbs, and citrus. You can dice up some jalapeno for a little bit of extra flavor and a touch of spice.
You might be more familiar with pico de gallo, salsa fresca, or salsa cruda rather than tomato salsa. These are the same dish that contains a combination of fresh ingredients that are listed below.
If you're sticking to a Paleo diet, then there typically isn't anything that isn't considered paleo-friendly in a salsa. However, you may find recipes that use additional ingredients such as an oil or salad dressing that contain items that are not paleo-friendly.
This dish is best fresh, and I wouldn't recommend keeping it any longer than just a couple of days before discarding it.
What to Eat with this Tomato Salsa
This dish goes amazing with some paleo-friendly nachos, crunchy sweet potato fries, or pretty much anything else where a refreshing salsa works well.
Some corn chips are the perfect food to be dipping into this delicious salsa. You could also make some homemade tortilla chips. Paired with chips, it's a refreshing dip that's perfect on a hot summer day.
Salsa is also an excellent filling for some homemade tacos. Some slow-cooked taco beef matches perfectly with this delicious recipe.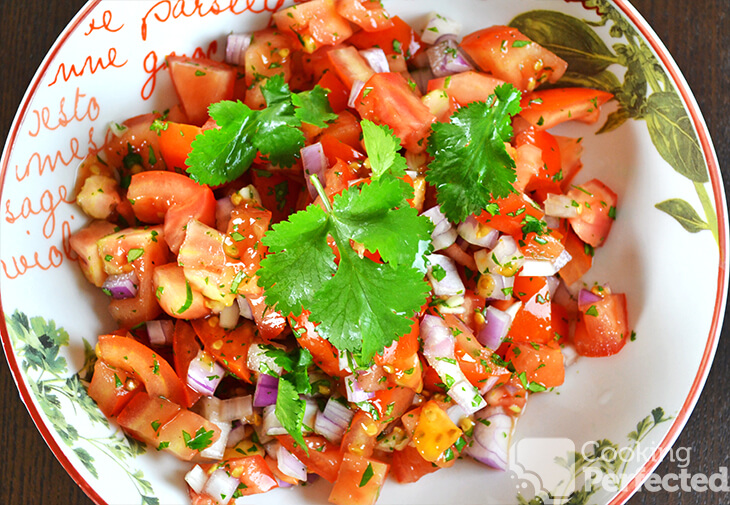 If you're making some bruschetta, then this salsa is perfect as a topping. You may want to add a bit of balsamic vinegar to get the best-tasting bruschetta.
For a light dinner, you can use this salsa as a pasta sauce. Simply cook your pasta and then mix in this delicious salsa. It's super easy and tastes surprisingly good.
There are lots more ways you can eat a tomato salsa, so if you have any ideas that you would like to share, then please don't hesitate to leave a comment below.
Tweaking the Recipe
There are lots of ways that you can alter this recipe to make it more to your liking. Below are just a couple of suggestions on what you can do without radically changing the recipe.
Adding a drizzle of vinegar will add a ton of flavor to the salsa. There are a ton of different varieties that you can add. Still, I recommend something like balsamic vinegar or apple cider vinegar. Keep in mind these will add bitterness to your salsa.
If you love onion, then you can also add a couple of sliced spring onions into the salsa. Try not to go overboard as it could end up too overpowering with onion.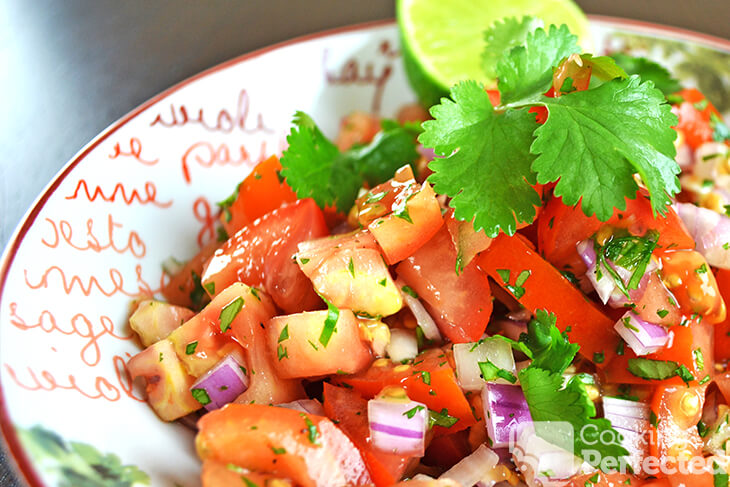 Oil can be added for a bit of flavor and texture. Much like the vinegar, there is a wide range of oils that you can use. I recommend using something like olive oil for the best results.
I recommend adding a little bit of chili as this adds flavor and a little bit of a bite. You don't have to add this for an amazing tasty salsa, but I certainly find that it helps. If you really like spice, then you can add even more chili.
I have a short video below that shows you through all the steps on how to make this delicious tomato salsa. If you want the text recipe, you can find it right below the video.
Tomato Salsa Recipe
Ingredients
3 tomatoes, diced
½ red onion, diced
1 tsp jalapeno chili, diced
3 Tbsp cilantro, chopped
2 tsp lime juice
Instructions
Combine all the ingredients in a bowl.
Season with salt and pepper.
Serve & Enjoy.
Recipe Tips
You can serve this straight away, or you can let it sit for a couple of hours to allow for the flavors to develop. If you decide to let it sit for a few hours, make sure you cover it and place it in a fridge.
If you need a lot of salsa, then this recipe is easily scaled without any complications. Simply double or triple the ingredients for the number of people you need to feed.
The jalapenos are optional, as you may not like spicy foods. If you love a salsa that has a bit of zing to it, then I recommend adding it. One teaspoon may not be enough for some people, so try adding more if you find it a bit underwhelming.
If you love the sweeter taste of cherry tomatoes, then you can replace tomatoes and use them instead. I would use about 200g (7 oz) instead of the three large tomatoes I use in this recipe.
After cutting the chili, make sure you give your hands a good wash straight away. This will help avoid getting chili into your eyes or anywhere else where it might sting.
If you do want to have a bit of oil in your salsa, then drizzle some extra virgin oil over the top. Alternatively, you can add it when you go to mix the rest of the ingredients.
Cilantro is also known as coriander in some countries.
Nutrition Information
Serving Size: 110g (3.9 oz)
Servings Per Recipe: 4
Calories Per Serving: 23
Amount Per Serving
Saturated Fat: 0g
Trans Fat: 0g
Dietary Fiber: 1.4g
Sugars: 3.1g
Cholesterol: 0mg
Sodium: 6mg
Protein: 1g
The information above is an estimate generated by an online nutrition calculator.
More Delicious Recipes
If you're looking for more sides or dips to go with your next meal, then be sure to check out the guacamole recipe. Like this recipe, it is super easy to put together and tastes amazing.
Another dip that I highly recommend that you try is the smoked salmon dip. It's incredibly tasty and doesn't take long to make. It is perfect if you want something else to go alongside this salsa.
I hope that you do enjoy this easy tomato salsa recipe. If you have any feedback, variations, or anything that you would love to share, then please leave a comment below.