These paleo nachos are a delicious healthier alternative to the traditional cheesy nachos that we all know and love.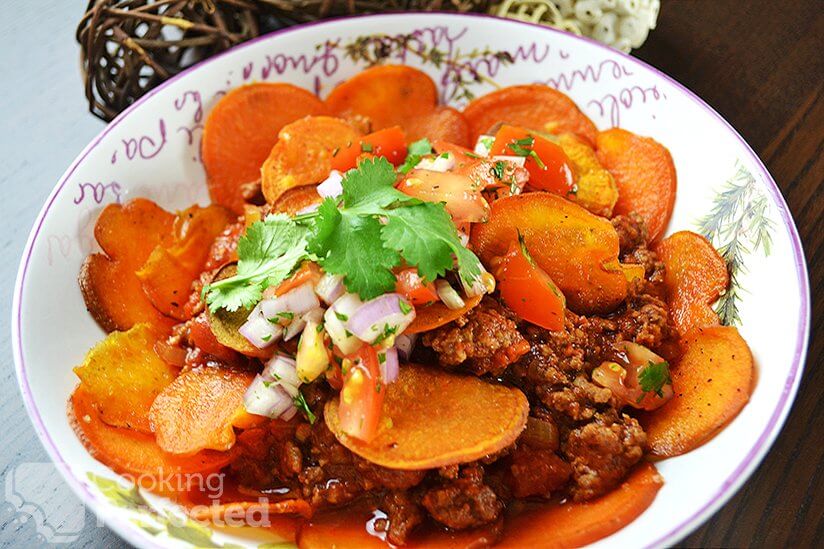 The sweet potato chips in these nachos should be crispy and perfect for dipping into the flavor-packed beef mixture. It is so delicious you will not even notice the lack of cheese.
Like all nachos, these go well with some homemade guacamole. They are also great for sharing with your friends, family or whomever you are cooking for.
One lot of these nachos will feed roughly four people, but it will heavily depend on how hungry people are. You might want to cook some side dishes or a dessert if you want to guarantee everyone is well fed.
Perfecting the Recipe
The most challenging part of this recipe is getting those sweet potato chips to be nice and crispy. Try to get the sweet potato chips as thin as possible. Also, having the oven preheated at the correct temperature helps a lot.
You could try shallow frying sweet potato in some organic coconut oil to get the chips crispy. The only downside is that it is a little more involved than simply throwing the chips into the oven.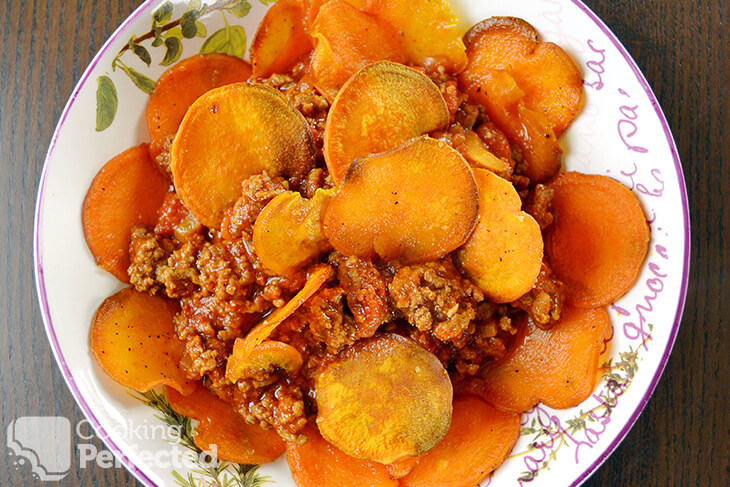 Cheese is not recommended on the paleo diet; however, you can always add some cheddar cheese over the top if you do not mind breaking the rules. You might want to place the nachos under the grill, so the cheese melts.
Do not be afraid to adjust the quantity of spice we use in the beef mixture. Make sure you taste after every tweak to ensure that you do not go overboard.
What to Serve with Paleo-Friendly Nachos
All the standard condiments that usually go with nachos will work nicely with this recipe.
I love making a paleo-friendly guacamole to dollop on the top. Also, simple tomato salsa is a very delicious addition.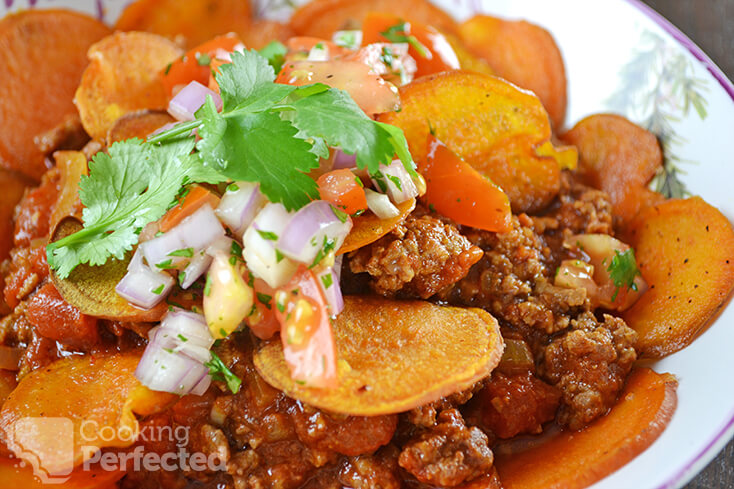 Some condiments such as sour cream is not recommended if you are on the paleo diet. However, if you are not following the diet, then you should certainly give some sour cream a try.
If you want to see how to make these paleo nachos, then be sure to check out the video below. I go through all the steps to perfecting this recipe and anything else you might need to know.
Paleo Nachos Recipe
Ingredients
Sweet Potato Chips
3 sweet potatoes
3 Tbsp coconut oil
Beef Topping
1 onion
1 tsp garlic, crushed
1 tsp red chili, minced
500 g (1.1 lb) ground beef
1 tsp paprika
1 tsp cumin, ground
1 Tbsp tomato paste
500 g (1.1 lb) diced tomatoes
Instructions
Sweet Potato Chips
First, preheat an oven to 200°C (390°F).
Next, start by slicing the sweet potatoes. The thinner you can get them, the more corn chip like they will be.
In a bowl, mix the sweet potato chips with the coconut oil.
Place the sweet potatoes onto a tray as a single layer and season lightly.
Bake for about 15-20 minutes or until golden brown. You can flip them halfway through the cooking process to help encourage them to get crispier.
While they are baking, prepare the beef topping.
Beef Topping
Place a frypan over medium heat and add 1 Tbsp of coconut oil.
Once the pan is hot, add the onion, garlic, and chili to the pan and cook for 3-5 minutes.
Next, add the ground beef and cook for a further 4-5 minutes.
Add the paprika, cumin, tomato paste, tomatoes, and bring to a simmer.
Simmer for 20 minutes uncovered.
Assembling the Nachos
On a serving plate, place the sweet potato chips.
Place the beef topping on the top of the chips.
Add any extras such as guacamole or tomato salsa.
Serve & Enjoy.
Recipe Tips
As I mentioned above, getting the sweet potato chips as thin as possible is the best way to get them crispy. An alternative you can also try is shallow frying rather than baking in the oven. Either way, you still get some delicious paleo-friendly nachos.
If you like your nachos hot, then do not be afraid to add a little bit more chili than what I have specified in this recipe. Just make sure you keep tasting the beef mix to make sure you do not go too overboard with the chili.
Nutrition Information
Serving Size: 433g (15.3 oz)
Servings Per Recipe: 4
Calories Per Serving: 526
Amount Per Serving
Saturated Fat: 11.9g
Trans Fat: 0g
Total Carbohydrate: 47.8g
Dietary Fiber: 8.2g
Sugars: 5.7g
Cholesterol: 112mg
Sodium: 107mg
Protein: 41.9g
The information above is an estimate generated by an online nutrition calculator.
More Paleo-Friendly Recipes
There are so many different paleo-friendly recipes that are worth making. Below are a couple of my favorite recipes that I highly recommend giving a try.
The paleo-friendly chili con carne is an absolute must-try. It is loaded with flavor and makes use of cubed carrot rather than beans. You can even use it as a topping for these nachos.
I also highly recommend making the beef stew as it is perfect for feeding a crowd. It is loaded with delicious chunks of beef, vegetables, and an amazing broth that will have you going back for seconds.
If you have any thoughts, feedback, or anything else regarding this paleo nachos recipe, then feel free to leave a comment below. If you have any awesome combinations that you would love to share, then feel free to let us know.