This easy guacamole recipe is so easy you will have yourself a fantastic side dish ready in minutes.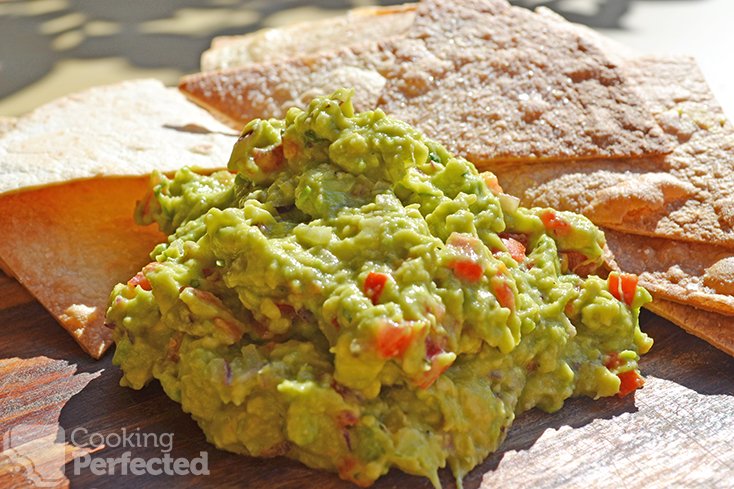 If you have never heard of guacamole before, then it is simply a dip made of avocados. It is part of the Mexican cuisine but is used all around the world. Sometimes, it is also referred to as Guac.
You will find a lot of variations on the recipe, but typically it has garlic, red onion, lime, tomato and cilantro added to the mashed avocado. However, you can find an easy guacamole recipe as bare-bones as just lime and avocado.
Traditional guacamole tends to have as minimal ingredients as possible. This recipe tries to be a bit more traditional by not using common modern ingredients such as cream cheese or sour cream.
Use Ripe Avocados
It is essential that you use ripe avocados because if they're not ripe enough, you will have a hard time trying to mash them.
If you want to check that the avocado is ripe, gently press the outside, and if it dents a little, then it is ready.
Another way to check is to remove the stem of the avocado. If it is dark brown, then it is overripe. If it is a light color, then it is just right.
No Cream Cheese Guacamole
One fantastic thing about this dip is that it doesn't contain any cream cheese. All the guacamole ingredients in this recipe are intended to be as fresh as possible.
You may have noticed a lot of the guacamole or avocado dips at the supermarket have very little avocado in them. Instead, they're filled with extra ingredients that are designed to bulk the dip out as much as possible.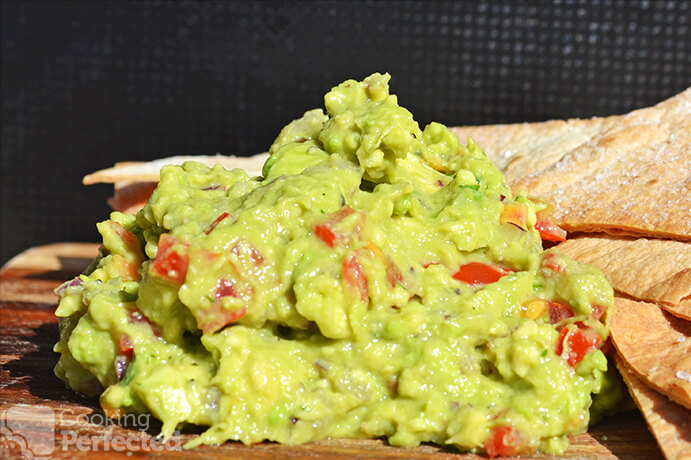 You can find some dips containing as low as 2% avocado, but they're still advertised as avocado or guacamole dip. It just proves why making it home is just so much better.
One of the best things about this recipe is that it's both gluten-free and Paleo friendly, so it's great if you have any food allergies.
There is a vast range of variations that you can do with this easy guacamole recipe. Feel free to alter the ingredients to make it more to your liking. If you wish, you can share your variation in the comments below.
What to Eat with Guacamole
Avocado always goes great with breakfast, so I highly recommend having it on the side of a breakfast recipe such as the delicious Frittata.
There is a ton of Mexican food that goes great with guacamole. This range of food includes quesadillas, tacos, nachos, and so much more. It's also great just as a dip to have on a platter.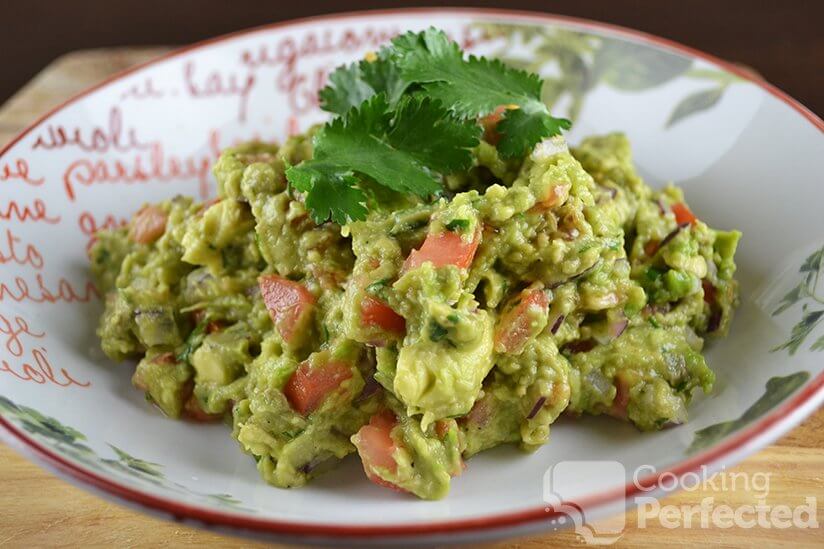 The amount of things you can dip into guacamole is also insane. One of my all-time favorites is some crunchy tortilla chips.
If you want to see how to make this recipe visually, then be sure to check out the video I have prepared for you. Alternatively, there is a full written recipe right underneath the video that you can also print.
Also, don't forget to follow us on social or sign up to our mailing list to be kept up to date on all our recipes.
Easy Guacamole Recipe
Ingredients
2 avocados, de-seeded and skin removed
½ red onion, finely diced
1 lime
1 tomato, finely diced
1 Tbsp cilantro, chopped
Instructions
Mash the avocado in a medium-sized bowl.
Add onion, tomato, lime juice, and cilantro. Stir until well combined.
Season to taste.
Serve & Enjoy.
Recipe Tips
This easy homemade guacamole is an excellent condiment to many dishes from delicious nachos to chili con carne or even merely just as a dip with some delicious homemade tortilla chips. If you're looking for a great addition to whatever you plan on cooking, then this dip is the way to go.
If you prefer this guacamole to be very bare-bones, you can just remove the red onion, tomato, garlic, and cilantro from the recipe. This modification leaves you with just avocado and lime juice.
You can add a store-bought spice mix to this guac dip to help spice it up a little. However, I love it without any extras.
Nutrition Information
Serving Size: 153g (5.4 oz)
Servings Per Recipe: 4
Calories Per Serving: 217
Amount Per Serving
Saturated Fat: 4.1g
Trans Fat: 0g
Total Carbohydrate: 11.6g
Dietary Fiber: 7.3g
Sugars: 1.7g
Cholesterol: 0mg
Sodium: 8mg
Protein: 2.3g
The information above is an estimate generated by an online nutrition calculator.
Other Delicious Recipes to Try
There are so many things that guacamole compliments. I love it on almost everything such as sandwiches, wraps, nachos and so much more.
The slow cooker beef enchiladas are worth trying with this delicious guacamole. They're like a match made in heaven, and it's so hard to stop eating.
If you have some feedback that you would love to share this delicious guacamole recipe, then please don't hesitate to leave a comment below.