These homemade tortilla chips are deliciously crunchy and are so easy to prepare quickly.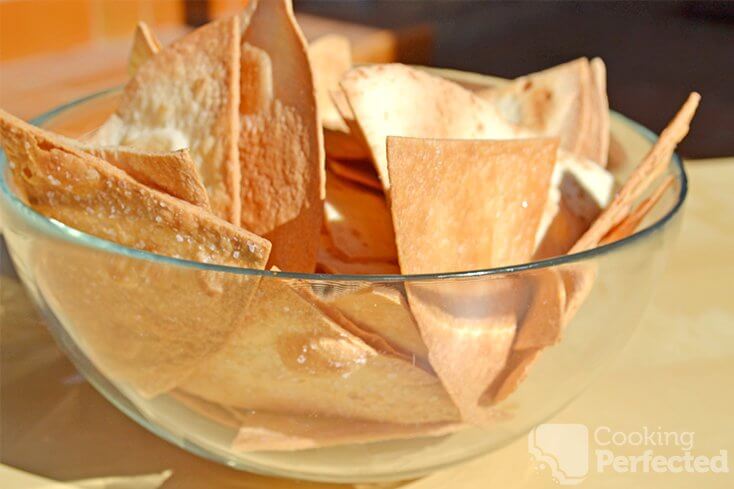 By the time these chips are ready to eat, they will be a lovely golden color and have a deliciously good crunch to them. Slightly seasoning the chips with salt helps bring out the amazing tortilla taste we all know and love.
I know these aren't truly "homemade", but they still make great freshly baked chips.
We oven bake these homemade tortilla chips, but you can shallow fry or deep fry them in some oil. I prefer to oven bake them as there is less to go wrong.
You should be able to feed at least two people with a single batch of these chips. However, it heavily depends on how many other dishes you serve with the chips.
What to Serve with these Tortilla Chips
You can use these tortilla chips in many different dishes such as nachos, taco salad, or even just to go with some amazing dips.
There are plenty of dips that you can make to go with these chips. If I have lots of spare time, then I love making some chili con queso in the slow cooker. Alternatively, an easy caramelized onion dip is absolutely amazing.
You can also try these chips in a fresh guacamole, it's as delicious as it sounds. The chips are also pretty good dipped into some homemade chili con carne.
There are plenty of other ways to eat these delicious chips, so if you have any recommendations, be sure to share them with us.
Seasoning the Chips
If you want to take these homemade chips to the next level, then try using a different type of seasoning instead of salt.
You can try some taco seasoning, chicken salt, paprika, cajun spice, and so much more. If you have a favorite seasoning, then be sure to let us know by leaving a comment at the bottom of this page.
If you're more of a visual person, then you should check out the video I have put together on how to make homemade tortilla chips. It is easy to follow, and if you like it, please subscribe to us on YouTube.
Homemade Tortilla Chips Recipe
Ingredients
12 flour tortillas
1 Tbsp oil
salt
Instructions
Preheat an oven to 180°C (350°F).
Firstly brush both sides of the tortillas with oil.
Cut the tortillas into sixths. You can stack them in a pile to speed up this process.
Now separate the tortillas, and place them as a single layer on a roasting tray. Don't let them overlap; otherwise, you will end up with soggy chips.
Place the oven tray into the preheated oven and cook for about 10 minutes or until nicely crisp and golden brown.
Serve & Enjoy.
Recipe Tips
It is best to use plain tortillas for the ideal results; however, you can try out other variations if you would like to.
While I recommend cutting the tortillas into sixths, you can cut them into eighths for smaller chips.
You can use a different type of oil, such as olive oil, spray oil, vegetable oil, peanut oil, or even bacon fat. Be aware that each oil will change the flavor and outcome of the recipe.
You can use just regular table salt, or you can go a bit fancier and use ground sea salt. Much like the oil, this will change the flavor of the overall recipe.
If you have leftover tortillas from making some chicken enchiladas or fajitas, then this a great way to use them up.
You can use corn tortillas if you prefer them over the flour tortillas.
Nutrition Information
Serving Size: 292g (10.3 oz)
Servings Per Recipe: 2
Calories Per Serving: 374
Amount Per Serving
Saturated Fat: 1.5g
Trans Fat: 0g
Total Carbohydrate: 64.3g
Dietary Fiber: 9.1g
Sugars: 1.3g
Cholesterol: 0mg
Sodium: 1228mg
Protein: 8.2g
The information above is an estimate generated by an online nutrition calculator.
More Delicious Tortilla Recipes
Another awesome meal that you can make using some tortillas is delicious tortilla pizzas. The pizza base will be lovely and crisp and complement the toppings really well.
You can make some chicken quesadillas with some tortillas. They're the perfect lunch and are very easy to make. I highly recommend giving them a try.
If you have your own variation, seasoning, or anything else you would like to share about this homemade tortilla chips recipe, then feel free to leave a comment below.