I absolutely love this gluten-free carrot cake, and I highly recommend that you give it a try. It's moist, slightly sweet, and one of the most fulfilling snacks ever.
A freshly baked carrot cake like this one will be packed with exciting flavors. It has a bit of crunch thanks to the walnuts and explosions of flavors from the raisins. To top it all off is a delicious cream cheese frosting.
Depending on how hungry people are, this carrot cake should feed roughly eight people. If you need to feed more, then I recommend making multiple batches of this recipe. Luckily, it's a pretty easy cake to make.
Tweaking this Recipe
There are lots of little changes that you can make to this recipe and below are just a couple of ideas.
Chocolate chips are an excellent addition to a carrot cake as they help add a little more richness and flavor to the cake. If you decide to add the chocolate, then roughly 75g (3 oz) should be enough for this cake.
Mashed banana is an excellent way of making this cake stay moist and be even tastier. I would reduce the oil or increase the amount of flour slightly to make up for the extra liquid from the banana. Either way will leave you with a great tasting cake.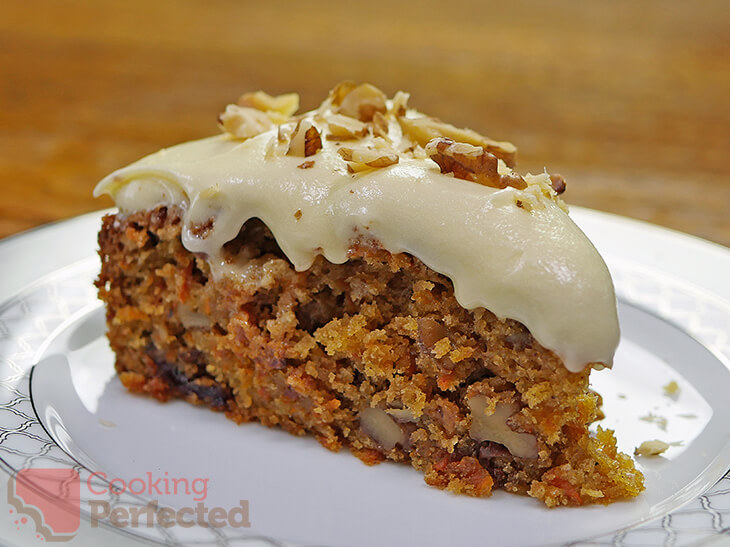 You don't have to use walnuts as there are plenty of other nuts that will work fine. For example, something like slivered almonds or chopped pecans will work very nicely. If you're not a huge fan of nuts, you can reduce the quantity of nuts by half.
Light olive oil can be used in replacement of the vegetable oil. Make sure you don't use regular olive oil as it may infuse too much flavor and overpower everything else in your cake.
What to Serve with Carrot Cake
Traditionally carrot cake is topped with a cream cheese frosting, so you won't need much more than that. With that said, below is a couple of serving ideas and alternatives to the frosting.
Using regular cream is an excellent substitute for cream cheese frosting and is slightly healthier. I like the cream runny, but it will also work nicely whipped. The cake is sweet, so don't feel like you must add sweetener to the cream.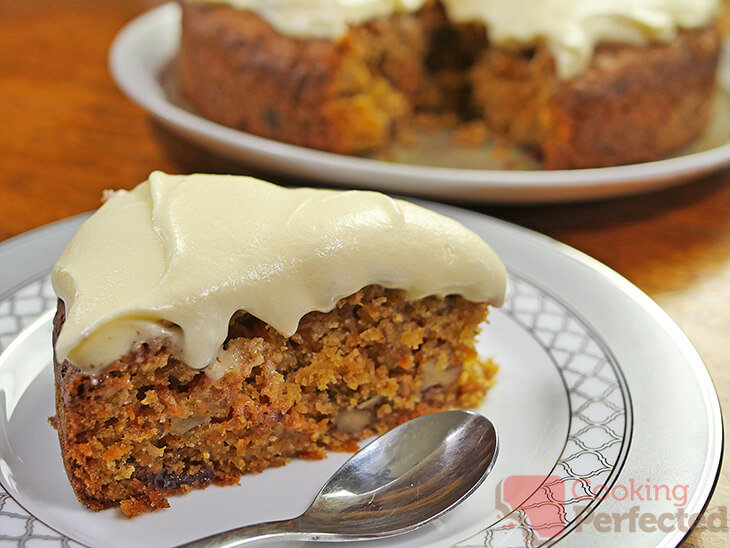 A nice hot pot of coffee or tea goes excellent alongside this delicious cake. If you want to go one step further, you can try making a delicious chai latte. I highly recommend giving it a try.
Below is a video that will take you through all the steps to making a gluten-free carrot cake. Alternatively, below the video is the full written recipe, which is excellent if you prefer to read.
Gluten-Free Carrot Cake Recipe
Ingredients
300 g (10.6 oz) gluten-free self-rising flour
1 tsp cinnamon, ground
1 tsp nutmeg, ground
150 g (5.3 oz) brown sugar
250 g (8.8 oz) carrots, grated
100 g (3.5 oz) chopped walnuts
100 g (3.5 oz) raisins
1 tsp vanilla extract
3 eggs, lightly beaten
250 ml (8.5 fl oz) vegetable oil
Instructions
Preheat an oven to 180°C (350 °F)
Grease and line a 21cm (8.2 in) cake tin.
Sift the flour and spices into a large bowl.
Gently mix in the remaining ingredients until well combined.
Add the cake mixture into the prepared cake tin.
Bake for 1 hour and 15 minutes or until a skewer comes out clean.
Allow the cake to sit in the cake tin for 5 minutes before removing the tin and placing the cake onto a wire rack to cool.
Once cooled, top with cream cheese frosting.
Serve & Enjoy.
Recipe Tips
If you don't have self-rising flour, you can use plain flour and add two teaspoons of gluten-free baking powder.
You can use either a round cake tin or a loaf tin. Both options will work nicely. However, the cooking times may vary slightly.
For the best results, I recommend chopping the walnuts into small to medium-sized chunks.
You can cover the cake with foil if it is starting to brown too much. The foil will help prevent browning while allowing the cake to continue to cook.
It doesn't hugely matter if you end up with too much carrot. You can easily add up to 500g (17.5 oz) of shredded carrot and still have the cake turn out nicely.
Nutrition Information
Serving Size: 159g (5.6 oz)
Servings Per Recipe: 8
Calories Per Serving: 613
Amount Per Serving
Saturated Fat: 25g
Trans Fat: 0g
Dietary Fiber: 3g
Sugars: 28g
Cholesterol: 61mg
Sodium: 499mg
Protein: 8g
The information above is an estimate generated by an online nutrition calculator.
More Gluten-Free Desserts
You need to also take a look at the recipes below as they're just as good as this carrot cake. I highly recommend giving them a try if you want a delicious dessert to go after your next meal.
One of my favorites is a classic chocolate cake that's fluffy, moist, and gluten-free. It is easy to get right, so I highly recommend making it if you have the time.
Another gluten-free dessert that I highly recommend making is the apple and rhubarb crisp. It's got an amazing topping and an even better filling. It's the perfect dessert if you're a massive fan of rhubarb.
I love this gluten-free carrot cake and is one of my favorite desserts. I hope that you enjoy it as much as I did. If you have some feedback, tips, or anything else, then please don't hesitate to leave a comment below.