The air fryer is an excellent choice when it comes to cooking halloumi. The result is some deliciously crispy cheese that will have you going back for seconds.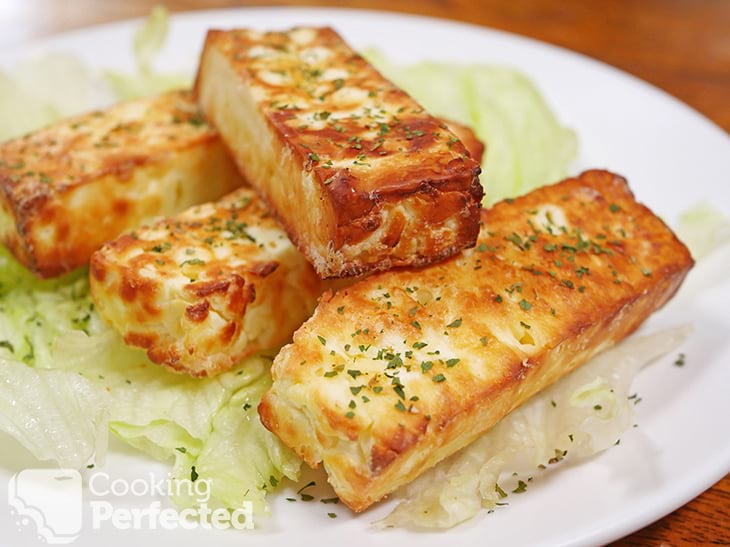 The delicious pieces of halloumi crisp beautifully in the air fryer while still maintaining their shape. I find the cheese turns out a little drier when compared to frying the cheese in oil but it is still unbelievably delicious.
This recipe will only make enough for roughly two to four people. You can add as much halloumi to the air fryer, but do not stack them as they will not cook correctly. I recommend cooking some additional food to serve alongside the cheese.
If you prefer gooey cheese, look at our air fryer frozen mozzarella sticks recipe. It is incredibly easy to make but will require some delicious cheese sticks ready for cooking.
There are plenty of ways that you can use halloumi, so if you somehow have leftover cheese, make sure you keep it in the fridge. The leftover cheese will work great in other meals such as salads and pasta.
Serving Ideas
A cooked breakfast is never complete without some fried halloumi. My favorite combination is hash browns, mushrooms, tomatoes, avocado, and of course, bacon. It is one of my favorite breakfasts but does require a bit of extra time in the kitchen.
There are plenty of salads that include halloumi, so this recipe is perfect for frying the cheese to perfection for your next salad. I love making a basic salad that includes baby spinach leaves, cherry tomatoes, sliced red onion, chunks of halloumi cheese, and Greek salad dressing.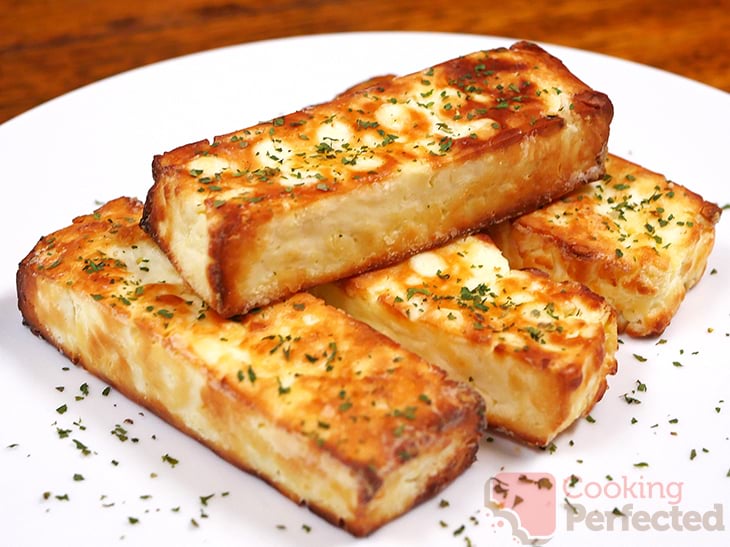 You can simply have the halloumi with some delicious dipping sauces instead. The cheese matches perfectly with condiments such as ketchup, mayonnaise, BBQ sauce, honey, or even something like olive tapenade. Feel free to get creative.
Halloumi is great as a side dish to another meal. For example, you can cook some seasoned chicken breasts and some delicious sweet potato fries to go with the cheese. It is a delightful combination that I highly recommend giving a try.
Crumbing the Halloumi
If you want to make crumbed halloumi nuggets, you only need to make a few small changes to this recipe.
First, you will need to coat the halloumi in roughly 50g (1.75 oz) plain flour. Next, dip each piece of halloumi into a bowl of beaten egg to cover it. Lastly, coat the cheese in some breadcrumbs. Roughly 100g (3.5 oz) of breadcrumbs should be enough.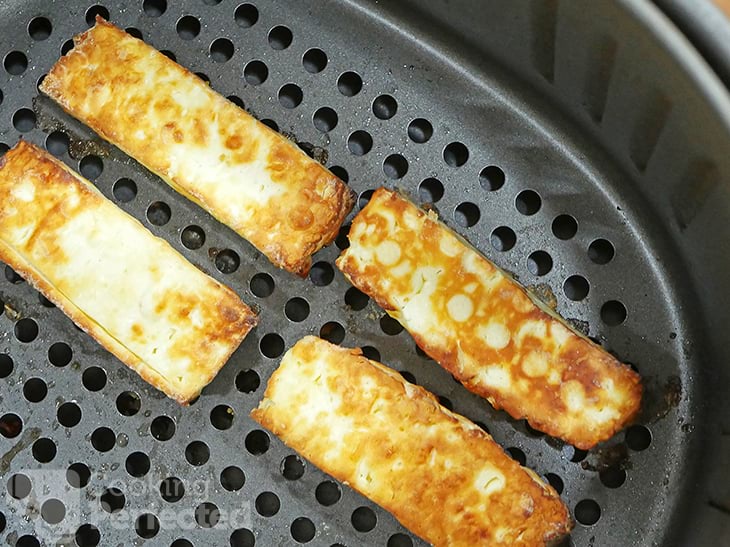 You will need to increase the cooking time by roughly five minutes to ensure the cheese cooks correctly. By the time the cheese is ready, the crumb should be golden brown and crunchy.
The recipe below will take you through all the steps to cooking the halloumi perfectly in the air fryer.
Air Fryer Halloumi Recipe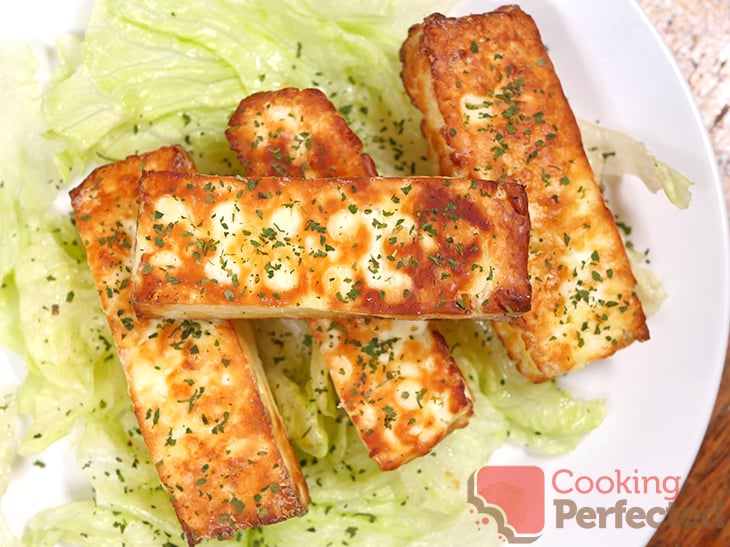 Ingredients
200 g (7.1 oz) block halloumi, cut into 4 equal pieces
1 tsp olive oil
Instructions
Preheat the air fryer to 180°C (360°F). It will take roughly five minutes.
Coat the halloumi in olive oil.
Place the pieces of halloumi into the air fryer making sure they do not overlap.
Cook for 10 minutes or until crispy. Turn halfway through.
Serve & Enjoy.
Recipe Tips
Do not stack the halloumi as it will stop the outside of the cheese from crisping correctly.
Preheat the air fryer for the best result. It should only take a few minutes.
Typically, halloumi is already quite salty, so you should not need to add any more seasoning.
Instructions on how to crumb the halloumi are further up the page.
I recommend cutting the halloumi into large pieces for the best results.
Please refer to the halloumi packet for accurate nutritional information. The values below are an estimate and can vary heavily between brands.
Nutrition Information
Serving Size: 100g (3.5 oz)
Servings Per Recipe: 2
Calories Per Serving: 253
Saturated Fat: 11.8g
Trans Fat: 0g
Dietary Fiber: 0g
Sugars: 1g
Cholesterol: 0mg
Sodium: 1200mg
Protein: 23g
The information above is an estimate generated by an online nutrition calculator.
More Air Fryer Recipes
We have loads of delicious recipes that are perfect for the air fryer. Below are a few recipes that are certainly worth the time and effort.
Our juicy air-fried pork chops are probably my favorite food cooked in the air-fryer. The recipe features a delicious homemade seasoning that helps keeps the pork tender and imparts loads of flavor. If you are after flavor, then I highly recommend giving it a try.
Homemade hamburgers cook brilliantly in the air fryer and are certainly worth it. I usually cook four patties in the air fryer, but you might be able to fit more. It is a really easy way of cooking burgers without making a huge amount of mess.
I hope that your halloumi cooks excellent in the air fryer just like mine did. If you have some feedback, then please do not hesitate to leave a comment below.