Cooking hamburgers in the air fryer works perfectly almost every time without fail. I highly recommend giving it a try.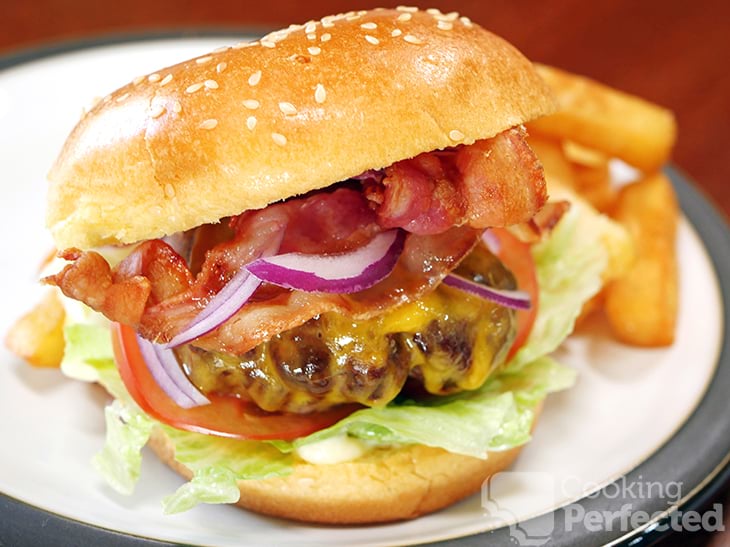 By the time the hamburgers are cooked, they will be juicy, loaded with flavor, and covered in delicious cheese. I love eating the burgers inside a bread bun loaded with other ingredients.
A single batch of these burgers should be enough to feed two to four people. However, it really depends on whether they are big eaters. I also like to make some side dishes to serve with the hamburgers.
You can make these burgers paleo-friendly or gluten-free by simply replacing the burger bun. A great alternative is to use grilled Portobello mushrooms. Otherwise, there are great alternatives available at some supermarkets.
Any leftover patties are great for a quick and easy sandwich the next day. I recommend placing the burgers in the fridge without the bread bun. They should last roughly three days in the refrigerator or three months in the freezer.
Side Dishes to Serve with Hamburgers
There are so many side dishes that work great with hamburgers. Below is a couple of my favorite sides.
Steak fries are best served alongside a deliciously good burger. You can cook them in the oven, air fryer, or deep fryer. For something a bit healthier, you can make some sweet potato fries instead. Either option is an excellent choice.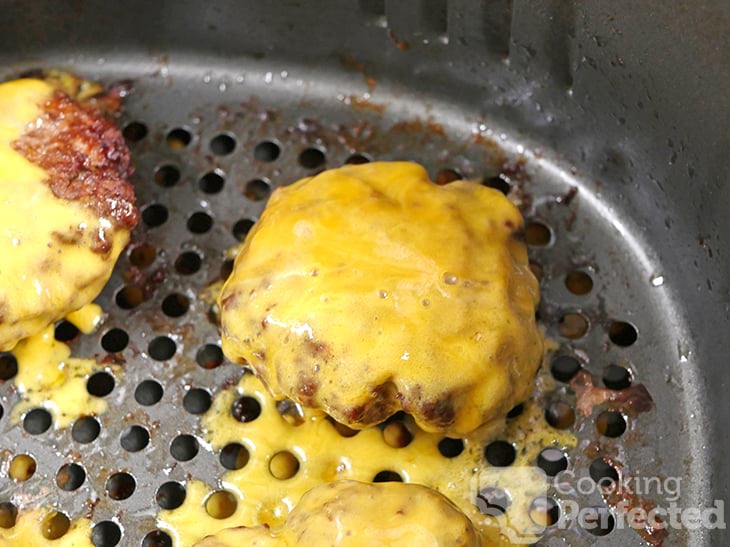 A good salad will always work great as a side dish. Personally, I love a good potato salad that will please my comfort food cravings. However, a refreshing green salad is a great healthier alternative.
If you have a bit of spare time, homemade mac n cheese is an excellent choice for a delicious side dish. It is super easy to make but requires a bit of cooking and preparation. It is always a huge hit whenever I make it.
Making the Perfect Burger
When it comes to the perfect burger, I personally love to keep things simple. I always serve my burgers in a bread bun with lettuce, sliced tomatoes, sliced red onion, mayonnaise, and sometimes ketchup.
There are loads of different ingredients you can add to the burger. For example, some people love adding some of the following ingredients: onion rings, pineapple, beetroot, pulled pork, fried egg, avocado, hash browns, caramelized onion, mushrooms, and so much more.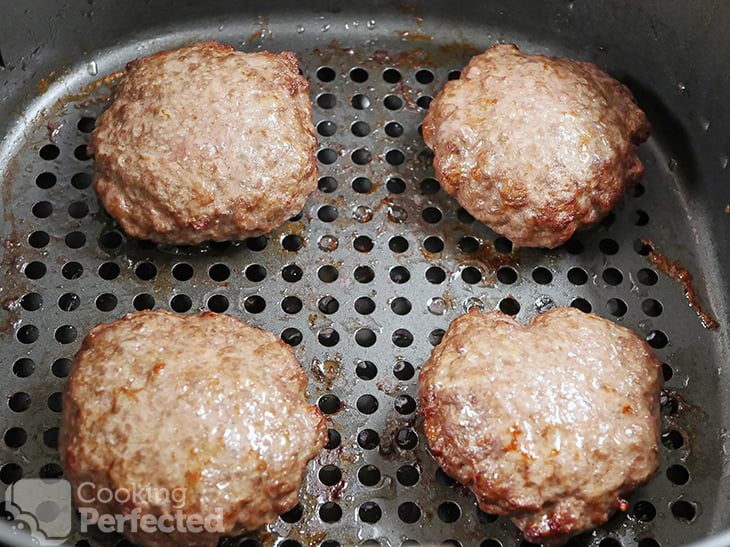 You can experiment with different types of sauces to add to the burgers. A few ideas include sauces such as BBQ sauce, ketchup, mayonnaise, ranch dressing, hot sauce, mustard, relishes, and so much more.
Lastly, the type of cheese you use can profoundly impact the flavor of the burger. You can use basically any cheese, but I usually use something like cheddar, swiss, brie, Monterey Jack, gouda, or even goats' cheese.
The recipe below will go through all the ingredients and steps to cooking hamburgers in the air fryer. If you have any questions, be sure to leave us a comment at the bottom of this page.
Air Fryer Hamburgers Recipe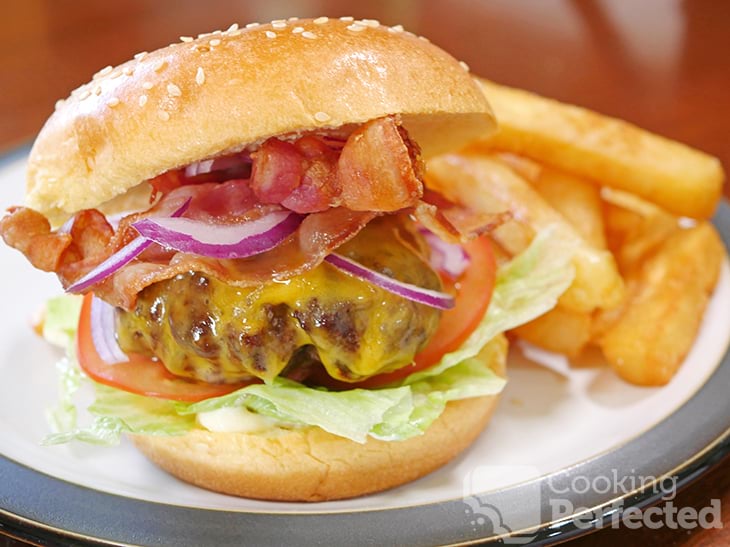 Ingredients
Hamburger Patties
500 g (1.1 lb) ground beef
1/2 tsp onion powder
1/4 tsp garlic powder
1 tsp salt
1/4 tsp pepper
4 cheese slices
Burgers
Burger buns
Mayonnaise
Lettuce
Crispy Bacon
Sliced tomatoes
Sliced red onion
Instructions
In a bowl, combine the ground beef, onion powder, garlic powder, salt, and pepper.
Form into four even burgers.
Preheat the air fryer to 190°C (375°F). It will take roughly 5 minutes.
Place the burgers into the air fryer and cook for 8 minutes. Flip midway through cooking.
Top the burgers with the cheese and cook for a further minute.
Assemble your burger buns. I typically layer it in the following order; burger bun bottom, mayonnaise, lettuce, tomato, burger patty, red onion, any extra sauces, and the burger bun top.
Serve & Enjoy.
Recipe Tips
Use a meat thermometer to check the internal temperature of the patties. You should aim for an internal temperature of 72°C (160°F).
You can easily double or triple the ingredients if you need to feed more people.
The thickness of the burgers will impact the cooking time. So, if your patties are thin, consider reducing the cooking time.
The nutritional information below does not consider any extras that you serve with the patties, for example, the bread bun.
Nutrition Information
Serving Size: 161g (5.7 oz)
Servings Per Recipe: 4
Calories Per Serving: 368
Amount Per Serving
Saturated Fat: 10g
Trans Fat: 0.5g
Dietary Fiber: 0g
Sugars: 3g
Cholesterol: 129mg
Sodium: 1211mg
Protein: 39g
The information above is an estimate generated by an online nutrition calculator.
More Air Fryer Recipes
There are so many different meals that you can cook in the air fryer. It really is the perfect appliance for quick and easy cooking. Below are a couple of my favorite recipes that I highly recommend giving a try.
Our seasoned air-fried pork chops are an absolute must-try. They cook to be beautifully flavored and incredibly tender. They are extremely easy to get right every time.
Another delicious homemade meal that is worth trying in the air fryer is seasoned chicken thighs. They are easy to get right and do not take long to prepare and get cooking. They go great with a delicious range of side dishes.
I hope that you love these air fryer hamburgers as much as I do. If you have some feedback, then please do not hesitate to leave a comment below.