This Instant Pot pulled pork is loaded with flavor thanks to the incredible spice rub and liquids we cook it in. It is so delicious, it is bound to become a family favorite.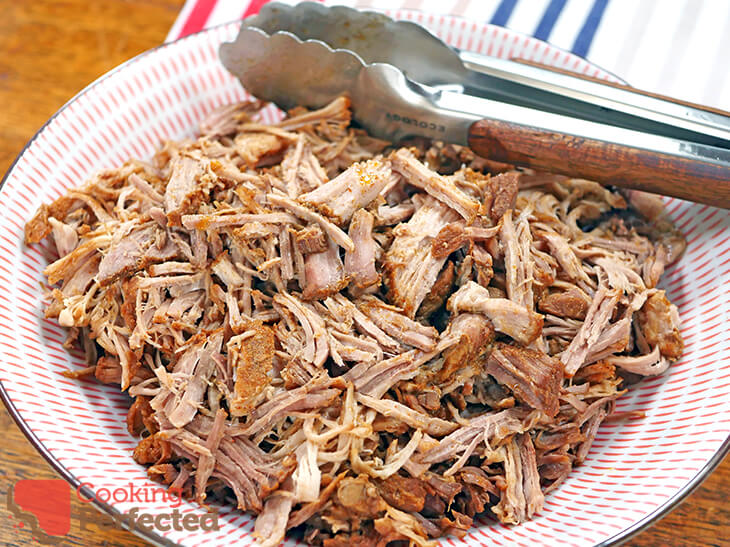 By the time the pork is ready, it will easily pull apart and be infused with the lovely spice rub. Our spice rub consists of cumin, onion, garlic, paprika, brown sugar, and salt and pepper. You can serve the pork with its own juices and broth or with your favorite BBQ sauce.
I love making pulled pork in a pressure cooker as it cooks super fast. However, if you want it to slowly cook, you can also make pulled pork in a slow cooker. Both result in some delicious meat, so pick whatever suits your needs.
A batch of this pulled pork and a few side dishes should make enough food to feed four to six people. You can double or triple the recipe if you need to feed more people.
There are plenty of ways to use leftover Instant Pot pulled pork, so make sure you do not throw any of it out. Keep any leftovers in the fridge or freezer. The pork should last for three days in the refrigerator or three months in the freezer.
Serving Ideas for Pulled Pork
There are dozens of ways that you can serve pulled pork. Below are just a few ideas that I highly recommend that you check out.
The most popular way to serve this pulled pork is in a sandwich with some extra ingredients. One of the best combinations is a delicious bread roll loaded with some homemade coleslaw, pulled pork, and some gherkins.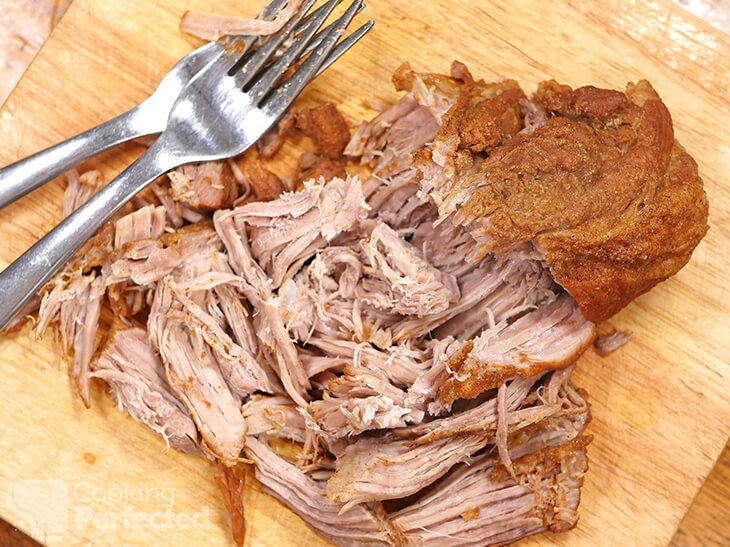 Using the pork as a pizza topping is extremely popular and often found at gourmet pizza places. I love to do a topping mixture of BBQ sauce, pulled pork, red onion, and cheese. It is basic but is unbelievably delicious.
Making a basic salad is a great way to use this delicious meat. I love doing a simple combination of red cabbage, grated carrot, sliced almonds, cilantro, and some greens such as baby spinach. Of course, there are many more salads that you can use this meat in.
Best Cut of Pork to Use
If you are after the best pressure cooker pulled pork, you will need to consider which pork cut to buy. From my experience, I find pork shoulder or Boston butt will work the best, but other cuts might work fine.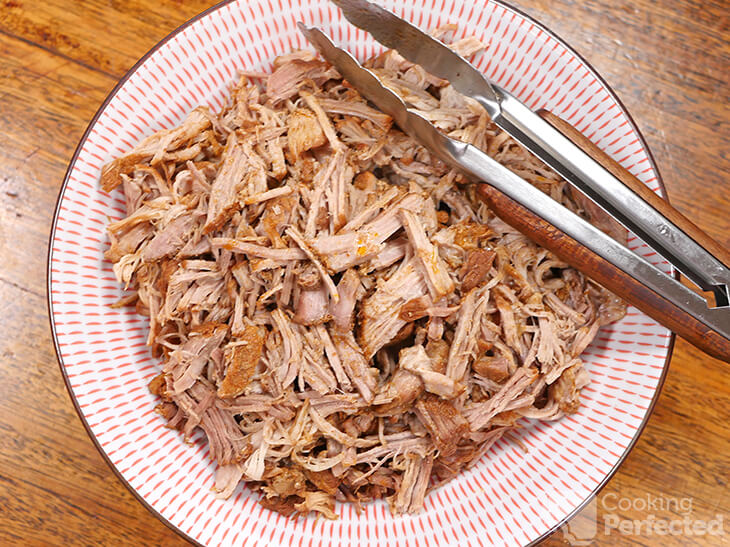 Below is a recipe that will take you through all the steps of making pulled pork in an Instant Pot.
Instant Pot Pulled Pork Recipe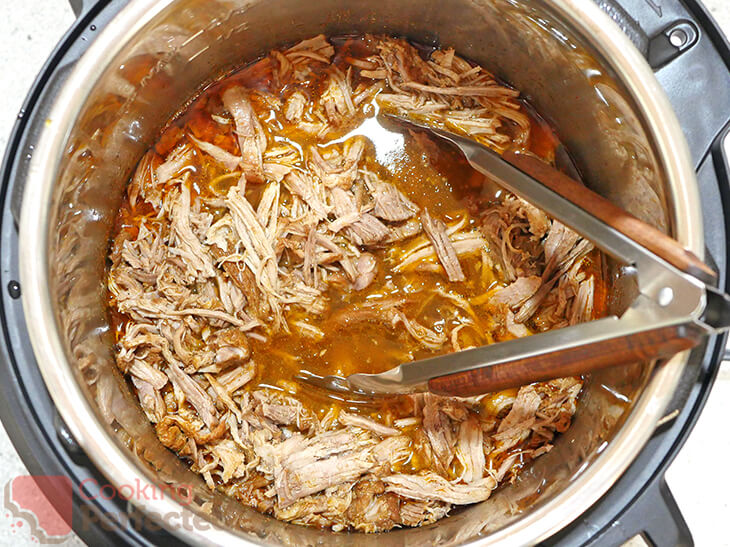 Ingredients
1 kg (2.2 lb) pork shoulder, cut into 4 pieces
1 tsp onion powder
1 tsp garlic powder
1 tsp chili powder
1 tsp cumin, ground
1 tsp paprika
2 tsp salt
¼ tsp pepper
3 Tbsp brown sugar
2 Tbsp Worcestershire sauce
250 ml (8.5 fl oz) chicken stock
60 ml (2 fl oz) apple cider vinegar
Instructions
In a bowl, combine the onion powder, garlic powder, chili powder, cumin, paprika, salt, pepper, and brown sugar.
Coat the pork shoulder with the seasoning mixture.
Set the Instant Pot to the sauté setting and add 1 Tbsp of cooking oil.
Add the pork and cook until browned. Roughly 4 minutes.
Add the Worcestershire sauce, chicken stock and apple cider vinegar. Use a wooden spoon to stir while scraping the bottom of the pot.
Seal the pressure cooker and set it on high pressure for 40 minutes.
Allow to sit for 10 minutes before manually releasing the pressure.
Remove the pork from the Instant Pot and use two forks to shred.
Serve with the juices from the pressure cooker or mix in one cup of your favorite BBQ sauce.
Recipe Tips
For the best results, I recommend cutting the pork into four to eight even sizes. The smaller cuts will ensure the pork cooks correctly.
Even though I recommend BBQ sauce, there are plenty of other sauces that will work great with pork.
After cooking, the pork should pull apart easily. If it does not, then the meat will need to be cooked for longer.
To ensure that this recipe is gluten-free, double-check the Worcestershire sauce does not contain gluten as some brands do add it.
Nutrition Information
Serving Size: 236g (8.3 oz)
Servings Per Recipe: 6
Calories Per Serving: 503
Amount Per Serving
Saturated Fat: 11.1g
Trans Fat: 0.3g
Dietary Fiber: 1g
Sugars: 9g
Cholesterol: 165mg
Sodium: 1005mg
Protein: 43g
The information above is an estimate generated by an online nutrition calculator.
More Delicious Recipes
There are plenty more recipes that you should check out. Below are a couple of my favorite recipes that I highly recommend giving a try.
The Mongolian beef has an incredible sauce that is loaded with flavor. This delicious sauce coats some crispy beef that is crisp on the outside and tender on the inside. It is an amazing dish.
Another recipe that I reckon you will love is the orange chicken. Essentially, it is battered chicken coated in a lovely citrus sauce. I highly recommend making it if you love citrus flavored meals.
I hope that you love this Instant Pot pulled pork as much as I do. If you have some feedback, then please do not hesitate to leave a comment below.