This crispy fried Mongolian beef is an absolute must-try. It has a delicious sauce, a slight hint of spice, and flavor-packed pieces of beef.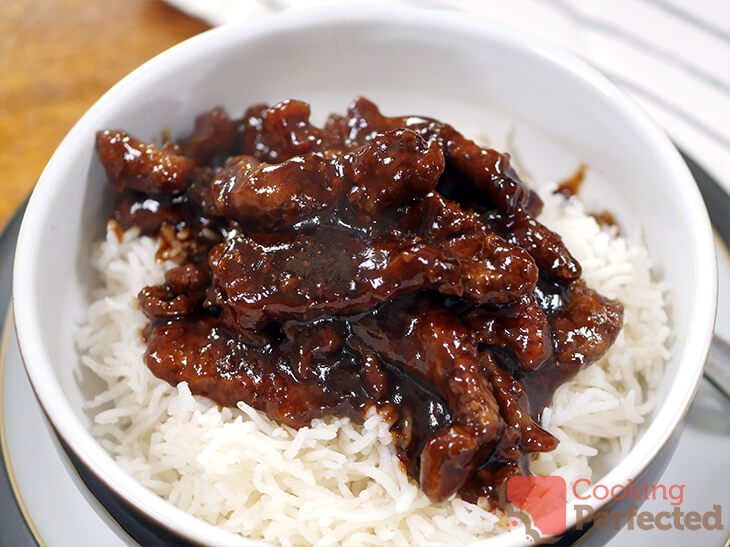 By the time this dish is ready, the beef will be crispy and coated in a fantastic sauce loaded with flavor. The sauce has hints of soy, hoisin, garlic, ginger, and chili. It is an amazing combination that will have you going back for seconds.
I find that this dish will make enough to feed about four people. You can easily adjust the recipe to feed more if needed. I highly recommend that you make some side dishes to go with this dish, such as steamed rice.
You can make Mongolian beef in the slow cooker if you want to have it start cooking early in the morning. The result is roughly the same, but the beef will be incredibly tender and packed with the sauce's flavors.
The leftovers of this dish are great for an easy meal. They will keep for roughly three days in the refrigerator or three months in the freezer. I do not recommend storing the dish with rice unless you plan on eating it as soon as possible.
What to Serve with Mongolian Beef
Many different side dishes will work very nicely with the flavors of the sauce and beef. Below are a couple of my favorite side dishes.
Steamed rice is my favorite side dish to have with this delicious Asian beef dish. For something a little healthier, I recommend making some cauliflower rice. It is an excellent alternative to regular steamed rice.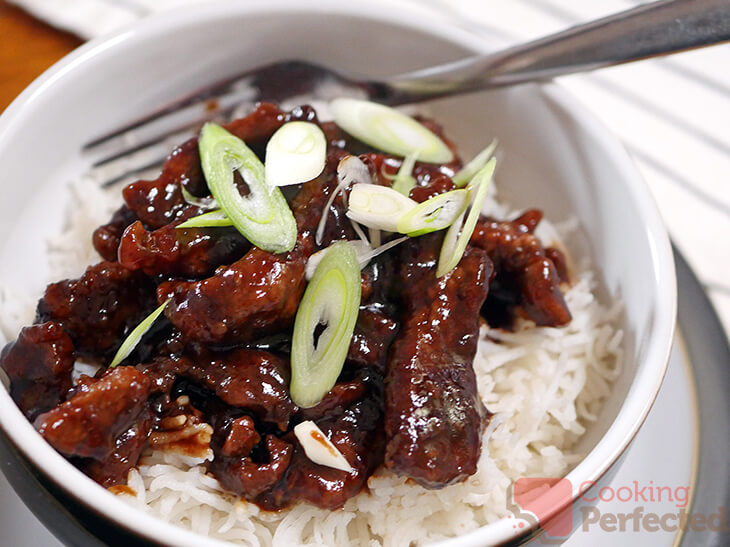 For something a little different, you can serve the beef over the top of some homemade mashed potatoes. Much like the rice, you can use cauliflower to make a much healthier alternative, mashed cauliflower.
Another option is to serve the meat with stir-fried vegetables such as bell peppers, bok choy, onion, baby corn, and much more. All these vegetables will match nicely with the lovely Mongolian sauce.
Best Beef to Use
Choosing the right cut of beef is hugely important if you want tender pieces of meat in the Mongolian beef.
Flank steak, skirt steak, sirloin steak, or even rump steak will work very nicely in this dish. These may go by different names, depending on where you live. Each cut of meat may also heavily vary in price, so try to pick something you can afford.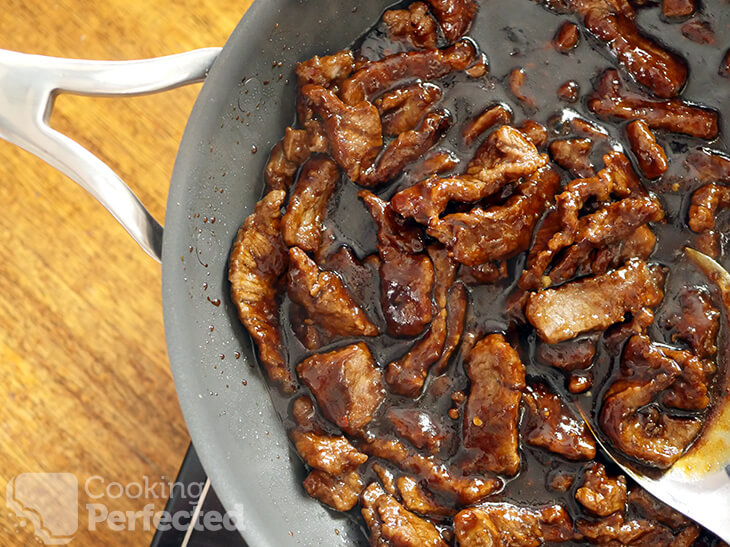 If you cannot find any of my suggestions, then be sure to consult your local butcher. They will be able to suggest the best cuts that they have available.
The video below will take you through all the steps to making this delicious Mongolian beef. If you prefer written steps, then you can find the full written recipe immediately below the video.
Mongolian Beef Recipe
Ingredients
Meat
500 g (1.1 lb) beef, sliced
2 Tbsp cornstarch
1 tsp salt
¼ tsp pepper
125 ml (4.2 fl oz) cooking oil
Sauce
1 Tbsp cooking oil
1 tsp garlic, crushed
1 tsp ginger, minced
1 tsp red chili flakes
¼ cup soy sauce
¾ cup beef stock
¼ cup brown sugar
¼ cup hoisin sauce
1 Tbsp cornstarch
2 Tbsp water
Instructions
Coat the beef in the cornstarch, salt, and pepper.
In a frying pan over medium heat, add the oil.
Once the oil is hot, cook the beef in batches until crispy. Once cooked, place the beef on a plate lined with paper towel.
In a clean frying pan, add 1 Tbsp oil.
Once the oil is hot, add the garlic and ginger and cook for a minute.
Now, add the red chili flakes, soy sauce, beef stock, brown sugar, and hoisin sauce. Heat until boiling.
Mix the cornstarch and water until it is like a paste. Stir into the sauce and allow to thicken.
Add the beef into the frying pan and cook until hot.
Serve & Enjoy.
Recipe Tips
The red chili flakes add quite a bit of spice to the sauce, so if you do not like spicy food, I recommend leaving the flakes out entirely.
More vegetables can be added in with the Mongolian sauce and beef. For example, some sliced onions, bell peppers, or even green beans will work very nicely with the rest of the flavors.
The hoisin sauce is optional, but I believe it adds loads more flavor to the sauce.
To ensure that this recipe is gluten-free, double check the ingredients for the hoisin sauce, soy sauce, and cornstarch.
Nutrition Information
Serving Size: 235g (8.3 oz)
Servings Per Recipe: 4
Calories Per Serving: 297
Amount Per Serving
Saturated Fat: 2.1g
Trans Fat: 0.4g
Dietary Fiber: 1g
Sugars: 18g
Cholesterol: 93mg
Sodium: 2066mg
Protein: 29g
The information above is an estimate generated by an online nutrition calculator.
More Beef Recipes
Below are some more beef recipes that you might want to give a try. They are all just as good as this recipe.
The easy beef and broccoli is the perfect dish if you want a delicious meal without needing to put in tons of effort. The sauce that coats the beef and broccoli is loaded with flavor thanks to the soy, beef stock, brown sugar, and garlic.
For something a little heartier, you may want to give the super-easy beef goulash a try. It has a delicious range of flavors from the paprika and tomatoes. I highly recommend giving it a try if you love stews.
I really hope that you love this Mongolian beef recipe as much as I do. If you have some feedback, then please do not hesitate to leave a comment below.