This easy beef stroganoff recipe is delicious and very easy to prepare and cook quickly.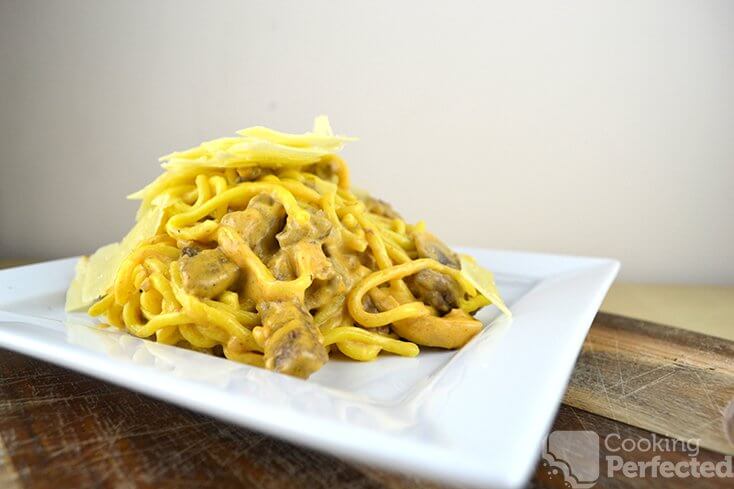 You will be delighted to hear that this creamy pasta dish is loaded with tender pieces of beef, flavorsome mushrooms, and an even better creamy sauce. It is best matched with something like pasta, noodles, or even rice.
For those who don't know, a stroganoff is a beef dish that typically uses sour cream as the sauce. Modern versions like this recipe have tomato paste and mushrooms added to the dish.
You should be able to feed roughly four people from a single batch of this recipe. If you need to feed a crowd, then you can easily double or triple the recipe. Some side dishes are also great for feeding more people.
What to Serve with Beef Stroganoff
As with any pasta dish, this stroganoff goes amazing with a side of garlic bread. If you have a bit of extra time and energy, it's well worth getting some cooking in the oven.
You can serve this dish with egg noodles, rice, or pasta. They're all great options, so pick whatever you feel like eating. Personally, I love serving it with some egg noodles.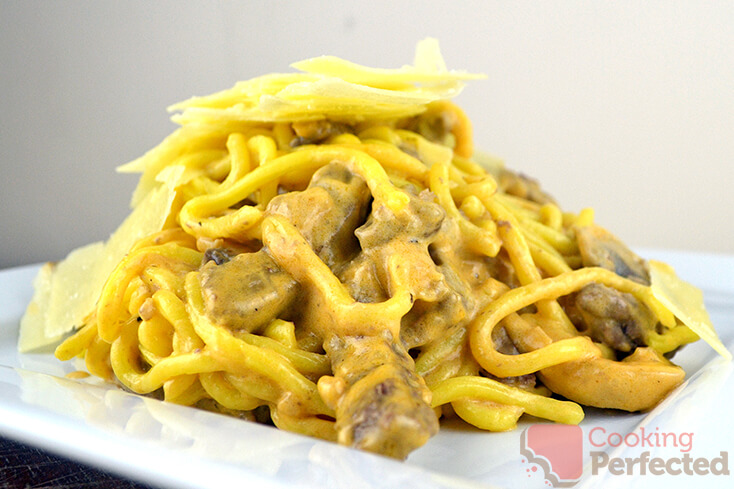 If the options above don't sound very appealing, then mashed potatoes is an excellent accompaniment. Alternatively, sweet mashed potatoes is an excellent alternative if you're after something a little healthier.
We will love to hear any suggestions on how to serve this delicious dish, so feel free to leave a comment with your ideas at the bottom of this page.
Adjusting this recipe
This dish is very affordable to make, with the most expensive ingredient being beef. The beef can be substituted with ground beef or a cheaper cut of beef if you're tight on money.
A tender type of beef that you can use include rib eye, sirloin, and tenderloin. Tougher cuts of meat such as rump, round steak, or topside will need to be cooked for a much longer time for the best results.
If you're not a fan of sour cream, you're able to switch it out for yogurt instead. This variation will give this stroganoff a tangier taste. If you're a fan of the tangy taste, then I highly suggest doing this change anyway.
You can add a tablespoon of Dijon mustard to this recipe for a bit of extra flavor.
If you want to see how to make this super easy beef stroganoff recipe, then be sure to check out the video I have prepared below.
Beef Stroganoff Recipe
Ingredients
1 onion, diced
1 tsp garlic, crushed
170 g (6 oz) button mushrooms, sliced
500 g (1.1 lb) beef, thinly sliced
2 Tbsp tomato paste
2 Tbsp plain flour
250 g (8.8 oz) sour cream
Instructions
Heat a fry pan over medium heat until it is hot.
Add the sliced beef and sear until browned.
Add the onion, garlic, and mushrooms.
Cook until the onion starts to go translucent.
Add the plain flour and cook for 1-2 minutes.
Next, add the sour cream and tomato paste.
Allow to simmer for 2-3 minutes.
Serve & Enjoy.
Recipe Tips
If you're not a fan of beef, then you can substitute it with something else like chicken. Popular stroganoff variations in Brazil often feature chicken breasts.
Make sure the pan is hot when you add the beef; otherwise, you will stew the beef instead of searing it.
As I mentioned above, since we're not cooking the beef for a long time, try to get tender cuts of beef such as tenderloin or scotch fillet. However, if money is running low, then blade steak will be fine.
If you don't have any sour cream, then this can be substituted for something like Greek yogurt. However, expect the flavor to be slightly different.
You can also make delicious beef stroganoff in the slow cooker. Of course, it will take a lot longer, but you can get it cooking before you head to work.
Nutrition Information
Serving Size: 270g (9.5 oz)
Servings Per Recipe: 4
Calories Per Serving: 408
Amount Per Serving
Saturated Fat: 11.1g
Trans Fat: 0g
Total Carbohydrate: 11.4g
Dietary Fiber: 1.5g
Sugars: 3g
Cholesterol: 139mg
Sodium: 127mg
Protein: 42.3g
The information above is an estimate generated by an online nutrition calculator.
More Pasta Recipes
If you're looking for other pasta dishes, then you should certainly check out something such as the delicious easy carbonara. Like this dish, it is incredibly creamy but instead has crispy bits of bacon.
Another dish that I like is the Cajun chicken pasta. It is creamy, loaded with chicken, and is flavored with some delicious Cajun spices. I highly recommend giving it a try.
If you have a variation on the easy beef stroganoff recipe that you would love to share, then feel free to leave a comment below.