This easy garlic bread is perfect if you need to make a delicious side dish for your next meal.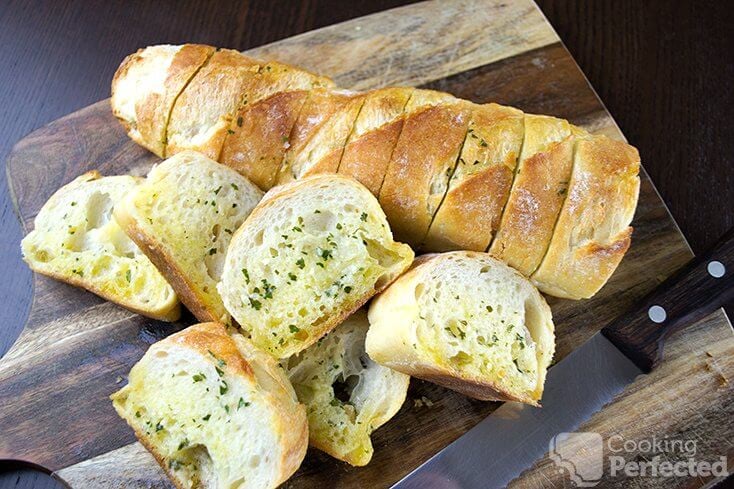 You will be able to smell the lovely garlic aromas as the bread bakes in the oven. By the time you pull the garlic bread out of the oven, it will be crunchy on the outside, and inside it will be soft and loaded with flavor thanks to the garlic and herb butter.
This recipe will make enough garlic bread for two to four people. However, I also assume that you are going to have it as a side dish rather than as a meal. So, if you are cooking it as a meal, you may need to make more.
The garlic butter we make in this recipe is also delicious in other dishes such as garlic prawns. If you have some leftover butter mixture after making this recipe, I recommend covering it and keeping it in a fridge.
Foods that go great with Garlic Bread
While this easy homemade garlic bread is excellent by itself, you might want a proper meal to go with it. Be sure to check out some of the simple dinner recipes below. There are some great ideas for what to have with this bread.
The puff pastry pizza is a super easy meal and perfectly matches a side dish like this one. Other pizza dishes like the pizza casserole will also match very nicely with this garlic bread. I highly recommend giving either a try.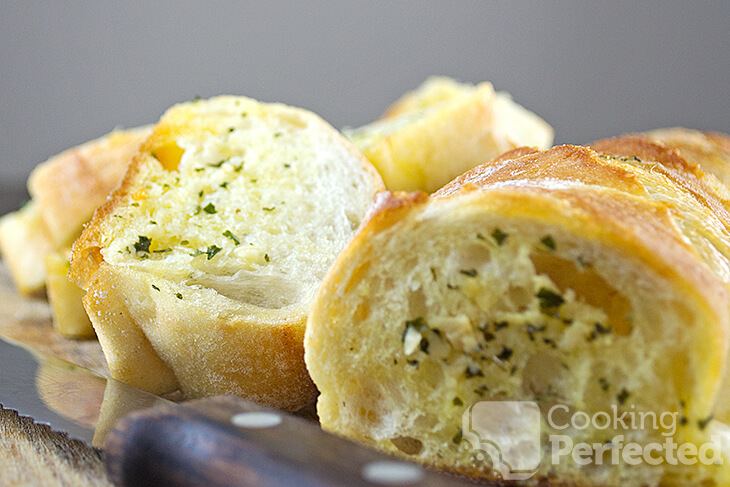 Pasta, such as the creamy carbonara is another meal that this garlic bread will work perfectly with. It features a deliciously creamy sauce, bacon, and flavor-packed mushrooms. I love making it all the time.
The last dish that I highly recommend serving alongside this delicious side dish is the honey mustard chicken. It is the perfect dish if you love the taste of mustard.
Tweaking the Recipe
If you want to turn this into easy cheesy garlic bread, add some shredded cheese to the butter mix. You can use a single type of cheese or multiple. I love to use a blend of mozzarella and parmesan. However, cheddar will be pretty nice as well.
In this recipe, I recommend using a French stick, but it is not compulsory. You can still use the butter with normal sliced bread. For the best results, I recommend toasting the bread slices before spreading with the garlic butter.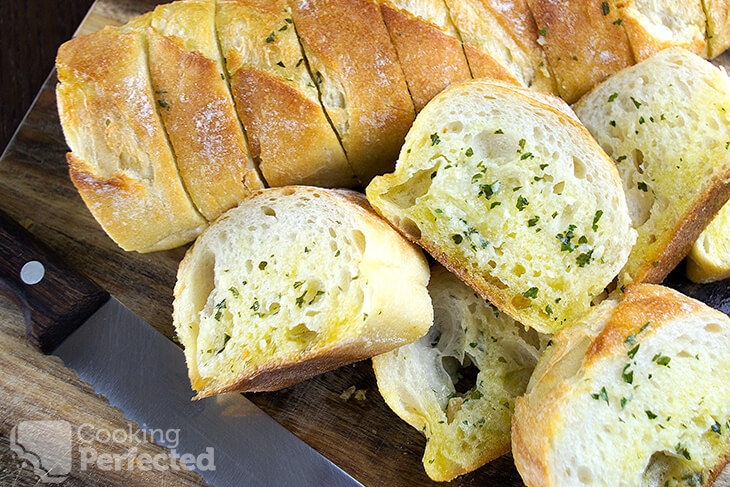 For the best results, I recommend using fresh garlic. However, if you cannot get your hands on any, then garlic powder will work fine. You might need to reduce the amount of garlic by half, as the powder can be stronger.
If you want to see how to make this easy garlic bread recipe, then be sure to check out the video below. If you are not in the mood for watching a video, there is a fantastic text version of the recipe immediately below.
Easy Garlic Bread Recipe
Ingredients
1 French stick or similar
6 Tbsp softened butter
2 tsp garlic, crushed
2 tsp fresh parsley, chopped
Instructions
Preheat an oven to 180°C (350°F).
Slice the French stick into about 2 cm (¾ inch) slices. Do not cut all the way through, instead only go about three quarters.
In a bowl, combine the garlic, butter, and parsley.
Using a knife, spread the butter mix in-between the cuts of the French stick.
You can either wrap the bread in foil or bake plain for extra crunchy garlic bread.
Place into the oven and cook for 15-20 minutes or until the butter has melted and the bread is lightly toasted.
Remove from the oven.
Serve & Enjoy.
Recipe Tips
The butter mix you make in this recipe is great for other dishes such as garlic prawns, so make sure you do not throw out any of the leftovers.
Wrapping the garlic bread in foil is not essential, but it does help the bread to cook more evenly. If you decide not to use the foil, then I recommend placing it on an oven tray.
You can cook this in the microwave without the foil if you are running low on time, but it will cook to be quite soft and not as nice.
Dried parsley can be used instead of fresh. You may need to reduce the quantity of parsley by half as dried herbs tend to be stronger.
Nutrition Information
Serving Size: 207g (7.3 oz)
Servings Per Recipe: 2
Calories Per Serving: 772
Amount Per Serving
Saturated Fat: 22.7g
Trans Fat: 0g
Total Carbohydrate: 91.3g
Dietary Fiber: 3.9g
Sugars: 4.2g
Cholesterol: 92mg
Sodium: 1046mg
Protein: 19.4g
The information above is an estimate generated by an online nutrition calculator.
More Delicious Recipes
We have plenty more recipes that are well worth trying. Below are a couple of super easy recipes that you might be interested in.
Our easy homemade tortilla chips are perfect to have with some dips and cheese. They are also delicious with just a bit of seasoning.
Another recipe that I reckon you will love is the cheesy bread bowls. They feature a delicious bread roll filled with ham, cheese, egg, and some herbs. The best part is they produce almost no washing up.
If you have any feedback on this easy garlic bread or anything else you would like to share with us, then be sure to leave us a comment below.