Puff pastry pizza is incredibly easy to prepare and bake. The crust has a lovely golden crunch that makes it irresistible.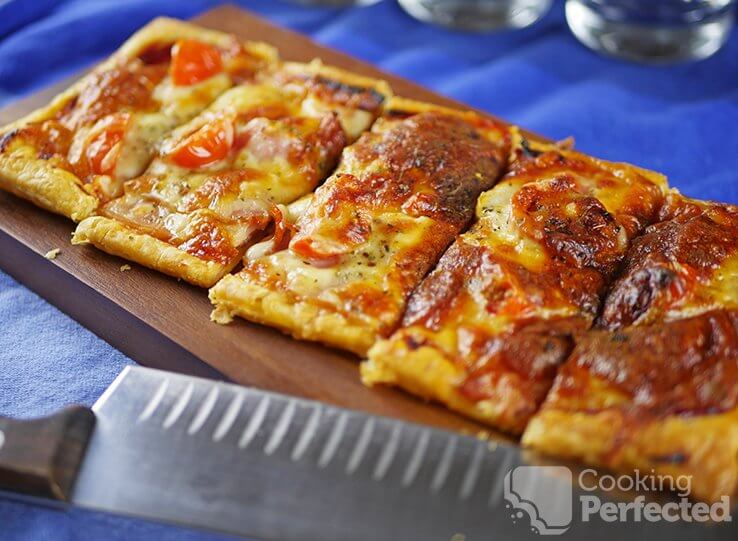 A puff pastry pizza base is light, flaky, and absolutely delicious. It matches nicely with most pizza toppings and is one of the easiest bases you will ever make.
You can do any topping combination for these pizzas. However, if you do not feel like thinking, I have a couple of great examples in this recipe. They are incredibly delicious.
If you do not have the time to make dough or dislike the premade bases you buy at the supermarket, then puff pastry is a fantastic alternative. It is light, crunchy, and adds quite a bit of flavor.
Depending on how hungry people are, this recipe should feed roughly two to four people. However, you may want to make some extra side dishes such as homemade garlic bread.
Pizza Topping Ideas
Below are some of my favorite pizza topping combinations that I highly recommend trying. I always love the meat lover style pizzas.
For a meat lover pizza, use pizza sauce, pepperoni, ham, seasoned ground beef, and some crispy bacon bits. Top all of these ingredients with a generous amount of cheddar and mozzarella cheese.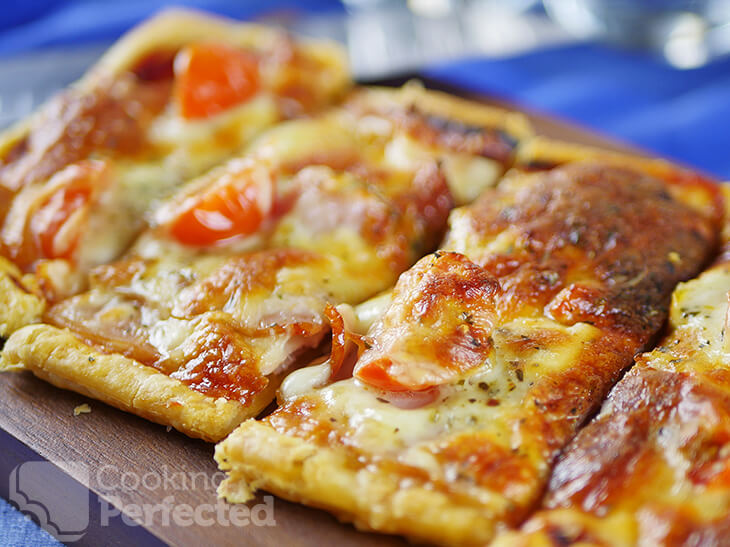 Chicken and brie are one of my favorite combinations. To make the pizza, spread the base with some pesto sauce and top with shredded chicken, red onion, baby spinach, and some delicious strips of brie.
A classic, but certainly a must-try is pepperoni. Simply spread the base with pizza sauce and top with mozzarella cheese. Layer the pepperoni across the top of the cheese. I should also mention, I have a lovely pizza casserole that is worth making.
The last recommendation is a pulled beef pizza. On the pizza base spread some pizza sauce, then top with pulled beef, sliced bell peppers, and red onion. Finally, top with a combination of cheddar and mozzarella.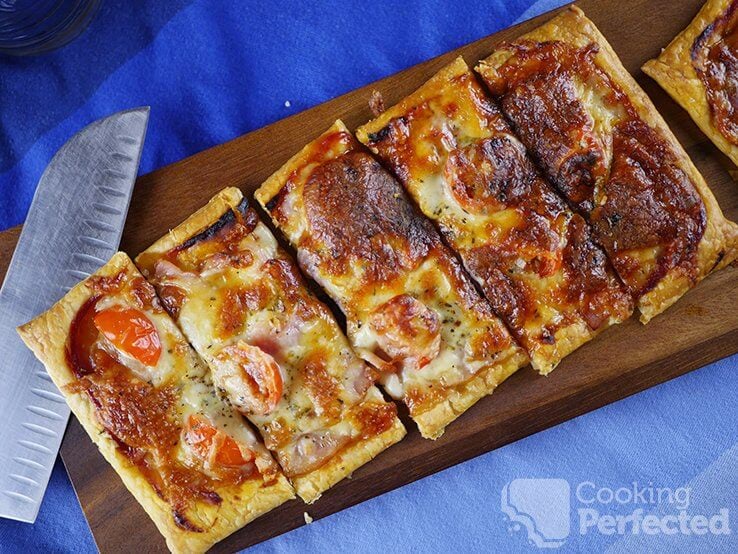 As there are so many pizza topping combinations that you can do, I would love to hear any of your favorites. To share your favorites, you can simply leave a comment at the bottom of this page.
If you want to see how to prepare these puff pastry pizzas quickly, then be sure to check out the video below. It takes you through everything you need to know for making this amazing tasty pizza.
Puff Pastry Pizza Recipe
Ingredients
Example Topping
2 Tbsp tomato paste
4 ham slices
10 salami slices
3 cherry tomatoes, chopped
2 tsp caramelized onion
125 g (4.4 oz) mozzarella cheese, shredded
Instructions
Preheat an oven to 220°C (430°F).
Defrost one piece of puff pastry.
Cut the piece of pastry in half.
Place the pastry onto an oven tray lined with baking paper. Leave a 4cm (1.5 in) gap between the pieces of pastry.
Now spread the tomato paste on the pastry, leaving a 1 cm (0.4 in) gap at each of the edges.
On one pizza, add in the following order: ham, tomato, and lastly, half a cup of the cheese.
For the other pizza, add salami, caramelized onion, and the remaining of the cheese.
Place in the oven and cook for 15-20 minutes or until crisp.
Serve & Enjoy.
Recipe Tips
Make sure the oven is at the desired temperature before adding the pizzas in. If the oven is not hot enough, you may find the puff pastry will not rise very much, and possibly go soggy. It will leave you with disappointingly flat pizzas.
Try not to overload the pastry with too many ingredients as it might become soggy and not very enjoyable. Sometimes less is more!
Make sure you let the puff pastry defrost before trying to cut it. If it is still frozen, it may crack and splinter when you cut it. Do not refreeze puff pastry as it will not puff up next time you cook it.
Nutrition Information
Serving Size: 161g (5.7 oz)
Servings Per Recipe: 4
Calories Per Serving: 384
Amount Per Serving
Saturated Fat: 8.1g
Trans Fat: 0g
Dietary Fiber: 1g
Sugars: 2g
Cholesterol: 77mg
Sodium: 1195mg
Protein: 29g
The information above is an estimate generated by an online nutrition calculator.
More Puff Pastry Recipes
If you are an absolute fan of this type of pastry, then be sure to check out all my puff pastry recipes. There is an ever-growing list of easy recipes that you can whip up without any cooking knowledge.
A great thing about puff pastry is how multipurpose it is. For example, you can cook both savory and sweet meals with it. Speaking of desserts, one of my personal favorite desserts made with puff pastry is apple turnovers. Great little crunchy parcels with apple inside.
The puff pastry pizza scrolls are very similar to this dish, but instead of having a flat pizza, you have tasty scrolls that are just amazing.
Hopefully, you enjoyed this super easy puff pastry pizza, and you did not have any trouble with making it. If you have a variation that you would love to share or just general feedback, then please do not hesitate to leave a comment below.