A pepperoni pizza casserole is as amazing as it sounds, and the best thing about it is that it can easily feed a crowd.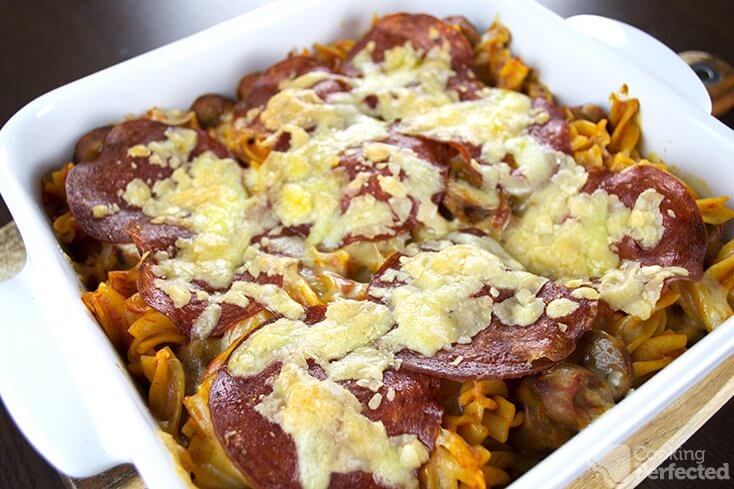 This recipe is pretty straightforward and doesn't require much preparation. If you're in a rush and need to get a meal together quickly, then this is the perfect recipe. It does, unfortunately, require forty minutes in the oven.
One of the best things about this dish is that you won't need a ton of ingredients. If you have some pre-cooked pasta, pasta sauce, cheese, and Italian sausage, then all you need to do is throw this all in a casserole dish and get it cooking.
This casserole is great for kids as it has a rich tomato sauce, crispy slices of pepperoni, and that lovely gooey cheese that everyone loves.
The perfect side dish to go alongside this casserole is some homemade garlic bread. It won't take you long, and the reward is well worth the effort.
Personalizing the Recipe
There are lots of ways that you can personalize this recipe, so it is more to your liking. I go through a couple of ideas on what you can do right below.
Don't be afraid to add more vegetables to the sauce mixture. For example, vegetables such as onion, mushrooms, and bell peppers will add a ton of more flavor.
If you like your casseroles extra saucy, then don't be afraid to double the sauce. This way, the pasta will be almost swimming in the sauce and will be packed with flavor.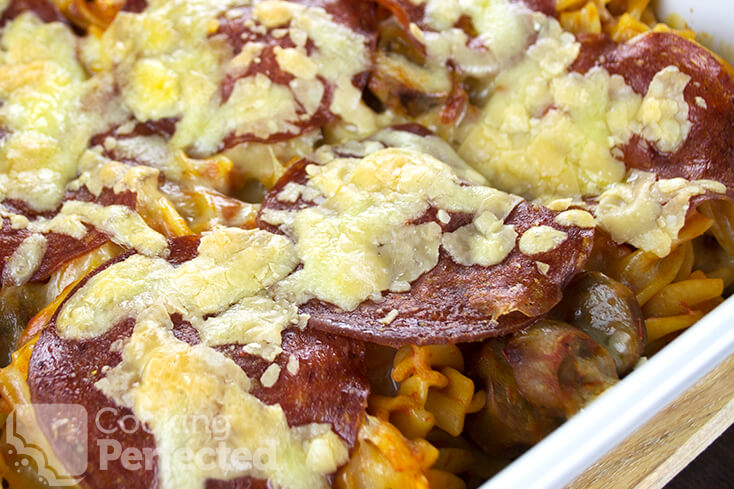 You can try using a different type of sausage such as kielbasa rather than Italian. Even a mixture of both will work very nicely in this pizza casserole. If sausage doesn't appeal to you, then you can use some ground beef instead.
For the best results, you will want to use a short pasta such as penne, shells, elbows, spiral, or even farfalle. I made use of spiral pasta, and the casserole was absolutely delicious.
If you have any suggestions on what to serve with this deliciously easy pizza casserole, then be sure to leave a comment below.
Leftovers & Dessert
Personally, I never end up having any leftovers whenever I cook this one up. However, if you do have leftovers, it still reheats well in the microwave.
You can store the leftover pizza casserole in the fridge or freezer. They should last for roughly three days in the fridge or six months in the freezer.
A dessert that I highly suggest having after this casserole is the chocolate fudge cake. It's the perfect sweet dessert to finish off a delicious meal like this one.
If you want to see how to make this oven-baked pizza casserole, then be sure to check out the video below. If you like it, then make sure you subscribe so you stay up to date.
Pepperoni Pizza Casserole Recipe
Ingredients
250 g (8.8 oz) pasta, pre-cooked (Preferably spiral or tubes)
4 pre-cooked Italian sausages, cut into chunks
450 ml (15.2 fl oz) pizza sauce
100 g (3.5 oz) pepperoni
1 cup mozzarella, shredded
¼ cup parmesan, shaved
Instructions
Preheat an oven to 180°C (350°F)
In a pan, add the Italian sausage, pizza sauce, and bring to the simmer.
Mix in the pasta.
Transfer the pasta mix to a casserole dish. Top with the pepperoni, mozzarella, and parmesan. (Much like a pizza)
Cook in the oven uncovered for 30-40 minutes or until golden brown.
Serve & Enjoy.
Recipe Tips
If you want to add to this recipe, try adding some sliced or diced onion, mushrooms, bell peppers, and other great common pizza topping ingredients.
It is straightforward to scale this recipe; however, it is essential to note that you may end up needing a larger casserole dish.
Assuming you're not a fan of mozzarella, then you can replace this with a different type of cheese. Most cheeses will work just fine.
You can use a homemade marinara sauce instead of the pizza sauce. Both will work just fine and really just comes down to what you prefer.
This dish requires about thirty to forty minutes in the oven, so if you're in a rush, you can always skip this step, but you won't get the nice crisp pepperoni and cheese on top.
The pepperoni is one of the best parts of this delicious casserole, but it can be left out if you don't want it.
Nutrition Information
Serving Size: 325g (11.5 oz)
Servings Per Recipe: 4
Calories Per Serving: 773
Amount Per Serving
Saturated Fat: 18.2g
Trans Fat: 0.4g
Total Carbohydrate: 49.1g
Dietary Fiber: 1.9g
Sugars: 3.8g
Cholesterol: 160mg
Sodium: 1772mg
Protein: 36.5g
The information above is an estimate generated by an online nutrition calculator.
More Delicious Pizza Recipes
If you're after easy pizza recipes, you should also check out our tortilla pizza or the pizza scrolls. Both of these are so easy to prepare and taste delicious.
Another recipe that I highly recommend that you try is the puff pastry pizzas. They're super easy, and they taste amazing. The fluffy pizza crust will make it hard going back to traditional pizza bases.
If you have your own variation on this pepperoni pizza casserole recipe or would like to leave us some feedback, then please feel free to drop a comment below.