This chorizo and sweet potato casserole is incredibly easy to cook and is perfect if you're looking for a fulfilling meal or side dish.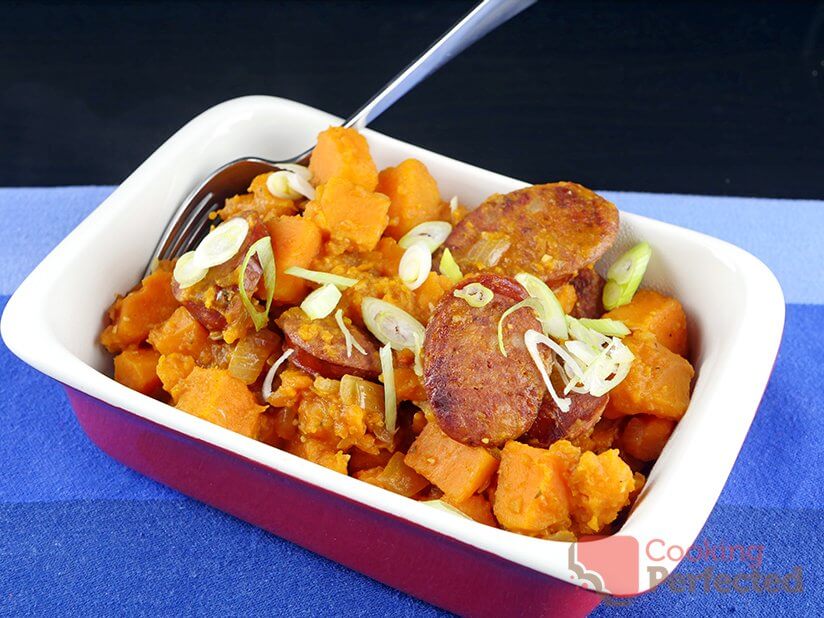 By the time you serve this casserole, the sweet potatoes should be tender and the chorizo crispy. There is a slight paprika flavor that helps take this dish to another level. I highly recommend giving this a try if you love easy casseroles.
This casserole should be able to feed roughly six people, but that heavily depends on whether you're serving it as a main meal or as a side dish.
The leftovers for this dish will keep in the fridge for a few days, so make sure you don't throw them out. Reheat the leftovers over the stove, in an oven, or if you're ok with using them, a microwave.
What to Serve Alongside This Meal
Personally, I find this dish to be fulfilling enough that I can eat it on its own without any extra side dishes. Still, it does go great as an accompaniment to quite a few different dishes.
Something like fried almond chicken goes very nicely with this delicious dish. It will involve a little more time in the kitchen, but it is definitely worth it, especially if you're cooking for a crowd.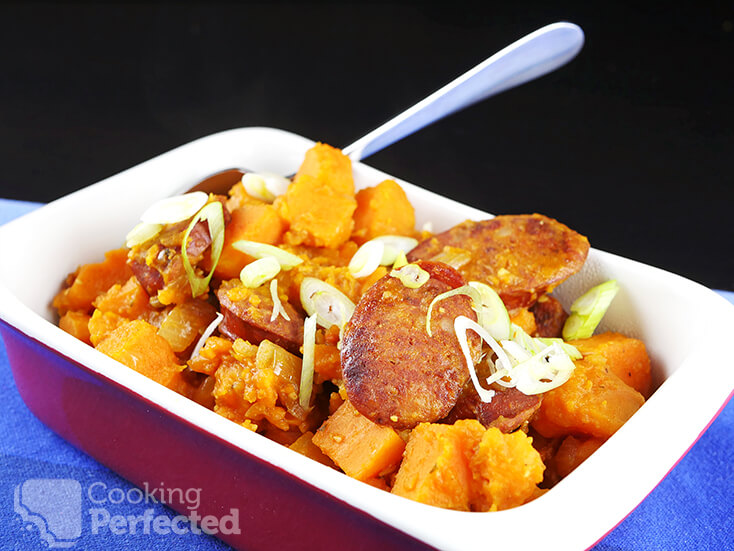 Another paleo-friendly dish that will go great with this casserole is the creamy chicken skillet. It's loaded with tender pieces of chicken, bell pepper, kale, and has a lovely creamy coconut sauce. It's one of my favorite dishes.
Please let us know in the comments section if you have any suggestions on what to serve with this casserole.
Adjusting the Ingredients
There are a ton of different ways you're able to alter this dish so that it is more suited for your taste buds.
The easiest way to tweak this recipe is to change the type of seasoning you use. For example, merely replacing the paprika with cajun spice is a great way to spice this dish up. You could even use a combination of two or more seasonings.
Feel free to add more vegetables to this recipe as it will help add even more nutrition and flavor. For example, mushrooms, bell peppers, or carrots will go great in this delicious casserole.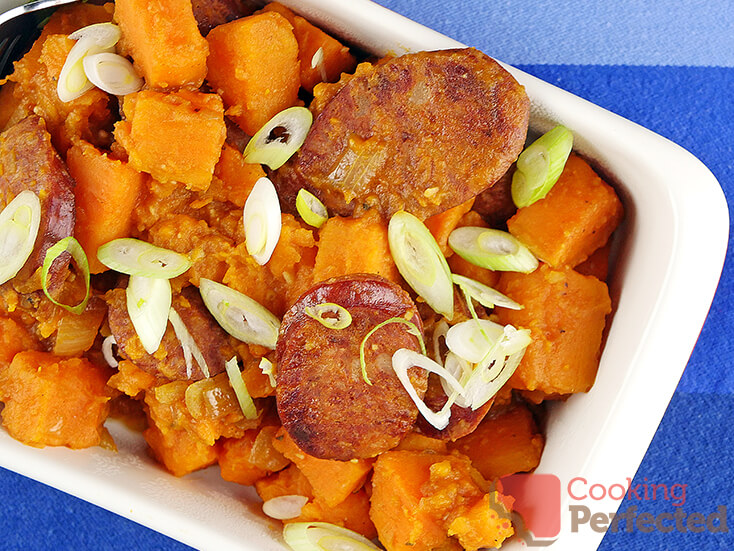 You can use a different type of stock if you don't have any chicken stock around. Alternatively, you can use water, but you will lose out on lots of flavors.
If you want to see how to make this sweet potato and chorizo sausage casserole, then be sure to check out the video below. The video will take you through all the steps to making this delicious dish. Alternatively, you can find the full written recipe right below the video.
Chorizo & Sweet Potato Casserole Recipe
Ingredients
1 onion, diced
2 chorizo sausages, sliced
2 cloves garlic, minced
4 sweet potatoes, peeled and cubed
1 tsp paprika
500 ml (16.9 fl oz) chicken stock
Instructions
In a deep pot over high heat, add the chorizo and cook until slightly browned.
Add the onion, garlic and cook until the onion is translucent.
Add the sweet potatoes, paprika, and mix slightly.
Add the stock and cook for 40 minutes, stirring occasionally.
After 40 minutes, most of the fluid should have now evaporated, and the remainder should be relatively thick.
Season with salt and pepper.
Serve & Enjoy.
Recipe Tips
As I mentioned above, you can play around with seasonings a bit if you would like a different tasting dish. For example, a taco seasoning or even Cajun spice will radically change the flavors in this dish.
Most chorizo sausages you can buy should be paleo-friendly, but if you're in doubt, then be sure to check with the butcher or the ingredient list if it's in a packet.
You can always add more vegetables to this dish. For example, some red bell peppers would help add even more flavor and texture. Some baby spinach mixed in at the end will help finish the dish perfectly.
Nutrition Information
Serving Size: 330g (11.6 oz)
Servings Per Recipe: 6
Calories Per Serving: 494
Amount Per Serving
Saturated Fat: 9.1g
Trans Fat: 0g
Total Carbohydrate: 50.1g
Dietary Fiber: 7.4g
Sugars: 1.9g
Cholesterol: 55mg
Sodium: 1042mg
Protein: 18.2g
The information above is an estimate generated by an online nutrition calculator.
More Paleo-Friendly Dinner Recipes
If you have some sweet potatoes that you want to use, but you don't want to make this meal, then some homemade sweet potato fries might be more appealing. They will go great with some fried chorizo sausages and paleo-friendly mayonnaise as a dipping sauce.
For something a little different, I highly recommend giving the Paleo-friendly nachos a try. It features lovely sweet potato crisps and a flavor-packed ground beef topping. It's a delicious combination and is perfect if you're on a gluten-free or paleo diet.
I hope that you enjoy this delicious paleo chorizo and sweet potato casserole. If you have any thoughts, tips, variations, or anything else that you would like to share, then please don't hesitate to leave a comment below.