This paleo mayonnaise recipe is incredibly simple to make and is very tasty. It's hard to go back to store-bought mayo once you start making it yourself.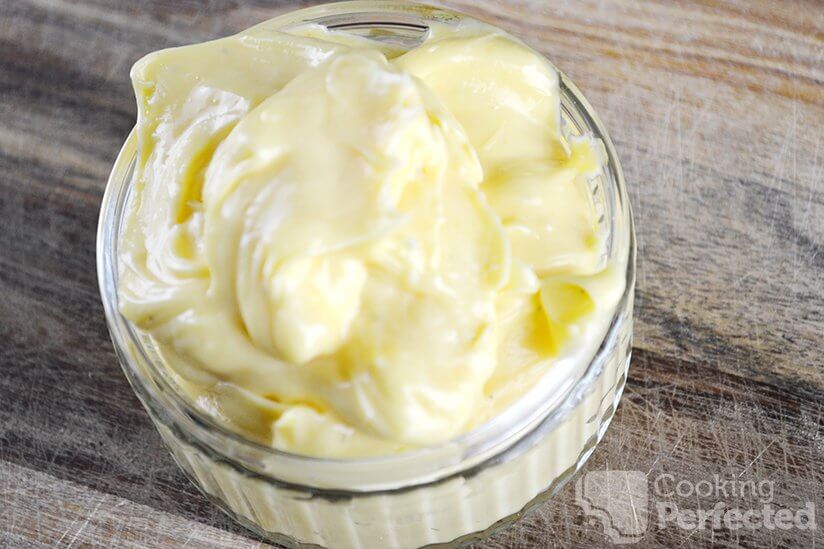 This creamy homemade mayonnaise has a slight hint of mustard and coconut. It's just as good as regular mayonnaise and is really easy to make from scratch.
Once you start making your own mayonnaise, you will probably never buy the jar stuff from the supermarket again. The difference is amazing, and the best thing is you know every ingredient that has gone into it.
You can make this recipe manually by using a whisk, but I would highly recommend using an electric food processor. It will make this recipe so easy and quick.
If you decide to make the mayo by hand, I suggest placing a towel underneath the bowl to stop it from sliding while you're whisking.
Recipes that go Great with Mayo
If you're after some Paleo-friendly recipes to go with this mayonnaise, then below are just a few suggestions.
The paleo fried chicken is super tasty and well worth cooking. It has a lovely almond crust that helps keeps the chicken nice and juicy. I love to dip the chicken into this delicious mayonnaise.
To go along with the chicken and mayo, you could make some hearty sweet potato fries. They're slightly crispy on the outside and tender on the inside. The rosemary seasoning makes the fries super enjoyable.
One other recipe that I recommend making to go alongside this mayonnaise is the coconut crusted chicken. It's a delicious combination that is very hard to stop eating.
If you have any suggestions on more recipes to have with this delicious paleo-friendly condiment, then be sure to leave a comment at the bottom of this page.
Buying Paleo Mayonnaise
If you don't feel like making mayo and still prefer to buy it from a store, then you can find paleo-friendly versions around.
I know that Amazon has a pretty good avocado oil mayonnaise, and it is pretty affordable. They're an online store, so you will need to get it delivered to your door, which might save you having to go to the shops.
If you want to see how to make this paleo mayonnaise recipe, then be sure to check out the video I have prepared below. Immediately beneath the video is a full written recipe that will come in handy if you don't like video.
Paleo Mayonnaise Recipe
Ingredients
2 egg yolks
1 tsp Dijon mustard
1 tsp lemon juice
¾ cup light tasting olive oil
¼ cup coconut oil, softened
Instructions
Place the egg yolks, mustard and lemon juice into the food processor.
Turn on the food processor and start to add the oils slowly. Be careful not to add too much oil too fast; otherwise, the mix will split.
As you add more and more of the oil, it should start to thicken. Once it is starting to go thick, you can pour a little faster.
Once you have finished adding the oil, season with salt and pepper.
Serve & Enjoy.
Recipe Tips
As this is a raw egg product, I highly recommend not keeping this paleo mayonnaise past three days. Also, make sure you cover and place this in the fridge whenever you're not using it.
If you're not a fan of coconut, you can always try replacing it with another paleo-friendly fat or oil. A favorite variation is using bacon fat instead of the coconut oil.
For the best quality mayo, I would highly recommend that the eggs you use should be as fresh as possible. Older eggs will not work as well, and your mayo might not last as long in the fridge.
You can replace the lemon juice with some apple cider vinegar instead.
Adding some crushed garlic is a great way to quickly turn this into a garlic aioli.
Nutrition Information
Serving Size: 14g (0.5 oz)
Servings Per Recipe: 18
Calories Per Serving: 104
Amount Per Serving
Saturated Fat: 4g
Trans Fat: 0g
Dietary Fiber: 0g
Sugars: 0g
Cholesterol: 23mg
Sodium: 4mg
Protein: 0.3g
The information above is an estimate generated by an online nutrition calculator.
More Paleo Condiment Recipes
Below are a couple more homemade condiment recipes that I highly recommend trying.
You can use this mayonnaise to make a delicious paleo-friendly tartar sauce. It's a delicious condiment that you typically can't find as paleo-friendly at the supermarket.
Another condiment that you're likely missing out on is ketchup. Luckily you can make good tasting ketchup at home that's also paleo-friendly.
If you have any thoughts on this paleo mayonnaise, such as variations, feedback, or anything else you want to mention, then please drop us a comment below.