This almond crusted chicken is perfect if you love succulent, crispy fried chicken.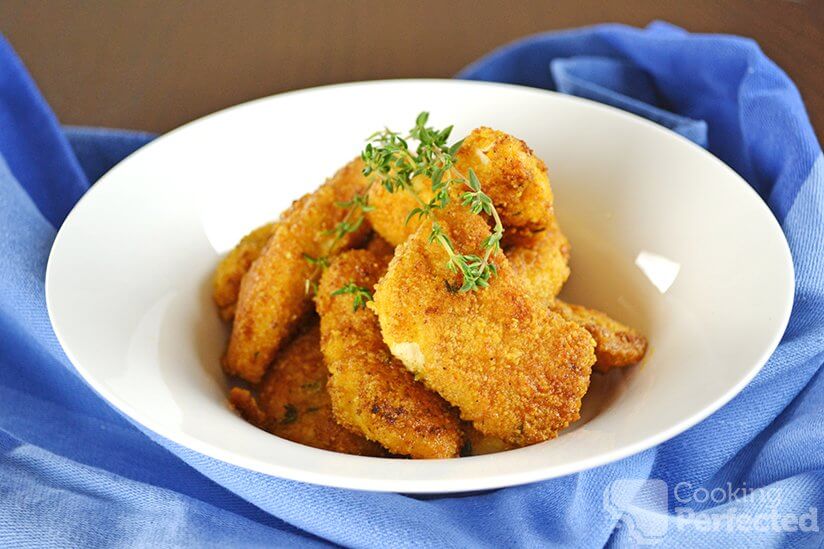 When you are finished cooking, you will have succulent chicken pieces with a crunchy almond coating. They are the perfect pieces of chicken that will have you going back for more.
This recipe is just as good as the recipes that use regular breadcrumbs, and you will find that even your non-paleo friends and family will love this pan-fried chicken.
This recipe is still fantastic, even if you are not on the paleo diet. For example, this recipe is gluten-free, so if you are gluten intolerant or just looking to cut down the amount of gluten in your diet, then this almond fried chicken is perfect.
What to Serve with the Almond Fried Chicken
By itself, the chicken might not be enough, so you could make a side dish to have with it. Plenty of side dishes go great with the chicken, and they are perfect at making the meal feed more. Below are a couple of my favorite side dishes.
This paleo-friendly fried chicken goes fantastic with some sweet potato fries. They are oven-baked, so they can take quite a bit of time to cook; however, they are worth the extra wait.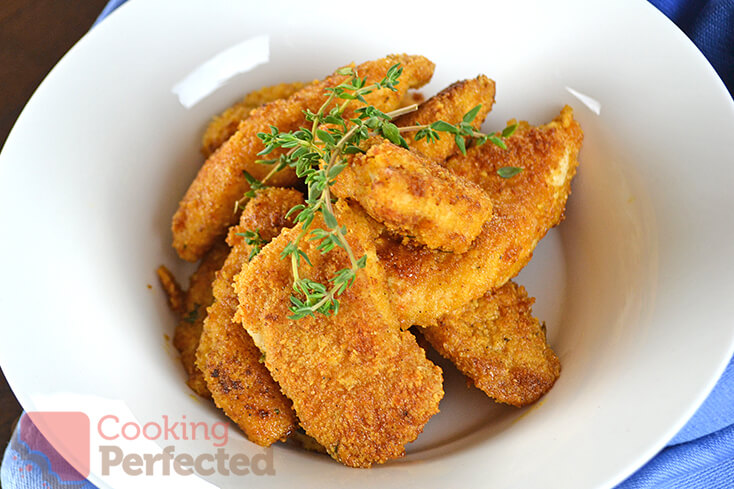 Plenty of paleo-friendly dipping sauces go great with this chicken, such as ketchup, ranch dressing, paleo-friendly gravy, or even some tasty BBQ sauce. My favorite is ranch dressing, which is super easy to make at home.
Many side dishes go great with chicken, so if you have any suggestions, we would love to hear them.
Perfecting the Crispy Almond Chicken
One of the essential steps to getting that lovely crispy chicken is ensuring your oil is hot enough before putting the chicken in. The best way to check is by dropping a little crumb in, and if it sizzles, it is ready.
For a thick coating, dip the chicken back into the egg after the first crumb and then crumb it again. You can do this as often as you want, but you don't want it to be too thick; otherwise, your chicken may not cook.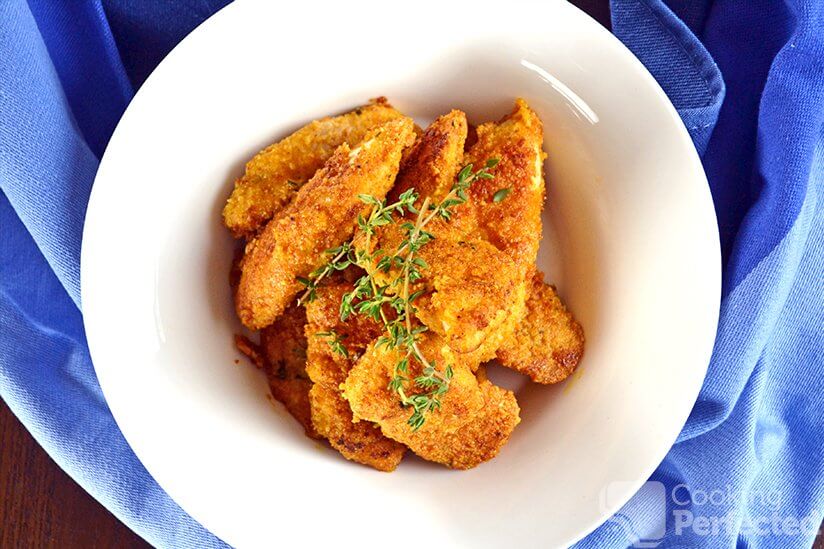 If you have any leftovers, the chicken tenders are great in a salad the next day. For example, you could make a paleo-friendly salad with crunchy pieces of chicken, baby spinach, tomato, sliced red onion, and a dressing.
This almond fried chicken is relatively easy to make quickly, so if you want to see how to make this recipe, check out our video below.
Almond Crusted Chicken Recipe
Ingredients
250 g (8.8 oz) chicken breasts
2 eggs
1 cup almond flour
1 tsp paprika
¼ tsp thyme
1 tsp salt
1 tsp pepper
Coconut oil or a different cooking oil
Instructions
First, cut the chicken into smaller pieces. (2cm/0.8in slices)
Crack the eggs into a bowl and whisk to combine.
In another bowl, mix the almond flour, thyme, salt, and pepper until well combined.
Dip the chicken into the bowl of eggs and then into the bowl of the almond flour mix.
Repeat until all the pieces of chicken are coated.
In a large skillet pan over medium heat, add enough coconut oil to reach half the height of the chicken.
Once the oil has heated to 350°F (175°C), add the coated chicken.
Fry for 5-10 minutes on each side.
Once golden brown and the chicken is cooked through, remove it from the pan.
Serve & Enjoy.
Recipe Tips
If you find the chicken coating is starting to brown too fast and burn, turn down the heat of the pan.
You may find that the crumb will start to fall off if you move the chicken pieces too much. The best method is to wait until one side is golden brown before flipping to the other side.
To check that the chicken is cooked correctly, cut into one or use a meat thermometer. The internal temperature should be 75°C (165°F), and the meat should also be white.
I recommend adding some shredded coconut to the dry crumb mix, if you like coconut.
Almond flour is also known as ground almonds or almond meal.
Nutrition Information
Serving Size: 222g (7.8 oz)
Servings Per Recipe: 2
Calories Per Serving: 549
Amount Per Serving
Saturated Fat: 3.2g
Trans Fat: 0g
Total Carbohydrate: 11.9g
Dietary Fiber: 6.7g
Sugars: 2.5g
Cholesterol: 271mg
Sodium: 1370mg
Protein: 56g
The information above is an estimate generated by an online nutrition calculator.
More Paleo-Friendly Chicken Recipes
If you are looking for more chicken recipes, then be sure to check out the paleo butter chicken recipe. It is a flavor-packed curry that features a homemade curry paste and lots of chicken. It goes fantastic with some cauliflower rice.
A recipe similar to this chicken dish is the crispy coconut chicken. It's super easy to make and will easily please anyone that loves the taste of coconut.
If you want to leave us some feedback for this Almond Crusted Fried Chicken recipe, then please drop us a comment below.