This cauliflower rice is an absolutely great side dish that compliments curries, stews, and other dishes well.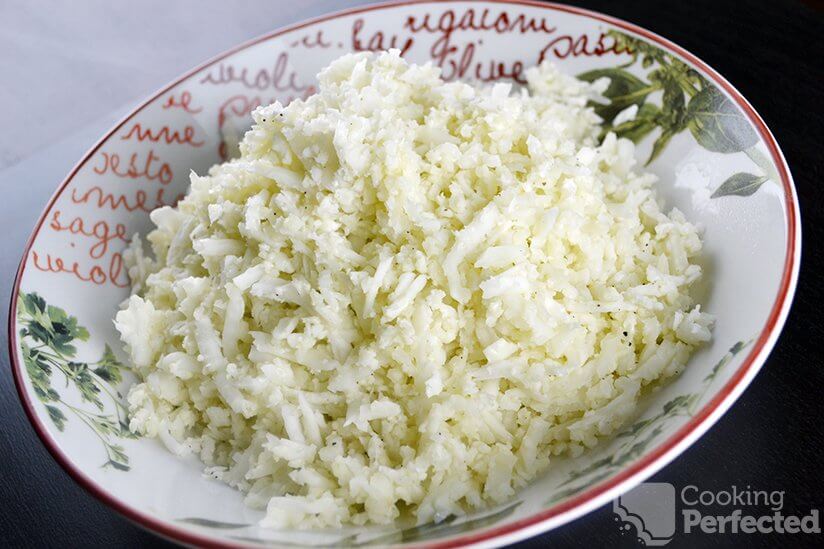 Cauliflower rice tastes just as good as regular rice but is lighter, fluffier, and does not give you that bloated feeling after eating it. I like a bit of variety, so I swap between this low-carb alternative and regular rice.
This healthy rice alternative also makes for a great meal just by itself. Also, regular rice is not allowed on the paleo diet, so it makes for a great replacement if you are following that diet.
If you are trying to reduce the number of carbs you eat, this rice alternative is perfect. Like regular rice, it works with so many different dishes such as curries, stir fry, and so much more.
Meals that Go Great with Cauliflower Rice
Basically, any meal that matched with regular rice will work with cauliflower rice. Below are a couple of examples of what you can make.
Curry is always a great match with rice, so it is no surprise it works great with this delicious alternative. If you are looking for the perfect curry, you should give the butter chicken curry a try. It is super delicious and well worth the effort.
A lot of Asian cuisine makes use of rice, so it is no surprise that this works great with many Asian inspired dishes. I love serving the gluten-free lemon chicken alongside this rice.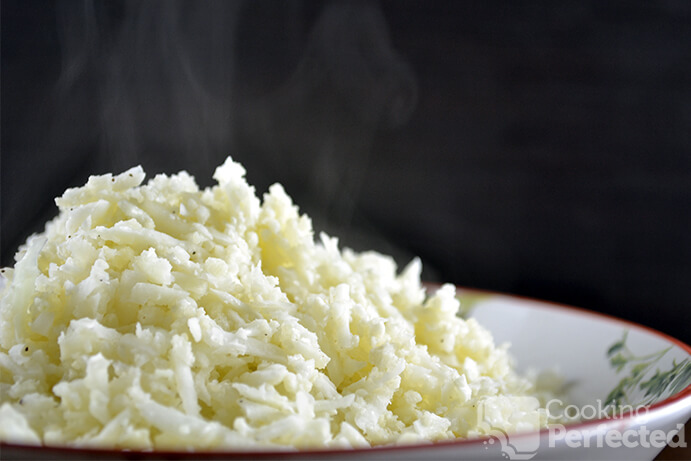 You can use this as a replacement for the rice in fried rice. It is absolutely delicious with all those fried rice flavors and ingredients. I highly recommend giving it a try.
Obviously, cauliflower rice cannot replace rice in every dish. For example, something like sushi or rice pudding will not turn out quite right without the starch of regular rice. So keep this in mind when you plan your next meal.
Fresh or Frozen Cauliflower
It is important to use fresh cauliflower if you want the best results. You can use frozen, but the results may vary and is likely not to be as good.
If you decide to use frozen, you may need to defrost the cauliflower before grating it. Otherwise, it may not grate very well and possibly damage your grater.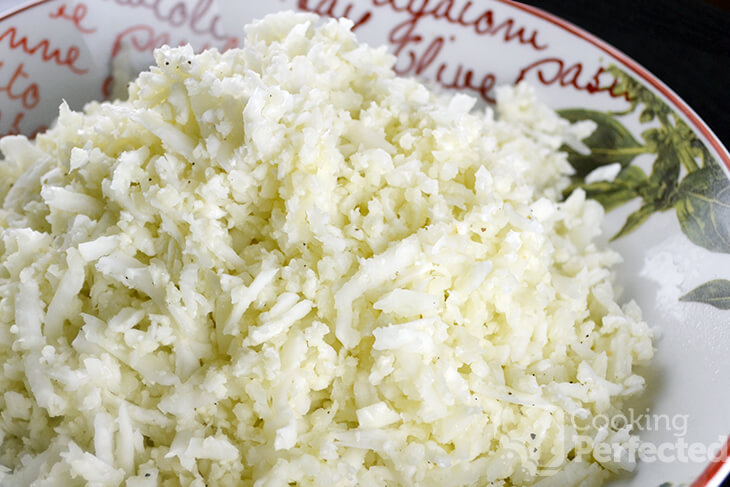 Some supermarkets sell cauliflower rice, which you can buy fresh or frozen. It often comes with a bit of a markup, so you are better off making it from scratch.
I have prepared a video on how to make cauliflower rice, and it is available to watch below. Alternatively, the full written recipe is underneath the video.
Cauliflower Rice Recipe
Ingredients
1 cauliflower
2 tsp coconut oil
Instructions
Cut the cauliflower into chunks that will fit into a food processor.
Using a grater attachment, slowly put the cauliflower through the food processor.
The result should be rice-like cauliflower pieces.
In a frying pan, heat the coconut oil over medium heat.
Add the grated cauliflower and cook until it is heated and slightly tender. Roughly 5 minutes.
Season with salt and pepper.
Serve & Enjoy.
Recipe Tips
If you do not have an electric food processor, you can grate the cauliflower by hand using a cheese grater. However, it can get very messy fast, so try placing the grater in a bowl. This technique will help stop bits of cauliflower from going everywhere.
Please do not be afraid to experiment by adding some spices or herbs. These spices can really change this dish and make it even better.
You can add onion and garlic to the frying pan before cooking the cauliflower rice. These ingredients are perfect if you want a bit more flavor.
I do not recommend adding any extra ingredients if you plan on having something with the rice. Such as curry, chicken cacciatore, meatballs, or other meals.
Olive oil is an excellent alternative to coconut oil. Most other cooking oils should work fine as well.
If you do not have time to cook the cauliflower rice in the frypan, you can use a microwave instead. Simply cook in the microwave for three minutes.
Nutrition Information
Serving Size: 205g (7.2 oz)
Servings Per Recipe: 2
Calories Per Serving: 89
Amount Per Serving
Saturated Fat: 3.9g
Trans Fat: 0g
Total Carbohydrate: 10.6g
Dietary Fiber: 5g
Sugars: 4.8g
Cholesterol: 0mg
Sodium: 60mg
Protein: 4g
The information above is an estimate generated by an online nutrition calculator.
More Cauliflower Recipes
There are so many other meals that you can make using some cauliflower. Below are a couple of examples of what you can do.
A side dish that I absolutely love is the cauliflower mash. It is the perfect replacement for the regular potato mash. Like this dish, it is paleo-friendly.
Another dish that you need to try is cauliflower cheese. Unfortunately, it is not paleo-friendly like this recipe, so you will need to skip it if you are sticking to a strict paleo diet.
I hope you enjoy this cauliflower rice recipe as much as I did. If you have any feedback that you would love to share, then please do not hesitate to comment below.