This delicious mashed cauliflower is perfect as a side dish. You only need three ingredients to be able to make this delightful recipe.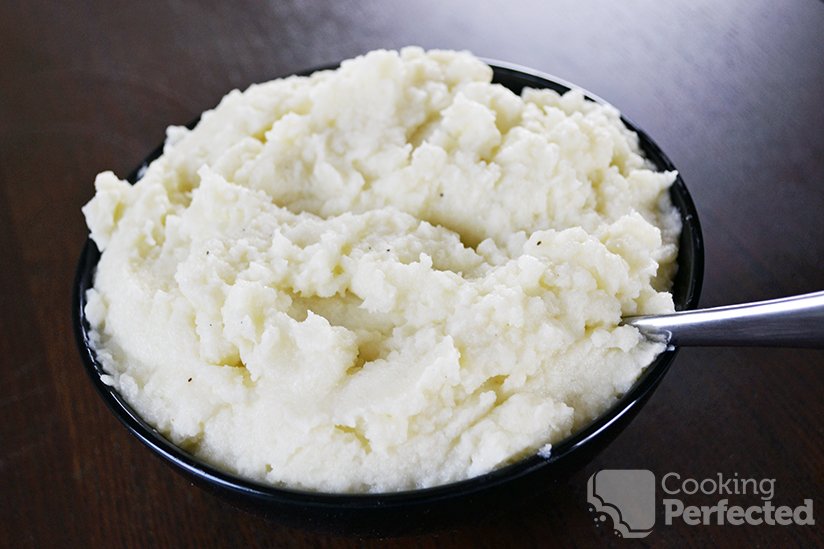 Cauliflower mash is the perfect low-carb alternative to mashed potatoes. The mash is light, flavorsome, and very smooth. It's the perfect healthy side dish that goes great with so many different meals.
Without any adjustments, this dish is perfect if you're following the Paleo diet as all the ingredients are considered Paleo-friendly. It's also ideal if you're on a keto diet.
A single batch of this recipe should feed roughly two people, but it heavily depends on what you're having with the mashed cauliflower and how hungry people are.
Meals to have with Mashed Cauliflower
As I mentioned above, this is perfect as a side dish or to be used in combination with other ingredients in a meal. Below are a couple of meals that work nicely with this recipe, so I highly recommend giving them a try.
A meal such as the chicken piccata will go nicely on the top of a bed of cauliflower mash. The chicken piccata recipe features crumbed chicken and a lovely citrus sauce. It's the perfect combination, so I highly recommend giving it a try.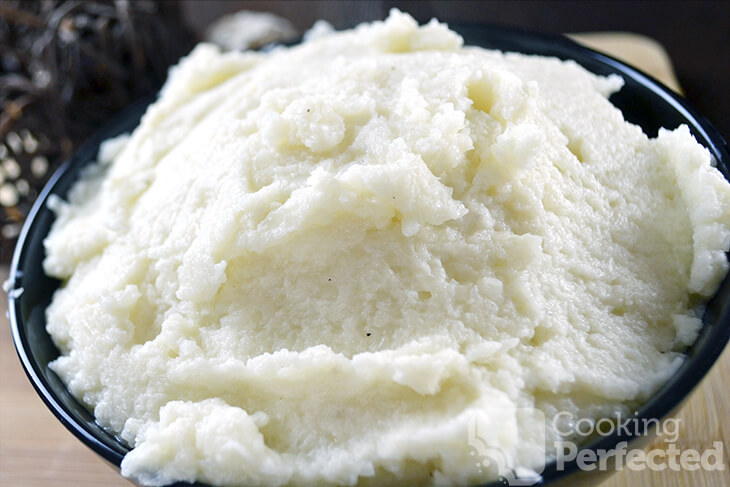 You can make a delicious paleo-friendly shepherds pie by using this recipe as the replacement to the traditional mashed potato. I have tried it before, and it's definitely worth making.
Creamy beef stroganoff is delicious poured over the top of this mashed cauliflower. It's an excellent alternative to some of the other accompaniments that go with a stroganoff.
Recipe Tweaks
If you don't need this recipe to be paleo-friendly, then some cheese is the perfect addition. I highly recommend roughly a quarter cup of cheddar cheese. I would also add a bit of parmesan cheese for a bit of extra flavor.
To make this mash even creamier, you can add some sour cream, cream cheese, or both. Much like the cheese suggestions above, roughly a quarter of a cup will be enough. Add either of them gradually to prevent making the cauliflower mash too runny.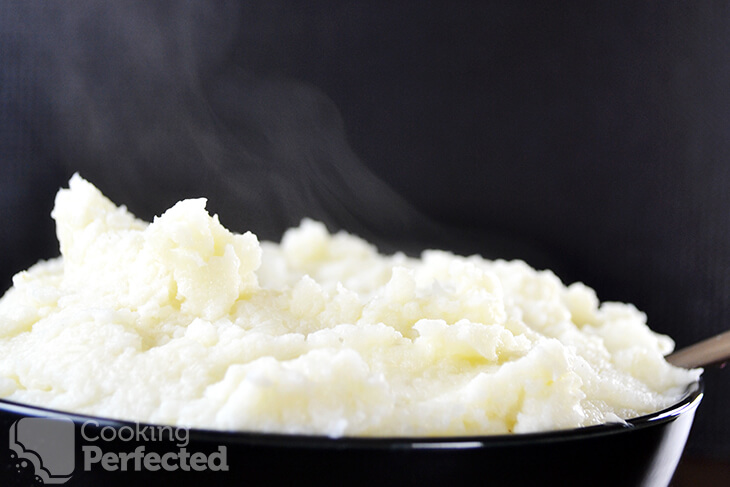 The coconut oil is only required if you're following a Paleo diet. If you're not, then you can replace it with butter, sour cream, or even cream cheese. I recommend replacing it if you're not a massive fan of coconut.
If you want to see how to prepare and cook this mashed cauliflower, then be sure to check out my video below. Alternatively, all the written steps to getting this cooked and prepared correctly are right below the video.
Paleo Mashed Cauliflower Recipe
Ingredients
1 cauliflower, cut into florets
2 Tbsp coconut oil
2 tsp garlic, crushed
Instructions
Steam or boil the cauliflower until it's tender.
Drain the cauliflower in a colander.
Place the cauliflower florets into a food processor with the oil, and garlic. Blend until smooth.
Season with salt and pepper.
Serve & Enjoy.
Recipe Tips
If you want this paleo-friendly mashed cauliflower to be super smooth with no lumps at all, then push it through a sieve using a spoon. This process may take some time, but the result is a lovely silky smooth mash. If it ends up taking too long, then be sure to reheat it by placing it back into a pot over low to medium heat.
On the slight chance you don't have a food blender, then you can mash the cauliflower by hand. This method will take a bit longer and will also be harder to get the cauliflower smooth. Using the sieve method will help get it to a similar silkiness to the food processor method.
One thing you should do if you're not a fan of garlic is to make sure you leave it out. The recipe will still taste pretty good without it.
If you're finding the mash a little too thick for your liking, you can add some almond milk or coconut milk to help thin it out. I recommend adding a quarter cup of almond milk, but make sure you slowly add it until you get the consistency you prefer.
Nutrition Information
Serving Size: 163g (5.7 oz)
Servings Per Recipe: 2
Calories Per Serving: 272
Saturated Fat: 23.6g
Trans Fat: 0g
Dietary Fiber: 3.4g
Sugars: 3.2g
Cholesterol: 0mg
Sodium: 40mg
Protein: 2.8g
The information above is an estimate generated by an online nutrition calculator.
More Cauliflower Recipes
We have some more cauliflower recipes, so if you're interested, be sure to check out a couple of suggestions below.
If you want a healthy rice alternative, then you should try the super easy cauliflower rice. Like this dish, the rice is fantastic as a side dish to go alongside a meal.
I also highly recommend making cauliflower cheese if you're after a delicious cheesy side dish. It's super easy and will please anyone who loves lots of cheese.
If you have a variation, feedback, or anything else that you would like to mention about this delicious cauliflower mash, then feel free to drop me a comment below.