This paleo chicken piccata is the perfect dish if you love the flavors of citrus. It goes fantastic with a side of vegetables.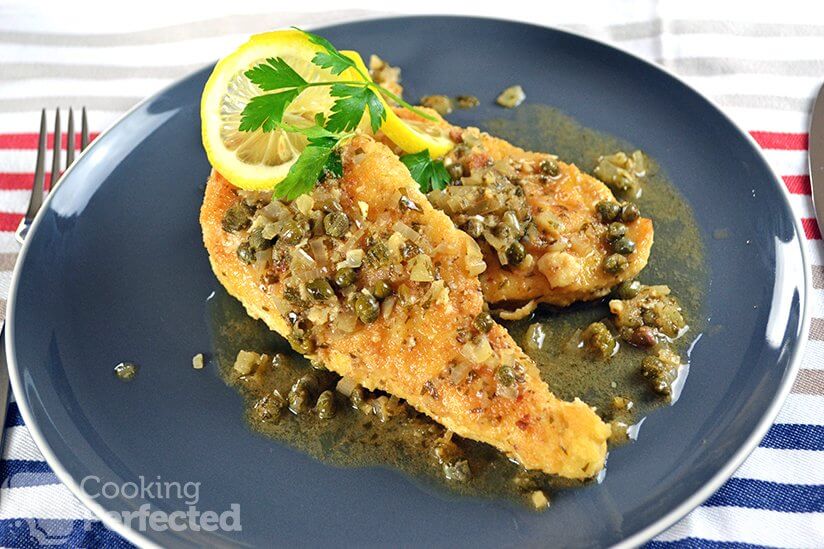 This dish features pan-fried almond crusted chicken that's coated in a delicious lemon sauce. The sauce consists of lemon, chicken stock, parsley, and capers. It's a delicious combination that will have you coming back for seconds.
The term piccata refers to a method of preparing food. In this case, the chicken is butterflied, flattened, coated, and then sautéed. Once done, it is served in a sauce either by itself or with vegetables.
The number of ingredients in this recipe will feed roughly two people, so you may need to double or triple the recipe. I also recommend that you make some side dishes to go with the chicken.
You will find this dish to be quite tangy and citrusy, so if you're not a fan of either of these, then this dish is probably not best for you. However, if you are feeling like eating a chicken dish, the paleo butter chicken is one that won't let you down.
Side Dishes to Serve with Chicken Piccata
There are plenty of side dishes that go great with this chicken piccata. Below are a few ideas on what you can make.
This dish will go great with some delicious vegetables such as roast sweet potatoes, blanched broccoli, and so much more. I highly recommend giving the sweet potato fries a try.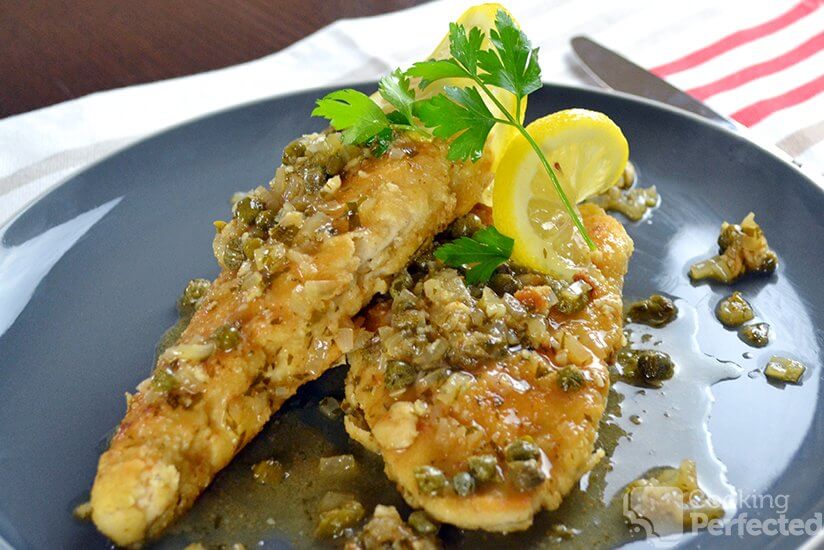 One of my own personal favorites is to have this chicken with some mashed cauliflower. The creaminess of the mash goes perfectly with the crunchy citrus chicken. It is the perfect paleo-friendly alternative to mashed potato.
For something a little lighter, you can make a simple salad to go with the chicken. I love to keep things simple, so I make a salad using some lettuce, tomato, cucumber, red onion, avocado, and a paleo-friendly salad dressing.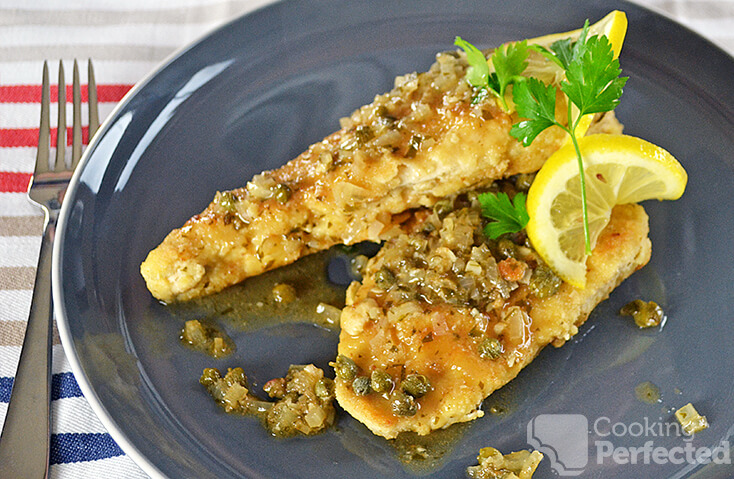 Be sure to let us know of any side dishes that you think will go great with this delicious recipe.
If you want to see how to make this paleo-friendly chicken piccata, then be sure to check out the video below. Alternatively, we have a great text version of the recipe right below.
Paleo Chicken Piccata Recipe
Ingredients
2 eggs
1/2 cup almond flour
1 chicken breast, butterflied
2 Tbsp coconut oil
1 onion, diced
1 tsp garlic, crushed
¼ cup lemon juice
½ cup chicken stock
¼ cup parsley, chopped
¼ cup capers
Instructions
In a bowl, crack the eggs and beat until well combined.
In a separate bowl, place the almond flour.
One by one, place the butterflied chicken breasts into the egg and then coat them with the almond flour. Once done, place to the side.
In a pan over medium heat, add the coconut oil.
Once the oil is hot, add the coated chicken breasts and cook on each side for about 3 minutes or until golden brown.
Remove the chicken and place it to the side.
Now in the pan, add the onion, garlic, and cook for about 2 minutes.
Add the lemon juice, chicken stock, parsley, capers and bring to the boil.
Reduce to a simmer and cook for a further 3 minutes.
Return the chicken to the pan and cook for about 5 minutes.
Season with salt and pepper
Serve & Enjoy.
Recipe Tips
If you don't know how to butterfly a chicken breast, then just ask your butcher. Most butchers will be glad to do this for you.
Instead of coconut oil, you can use a different paleo-friendly fat. Make sure the oil that you use can be heated to high temperatures.
Almond flour in some countries is called almond meal or ground almonds. They're all usually the same product.
If you don't have any chicken stock for this dish, then you can replace it with a different stock. You can replace it with just plain water, but you might not get as much flavor as you would if you were to use stock or broth.
Nutrition Information
Serving Size: 340g (12 oz)
Servings Per Recipe: 2
Calories Per Serving: 499
Amount Per Serving
Saturated Fat: 14.3g
Trans Fat: 0g
Total Carbohydrate: 13.2g
Dietary Fiber: 5.1g
Sugars: 4.6g
Cholesterol: 237mg
Sodium: 874mg
Protein: 39.9g
The information above is an estimate generated by an online nutrition calculator.
More Paleo-Friendly Chicken Recipes
If you like the idea of this dish, but you're not interested in the sauce, then the fried almond coated chicken might interest you. Basically, it is crunchy bits of chicken that goes amazing with a tasty paleo friendly-sauce.
Another dish that I highly recommend giving a try is chicken parmesan. It is a paleo-friendly take on a classic dish. You can easily change the recipe so its more to your liking.
I hope you enjoy the paleo chicken piccata recipe. If you want to leave us feedback, then please leave us a comment below.