These paleo salmon cakes make for a fantastic light lunch or dinner. They're amazing by themselves but also go well with a green salad and some sweet potato fries.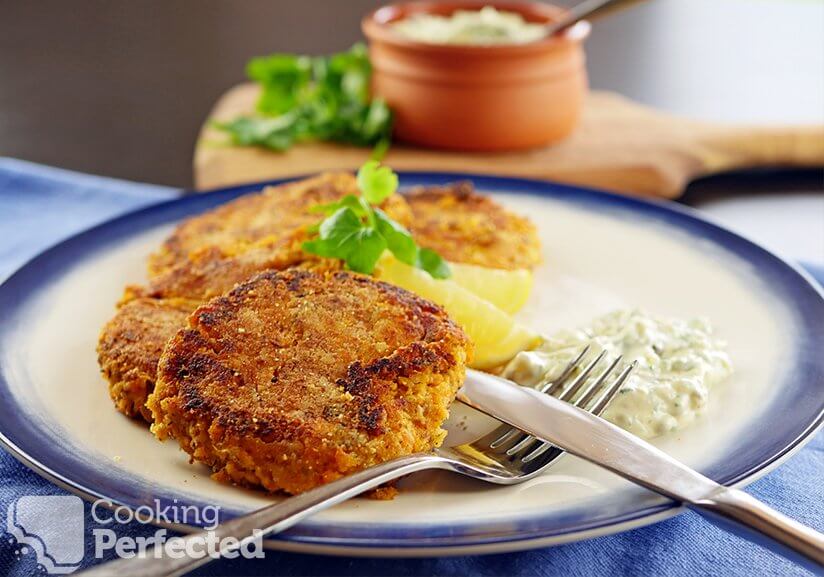 These hearty salmon cakes are loaded with flavor thanks to the salmon, dill, and sweet potato. They're pretty easy to make, so they're great if you're super busy and don't have much spare time.
A single batch of this recipe will feed roughly two people, but this will depend if you're serving it with side dishes. If you need to feed more, then you can easily double or triple the recipe.
One thing that I loved to do is freeze the patties. This way, I can just get a couple out of the freezer when I want to cook up a lunch or dinner quickly. I usually don't have any problem cooking them from frozen.
What to Serve with these Salmon Cakes
If you're looking for a paleo-friendly condiment to have with these salmon cakes, then I recommend something like the homemade paleo tartar sauce. This tasty tartar sauce goes well with any seafood-based dishes.
The perfect side dish to have with fish is some oven-baked sweet potato fries. They cook to be crunchy and are loaded with flavor thanks to some rosemary and a bit of seasoning.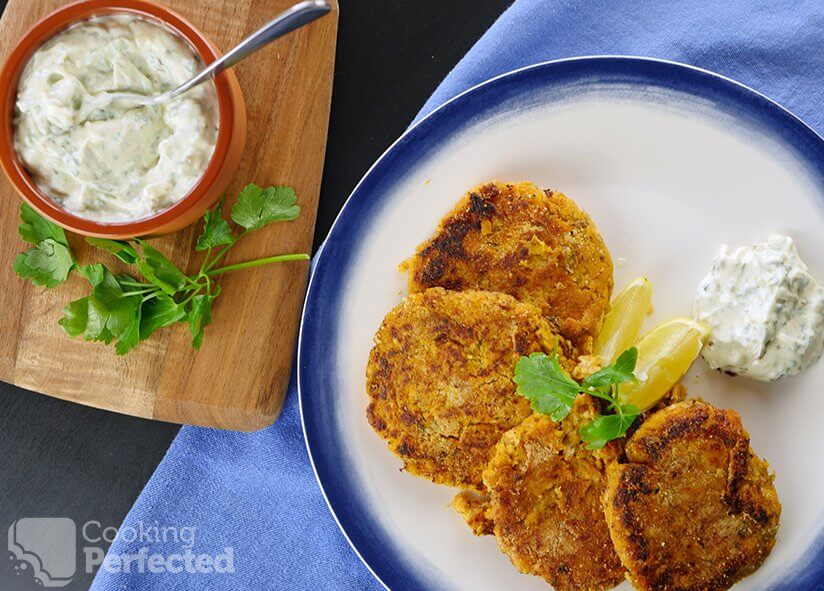 As I mentioned earlier, a light salad will match very nicely with this dish. I like to keep things basic, so something like lettuce, tomatoes, red onion, cucumber, and some avocado works perfectly for me.
If you have any suggestions on what to serve with these delicious salmon patties, then please don't hesitate to leave a comment below.
Adjusting the Flavors
If you're not a fan of sweet potato, then you can swap it out for squash. Just follow the same steps, but replace the sweet potato with your chosen squash.
You can add some more spices into the salmon mixture for more flavor. For example, cloves, cumin, and nutmeg match very nicely with the flavors of salmon. I would only add a quarter of a teaspoon of each, and then adjust slightly if required.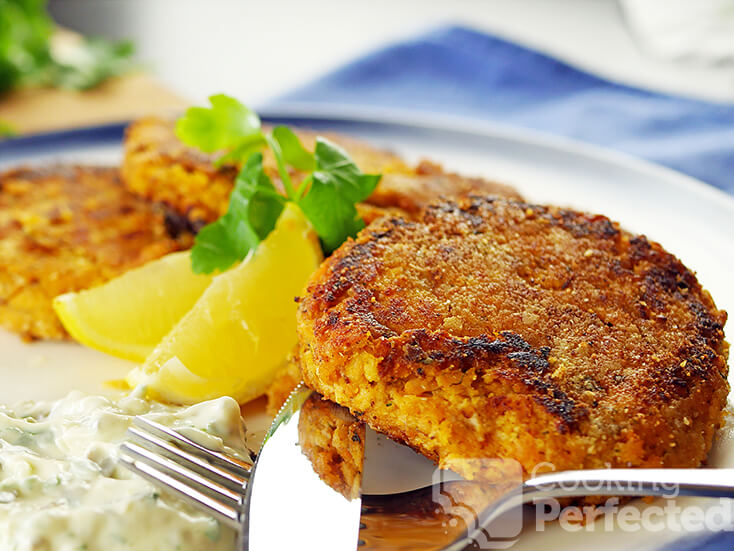 Instead of tinned salmon, you can use some leftover salmon from another meal. Simply use a fork to pull the salmon apart and discard any bones. The salmon will need to be fully cooked as it will be almost impossible to pull apart raw salmon.
If you want to see how to make these salmon cakes, then be sure to check out the video below. It goes through all the steps to getting these made and cooked.
Paleo Salmon Cakes Recipe
Ingredients
210 g (7.4 oz) can pink salmon, drained and bones removed
300 g (10.6 oz) sweet potato, peeled and cut into 3cm (1 in) cubes
1 egg
1 tsp lemon zest
1/2 cup almond flour
½ tsp dill, chopped
¼ tsp sea salt
¼ tsp black pepper
4 tsp coconut oil
Instructions
In a pot over high heat, add the sweet potato and enough water to cover. Bring to the boil and cook until tender, roughly 8 minutes.
Drain the sweet potato and allow to cool slightly.
Transfer the sweet potato to a bowl and mash.
Add the pink salmon, egg, lemon zest, almond flour, dill, salt, and pepper. Mix until well combined.
Shape into patties, I use roughly a 1/3 cup measurement.
In a frying pan over medium heat, add the coconut oil.
Once heated, add the salmon cakes and cook for roughly 2-3 minutes on each side or until golden brown.
Serve & Enjoy.
Recipe Tips
You can prepare these patties. ahead of time and keep them in the fridge. Run through the recipe until step five and then store into the refrigerator. I find that the patties often hold together better when they're chilled for at least an hour.
While these salmon cakes shouldn't fall apart, it is still important not to fiddle with them as this may cause them to break apart and become an unappetizing mess.
The patty mix is already cooked except for the egg, so we're only frying to get a nice crispy outside and to heat them up.
If you don't mind the bones from tinned salmon, you can usually leave these in as they're typically edible. I prefer to remove them as I don't like the grittiness they add to the patties.
You can swap the coconut oil for something else. Any good paleo-friendly cooking oil will work fine in this recipe.
Almond flour is also known as almond meal or ground almonds.
Nutrition Information
Serving Size: 302g (10.7 oz)
Servings Per Recipe: 2
Calories Per Serving: 445
Amount Per Serving
Saturated Fat: 2.5g
Trans Fat: 0g
Total Carbohydrate: 36.6g
Dietary Fiber: 8.1g
Sugars: 10.9g
Cholesterol: 128mg
Sodium: 366mg
Protein: 31.3g
The information above is an estimate generated by an online nutrition calculator.
More Delicious Recipes
If you're not a fan of salmon, then something like some paleo-friendly tuna cakes might interest you a bit more. They're very similar to these but, of course, have a few differences such as replacing salmon with tuna.
A delicious dessert that you should try after this meal is the paleo-friendly peach cobbler. It's made with fresh peaches, and the cake mixture is absolutely delicious. I highly recommend giving it a try if you want a fruity dessert.
I hope that you love these paleo salmon cakes as much as I did. If you have some feedback, variation, or other thoughts that you would love to share, then please don't hesitate to leave a comment below.