These paleo tuna cakes are a tasty and easy lunch that you can cook with just a few ingredients.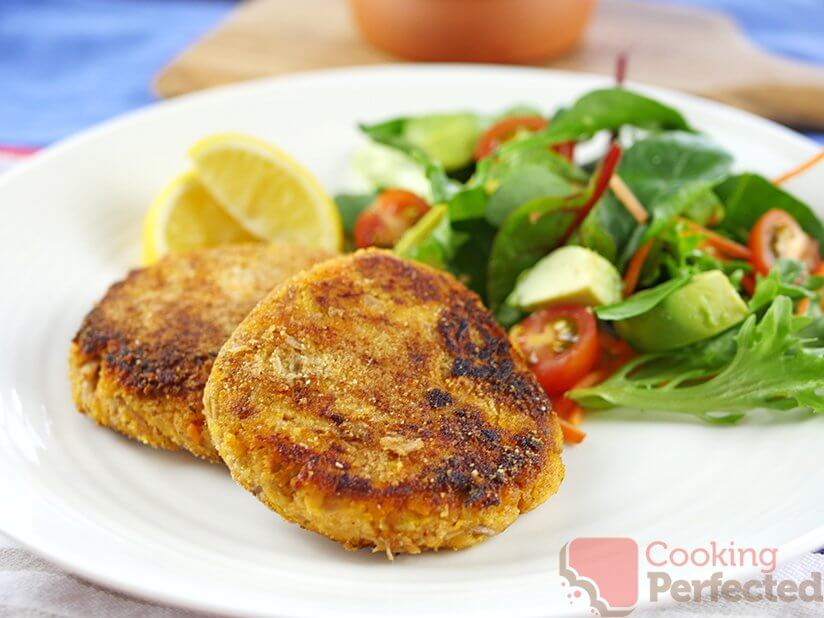 If you are looking for flavor, then these tuna cakes will not disappoint. They are loaded with delicious tuna, dill, sweet potato, and a few seasonings. I love making these for lunch, but they are also pretty good for dinner.
A single batch of these patties will feed roughly two people. However, you can easily double or triple the recipe if you need to. I recommend making some side dishes to go with this meal.
I like to make these ahead of time so that I have them ready to go for whenever I need something to eat. Make sure you store the leftovers in either the fridge or freezer. They will last for three days in the fridge or three months in the freezer.
Perfecting the Tuna Cakes
Below are a few ideas on how you can make these tuna cake so that they are perfect for you.
Make sure you do not fiddle with the tuna cakes; otherwise, you might have some issues. Flipping them constantly or moving them around may cause the patty to full apart.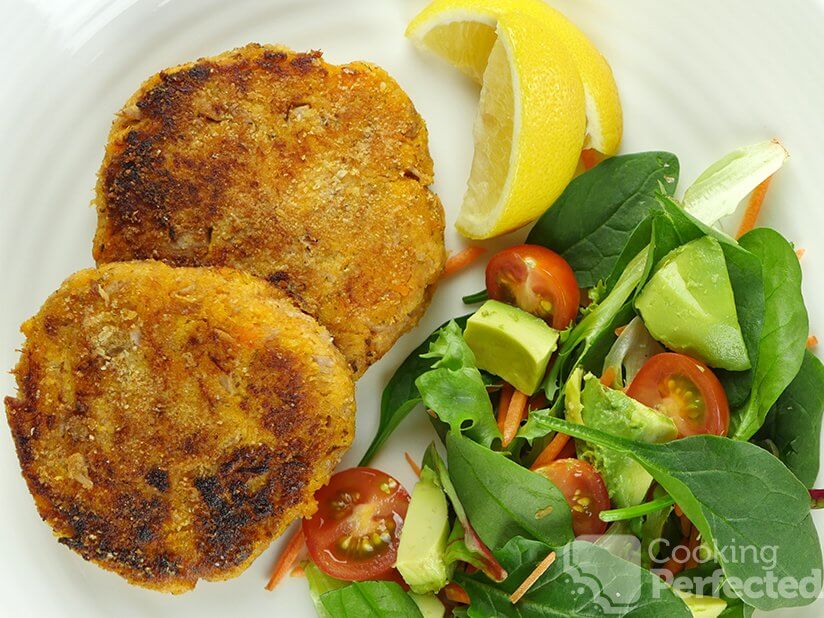 Additional ingredients can be added to the patty mixture. For example, you can add some more spices such as cumin, Cajun seasoning, or paprika. However, make sure you do not go overboard as the spices can overpower everything.
The sweet potato can be swapped for something else. If you are looking to keep this paleo-friendly, then I recommend using squash instead. If you are not fussed about being paleo, then regular potato will work.
Serving Suggestions
There are a ton of delicious paleo-friendly condiments that go well with these. My personal favorite is something like the zesty tartar sauce. However, regular homemade mayonnaise also goes well with them.
As you can tell in the photos, I love to serve these tuna patties with a refreshing green salad. My salad consists of mixed leafy greens, cherry tomatoes, sliced carrot, and some avocado.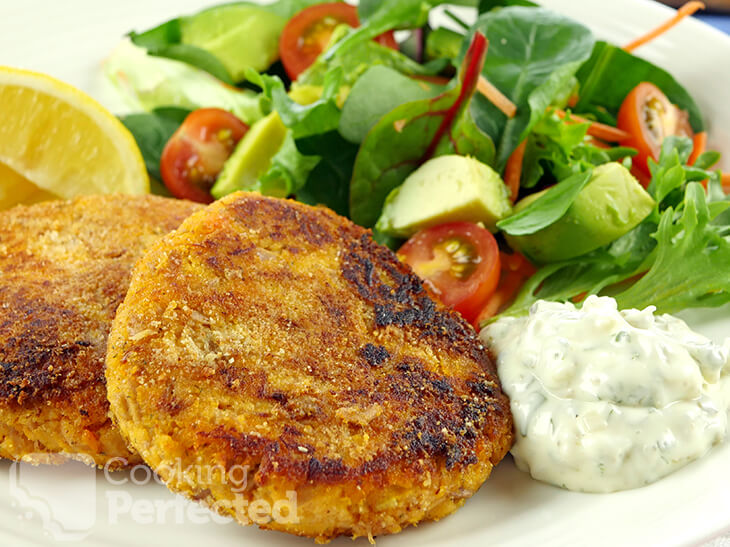 These paleo tuna cakes are amazing by themselves. Still, they are even better with something like some tasty paleo-friendly sweet potato fries. If the fries are too much for your liking, then something like a salad also goes well with these.
If you want to see how to make and cook these amazing tuna cakes, then be sure to check out the video below. Alternatively, there is a full written recipe underneath the video.
Paleo Tuna Cakes Recipe
Ingredients
300 g (10.6 oz) sweet potato, peeled and cut into 3cm (1.1 inch) squares
210 g (7.4 oz) can tuna, drained
1 egg
Zest of 1 lemon
1/2 cup almond flour
½ tsp dill
¼ tsp sea salt
¼ tsp black pepper
1 Tbsp coconut oil
Instructions
In a pot, add the sweet potato and cover it completely with cold water.
Place onto a stove and bring to a boil. Cook until the sweet potato is tender. Roughly 8 minutes.
Once cooked, drain the sweet potato, and allow to cool slightly.
In a bowl, add the sweet potato and mash it until smooth.
Next, add the tuna, egg, lemon zest, almond flour, dill, salt, and pepper. Mix until all the ingredients are well combined.
Shape into patties. I find that a 1/3 cup measurement will make nicely sized patties. Try to keep them roughly 2-3 cm (0.7-1.1 in) thick, so they hold together.
In a pan over medium heat, add the coconut oil.
Once the oil is hot, add the tuna cakes.
Cook on each side for 2-3 minutes or until golden brown.
Serve & Enjoy.
Recipe Tips
If you are worried about the patties falling apart, you can put them in the fridge for about thirty minutes. This process should help keep them together, but I find that you do not need to do this step.
The patty mix is already cooked, so you do not need to stress too much when it comes to frying them. The goal is simply to crisp up the outside edges and heat inside the patties.
If the patties are frozen, then it is best to cook them from frozen in a frypan. Defrosting them in the microwave may result in the patties falling apart.
Nutrition Information
Serving Size: 309g (10.9 oz)
Servings Per Recipe: 2
Calories Per Serving: 560
Amount Per Serving
Saturated Fat: 9.2g
Trans Fat: 0g
Total Carbohydrate: 36.6g
Dietary Fiber: 8.1g
Sugars: 10.9g
Cholesterol: 114mg
Sodium: 327mg
Protein: 38.8g
The information above is an estimate generated by an online nutrition calculator.
More Paleo-Friendly Recipes
If you love these tuna patties, then you will probably also like the incredibly delicious salmon cakes. These patties are very much like this recipe but instead use pink salmon. If you prefer the taste of salmon, then you should certainly check these out.
Another recipe that I reckon you will love is the paleo-friendly chicken piccata. It has lovely crumbed pieces of chicken in a flavor-packed citrus sauce. Perfect if you want a delicious meal that will easily feed a few people.
I hope you enjoy these paleo tuna cakes as much as I did. If you have a variation or any tips that you would love to share, then please do not hesitate to leave a comment below.