The air fryer is the perfect healthier way for cooking Chiko rolls as fast as possible.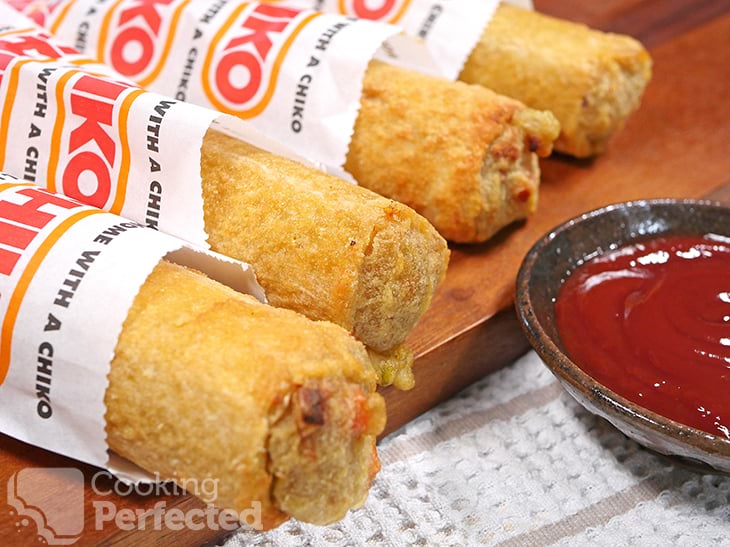 Once the Chiko roll is ready to eat, it should have a crispy batter on the outside and have a hot cabbage filling on the inside. You can eat it by itself, but it usually goes great with a good amount of tomato sauce.
The Chiko roll is an Australian creation and is heavily inspired by the traditional Chinese spring roll. It is usually eaten with your hands, so it is excellent if you need to eat on the move. Traditionally they are deep-fried but can be cooked in the oven or air fryer.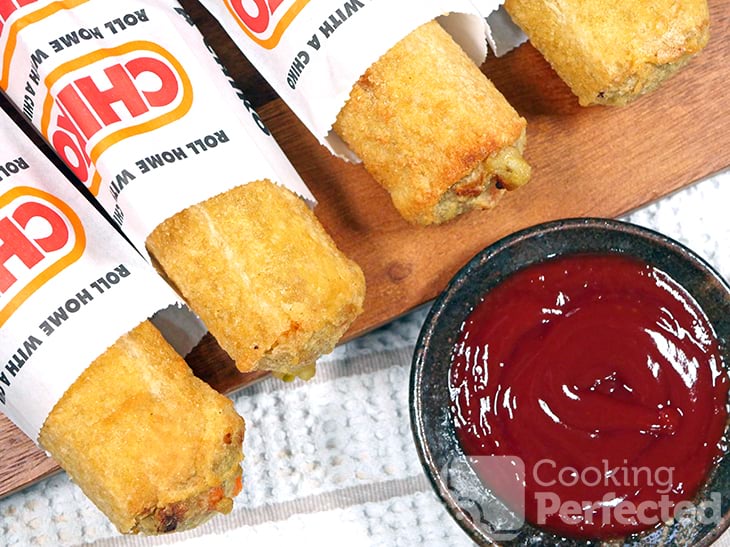 The air fryer is great for cooking Chiko rolls as you do not need to use much oil to get it crispy. It will also have your meal cooked in less than twenty minutes. I find the air fryer much easier to use than the traditional oven or deep fryer.
A single Chiko roll should be enough for one person, so this recipe should cook enough to feed four people. You can make some additional side dishes to feed more people or you can simply cook more Chiko rolls.
Side Dishes to go with Chiko Rolls
Homemade steak fries or oven-baked potatoes are great as a side dish to serve with Chiko rolls. Personally, I love the traditional deep-fried fries as they just match perfectly with this delicious comfort food.
A good salad is always a great side dish but will require extra time in the kitchen. Something like potato salad, coleslaw, or even a pasta salad will work very nicely. You can buy these at your local supermarket if you do not feel like spending too much time cooking.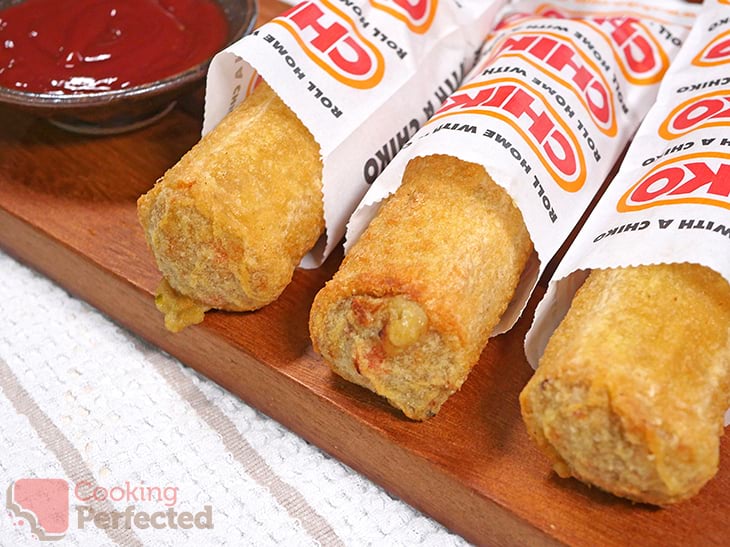 Dim sims are an Australian classic and will match nicely with these Chiko rolls. You can cook the dim sims in the air fryer alongside the Chiko rolls. Pick whatever works best for you. Just remember not to overload the air fryer.
All the steps on cooking Chiko rolls in the air fryer are right below. If you have some feedback regarding the recipe, please leave us a comment at the bottom of this page.
Air Fryer Chiko Rolls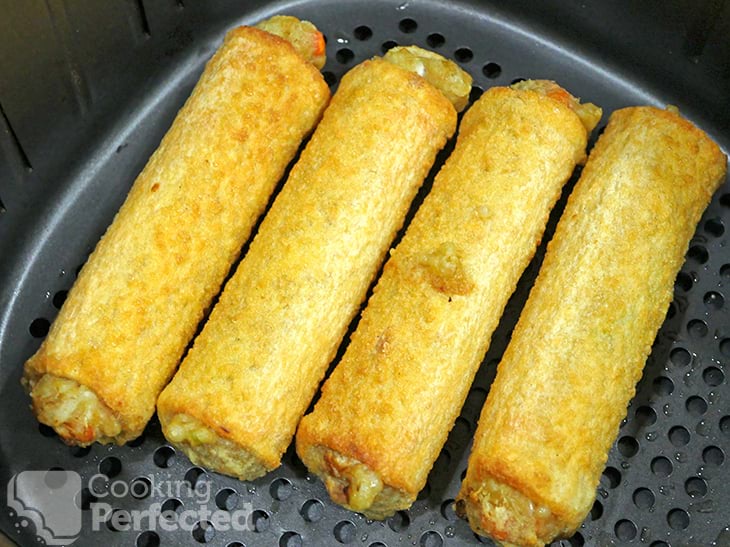 Ingredients
4 Chiko rolls
1 tsp cooking oil
Instructions
Preheat the air fryer to 200°C (390°F). It will take roughly 5 minutes to heat.
Place the Chiko rolls into the air fryer.
Lightly spray the Chiko rolls with the cooking oil.
Cook for 15 minutes or until hot in the center.
Serve & Enjoy.
Recipe Tips
The oil will help the Chiko rolls get an extra crispy batter. If you want to keep things as healthy as possible, simply leave the oil out.
Depending on the size of your air fryer, you might be able to fit more Chiko rolls. Make sure they do not overlap, as it might cause them to go soggy.
Flipping the rolls halfway through cooking will help ensure a more even cook. However, it is not super necessary.
Chiko rolls are an Australian creation and might be tricky to find in other countries.
A meat thermometer is great for checking whether the center of the food is hot.
The nutritional information below is an estimate from an online nutrition calculator. For more accurate information, refer to the box.
Nutrition Information
Serving Size: 150g (5.3 oz)
Servings Per Recipe: 4
Calories Per Serving: 310
Amount Per Serving
Saturated Fat: 4g
Trans Fat: 0g
Total Carbohydrate: 45.7g
Dietary Fiber: 4.8g
Sugars: 3.4g
Cholesterol: 16mg
Sodium: 647mg
Protein: 5.4g
The information above is an estimate generated by an online nutrition calculator.
More Air Fryer Recipes
There are so many different types of food that you can cook in the air fryer. Below are a couple of recipes that I reckon you might want to try.
Cooking a frozen pizza in the air fryer is an excellent way to cut down on cooking time and cleaning. It is one of the easiest dishes that you can do in the air fryer, and the result tastes absolutely amazing. Make sure your air fryer is big enough to fit the pizza.
Another super easy recipe that I recommend giving a try is the air fryer chicken nuggets. If you love chicken, then you will be glad that nuggets cook perfectly in the air fryer with very little effort. I highly recommend giving it a try if you want something easy and delicious.
I hope that the Chiko rolls cook perfectly in the air fryer for you. If you have some feedback, please do not hesitate to leave me a comment at the bottom of this page.