The air fryer is perfect for cooking a frozen pizza fast. It is a great option if you want a quick and easy meal.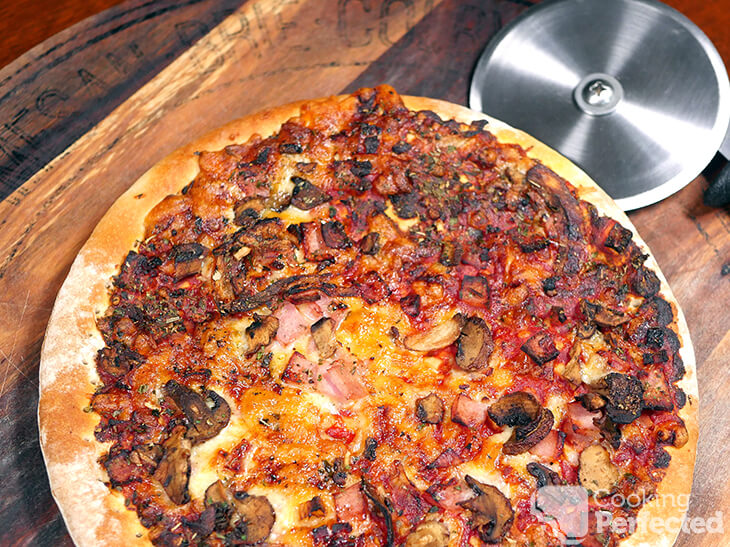 Using the air fryer is perfect if you want to avoid turning on your oven or just want the pizza cooked super-fast. The topping on the pizza cooks perfectly, and the base will be cooked but not super crisp.
A single pizza should feed roughly one to two people. If you need to feed more, then you can cook the pizzas in batches. I recommend making some delicious side dishes to go with the pizza.
There are plenty of other pizza recipes that will work great in the air fryer. For example, our tortilla pizza should cook perfectly. I recommend assembling it inside the air fryer as transferring it may be difficult.
Serving Ideas for Frozen Pizza
I love to make some homemade garlic bread to go alongside the pizza. It is super easy to make, so it will not take up too much of your time. Alternatively, store bought garlic bread will also work great. You can easily cook it in the air fryer.
A delicious salad is another great accompaniment to have alongside pizza. Typically, homemade is best, but store-bought salads will be fine. Personally, I love a homemade caramelized onion potato salad.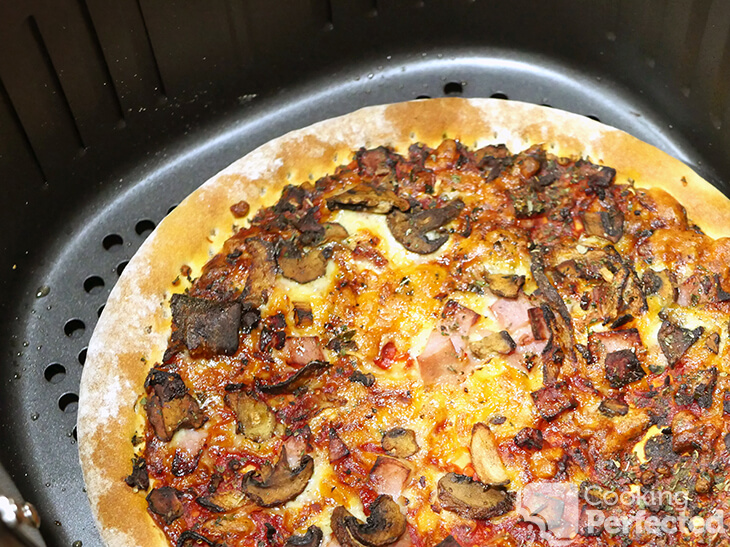 If you have a bit of spare time, then homemade cornbread will go perfectly with the pizza. It will require a fair bit of time in the kitchen.
Deep-fried steak fries or sweet potato fries are an excellent side dish. If you do not have a deep fryer, then you can also cook these in the air fryer. However, you will need to cook them separately from the pizza.
Personalizing the Pizza
You can add additional toppings to the pizza for a bit more flavor. I personally love to add a bit more cheese as frozen pizzas can be sparse with toppings. Other toppings like pepperoni, bell peppers, ham, and onion will work great for smaller air fryers.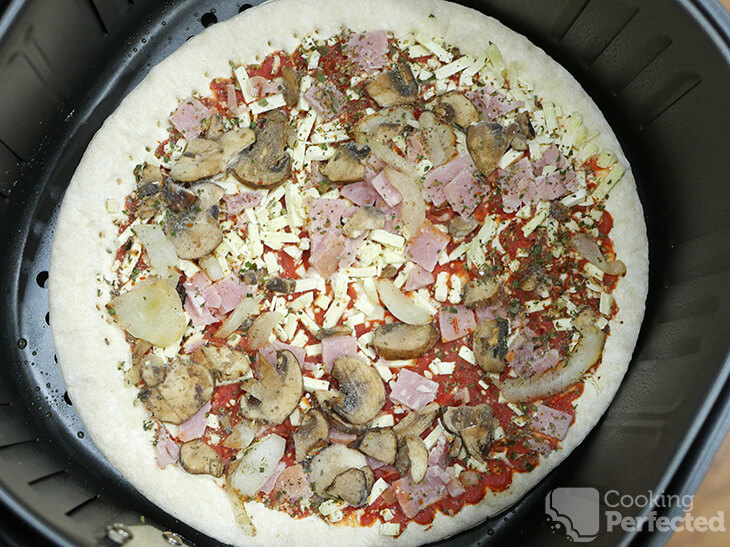 Smaller pizzas might be a good option if you have a small air fryer. I have a large air fryer and find that my chosen frozen pizza had a bit of spare room, but not lots. Rectangular pizza slices may be a good option.
Below is a remarkably simple recipe that will take you through all the steps to cooking the pizza in the air fryer.
Air Fryer Frozen Pizza Recipe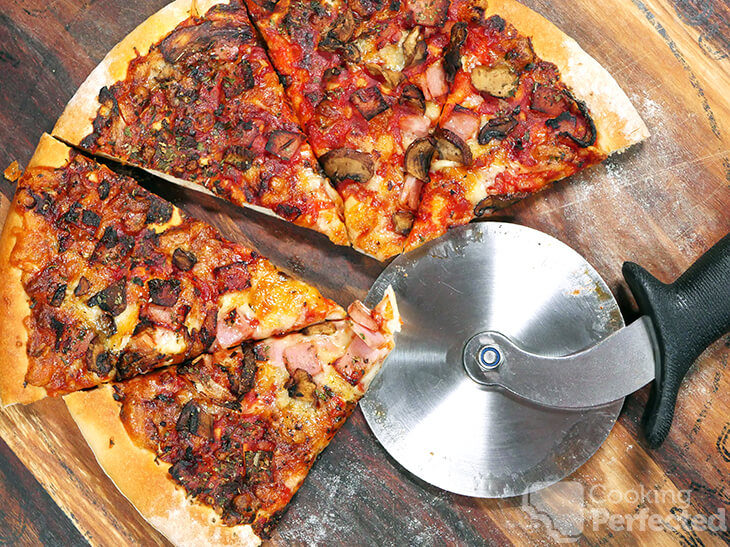 Ingredients
1 frozen pizza
1 tsp cooking oil
Instructions
Lightly grease the inside of the air fryer basket.
Preheat the air fryer to 200°C (390°F)
Place the pizza into the air fryer and cook for 10 minutes.
Carefully remove the pizza from the air fryer.
Serve & Enjoy.
Recipe Tips
You can skip the oil and still have the pizza cook perfectly. I find the oil helps achieve a crispier base and helps with cleaning.
I am using a 7.2L (6.6 qt) air fryer, which is quite large, so you may find that your air fryer is not big enough to fit the pizza. You may need to cut it while it is still frozen and cook it in batches.
I recommend checking the pizza halfway through cooking to ensure that it won't overcook. I found the toppings cooked quite fast. You can cover the pizza with foil to help prevent the toppings from overcooking while you finish cooking the base.
Our nutritional information is just an estimate. Please refer to the pizza box for accurate information.
Nutrition Information
Serving Size: 357g (12.6 oz)
Servings Per Recipe: 2
Calories Per Serving: 984
Amount Per Serving
Saturated Fat: 18.1g
Trans Fat: 0g
Dietary Fiber: 8g
Sugars: 17g
Cholesterol: 57mg
Sodium: 1979mg
Protein: 40g
The information above is an estimate generated by an online nutrition calculator.
More Air Fryer Recipes
We have an ever-growing list of delicious recipes that work perfectly in the air fryer. Below is a couple of my favorite recipes that I highly recommend checking out.
A gorgeous air fryer recipe that you need to try is the seasoned pork chops. We season the pork chops in a wonderful range of spices which really help bring the meat to life. I highly recommend giving it a try if you love delicious foods.
Our chicken tenders recipe is an absolute must-try. It features chicken tenderloins coated in a delicious seasoning and some breadcrumbs. It is entirely homemade and perfect if you want to impress someone.
I hope your frozen pizza cooks perfectly in the air fryer. If you have some feedback, then please do not hesitate to leave a comment below.