The air fryer is perfect for cooking a grilled cheese sandwich to perfection. It is super easy and does not require much effort.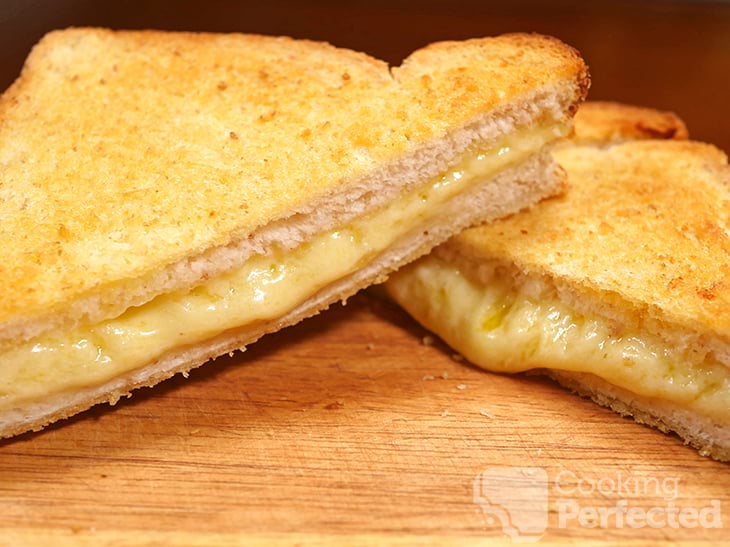 This grilled cheese toastie cooks to be deliciously crunchy and cheesy. It is a very simple sandwich, but you can easily add your own spin to it. I personally love this sandwich as a quick and easy meal.
You will only get a single serving without needing to adjust this recipe. You can easily make more sandwiches, but you may need to cook them in batches. I do not recommend stacking the sandwiches in the air fryer.
If using the air fryer does not appeal, you can always cook grilled cheese in a sandwich press or frying pan. I find the air fryer gets one of the best results, but it comes down to personal preference.
For something very different, you can make some cheesy sandwiches in the slow cooker. You can cook quite a few, so it is perfect if you need to feed a few people. I highly recommend giving it a try.
Grilled Cheese Filling Ideas
There are loads of different fillings you can add to a grilled cheese sandwich. Below are just a couple of my favorite combinations.
Some delicious pulled pork with sliced red onion and cheese makes for a delicious filling. For a bit of extra flavor, you can add a bit of BBQ sauce as well.
Ham, pineapple, and cheese is a delicious combination that will please if you are a fan of Hawaiian pizza. In addition, tomato paste can be added to the sandwich for even more flavor.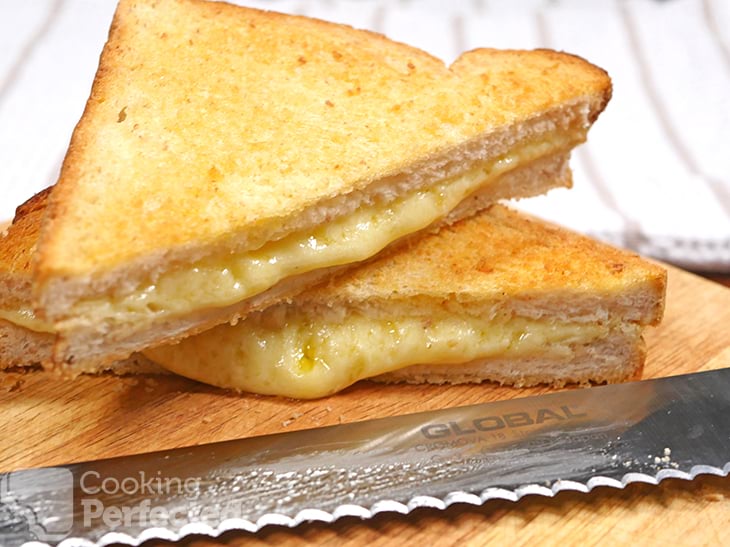 A combination of hash browns, bacon, egg, spinach, and cheese makes for a delicious breakfast sandwich. However, it will require a fair bit of extra work as the hash browns, bacon, and egg will need to be precooked for the best result.
I love a simple combination of shredded roast chicken, avocado, and some brie cheese. You can easily swap the cheese for cheddar or something else.
Side Dish Ideas for Grilled Cheese
Grilled cheese is perfect on its own, but there are some side dishes that go great with a sandwich. Below are a few of my favorite choices.
A good number of French fries goes perfectly with a toasted sandwich. However, if you want to be slightly healthier, then consider making some sweet potato fries instead. Both choices can be cooked in the air fryer.
I sometimes love to dip a grilled cheese into a sauce for a bit of extra flavor. My personal favorite is homemade mayonnaise, but there are plenty of other options, such as ketchup, tomato relish, or even ranch dressing.
The recipe below will take you through all the steps to cooking a grilled cheese in the air fryer. Please let us know if you have any feedback regarding the recipe.
Air Fryer Grilled Cheese Recipe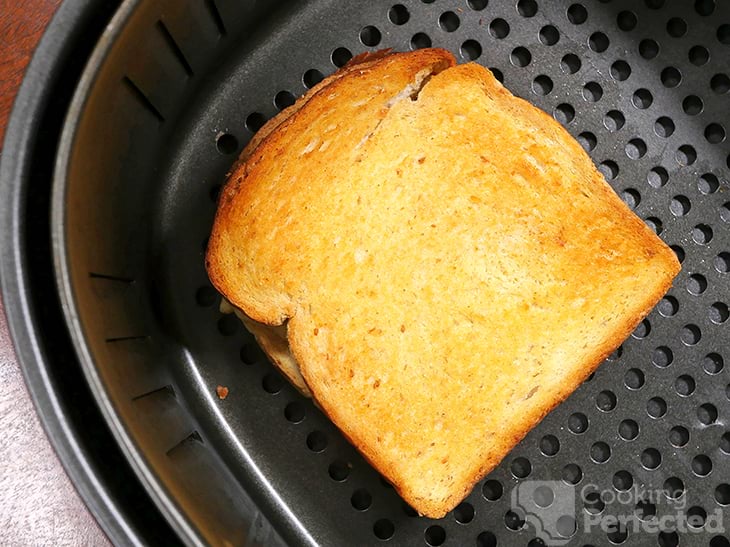 Ingredients
2 slices of bread
2 slices of cheddar cheese
1 Tbsp unsalted butter
Instructions
Preheat the air fryer to 180°C (350°F). It should take roughly 5 minutes to heat.
Butter one side of each slice of bread.
Place the cheese on the unbuttered side of the bread.
Assemble the sandwich, so the buttered sides of the bread are facing outwards.
Place the sandwich into the air fryer.
Cook for 10 minutes. I recommend flipping the sandwich halfway through cooking.
Serve & Enjoy.
Recipe Tips
Do not stack sandwiches in the air fryer as it will cause very inconsistent cooking.
I recommend preheating the air fryer before cooking your grilled cheese sandwich.
You can easily add more ingredients to the sandwich filling.
Be careful adding lots of wet ingredients as they may make your toasted sandwiches go soggy.
Flipping the sandwich is optional, but it does help get both sides of the sandwich crisp.
You can swap the butter for a different type of fat. For example, bacon fat will add a ton of flavor and make the sandwich deliciously crisp on the outside.
Nutrition Information
Serving Size: 96g (3.4 oz)
Servings Per Recipe: 1
Calories Per Serving: 250
Amount Per Serving
Saturated Fat: 7.5g
Trans Fat: 0.1g
Dietary Fiber: 1g
Sugars: 5g
Cholesterol: 31mg
Sodium: 664mg
Protein: 10g
The information above is an estimate generated by an online nutrition calculator.
More Air Fryer Recipes
There are loads more delicious quick and easy meals that you can cook in the air fryer. Below are a couple of my absolute favorite recipes that I recommend giving a try.
It is so easy to cook frozen food in the air fryer. My favorite is cooking frozen chicken nuggets as they are extremely easy to get perfect and taste delicious. They go great with some condiments and side dishes.
Homemade garlic bread cooks perfectly in the air fryer and is a dish that I really recommend giving a try. The bread cooks to be crispy, and the butter melts perfectly. It is always a huge hit whenever we make it for a party or meal.
I guarantee that the air fryer produces one of the tastiest grilled cheese ever, and it is so easy to make. If you have anything you would like to add, please do not hesitate to comment below.