The air fryer is a great way to cook some frozen potato wedges until they are deliciously crisp.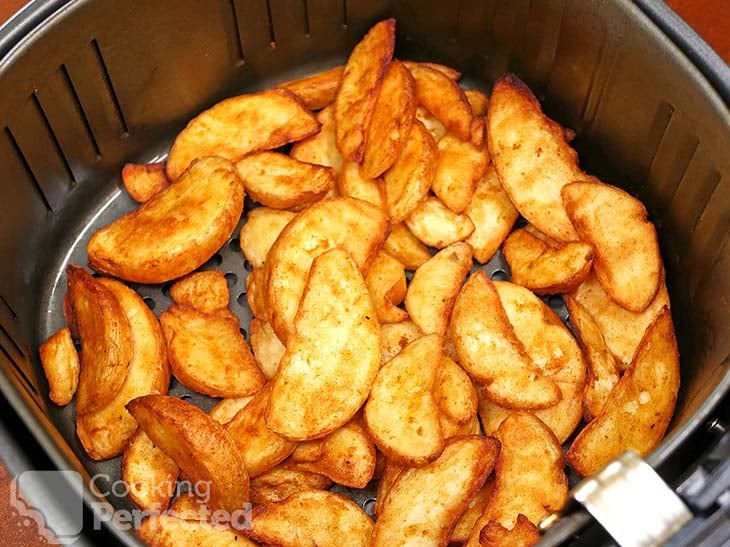 For the best results, I recommend using a brand of frozen potato wedges that you know and love. The cooking times will be roughly the same no matter which one you choose to use. I typically use McCain or Birds Eye.
Cooking wedges in the air fryer is a much healthier alternative to using a deep fryer and quicker than using a traditional oven. I always have great success air frying frozen food, and these wedges are no exception.
For a bit more flavor, you can try adding some extra spices to the wedges. For example, paprika, garlic powder, chili powder, or onion powder is excellent for adding more flavor.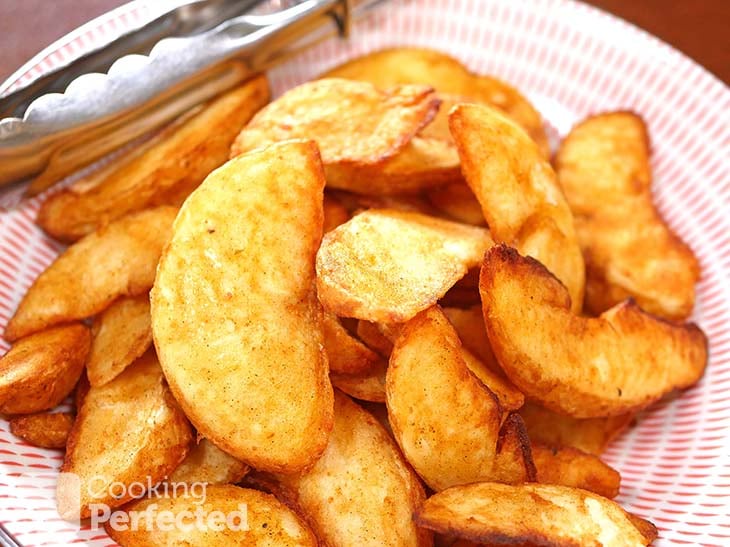 If you are following this recipe precisely, you should get at least four to six serves without needing to change anything. However, it heavily depends on whether you are cooking these wedges as a snack, meal, appetizer, side dish, or feeding people with big appetites. You will likely need to cook in batches if you cook more than the quantity suggested in the recipe.
You can make potato wedges at home if you have some spare time. They are a little more time-consuming than frozen wedges but well worth the effort. The cooking time will likely be different if you are cooking fresh wedges.
What to Serve with Frozen Potato Wedges
Potato wedges are never complete without some condiments to go with them. My favorite is dipping the wedges into sour cream and sweet chili. It is truly delicious. Of course, plenty of other sauces such as mayonnaise, tomato sauce, BBQ sauce, and so many more will work great with these wedges.
There are plenty of roasts that you can cook alongside these air fryer potato wedges. An air-fried pork roast is a pretty good choice, but roast beef or even roast chicken will work great. You may want to cook some additional side dishes with the roast, such as creamed spinach.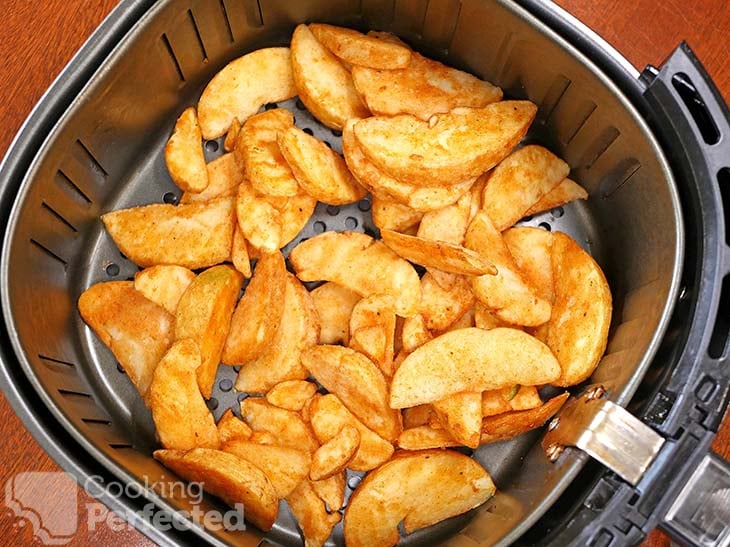 These wedges are excellent as an item on a party spread. Other great party foods such as spring rolls, pigs in a blanket, sweet potato fries, chicken wings, or even corn dogs will cook great in the air fryer. These are just a few examples of what you can do, but they will work great for adult and kid parties.
My last suggestion is doing loaded wedges instead of keeping them plain. My favorite combination is just a simple mix of shredded cheese, mozzarella, and crispy bacon bits. I simply add these extras after the wedges are cooked and air fry for a further three minutes or until the cheese is melted. There are plenty of other topping combinations that you can try.
The recipe below will take you through all the steps to cooking frozen potato wedges in the air fryer. If you give our recipe a try and have some feedback, please do not hesitate to leave a comment at the bottom of this page.
Air Fryer Frozen Potato Wedges Recipe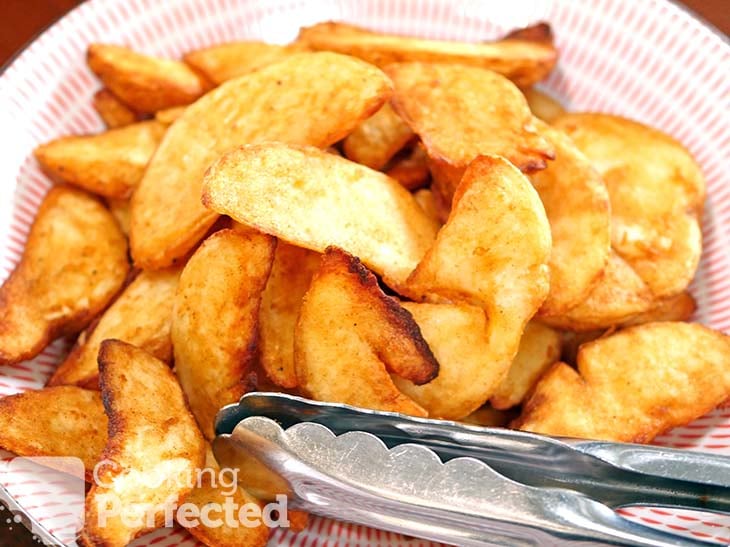 Ingredients
750 g (1.7 lb) frozen potato wedges
2 tsp cooking oil
Instructions
Preheat the air fryer to 200°C (390°F). It will take roughly five minutes to heat up.
Place the frozen potato wedges into the air fryer basket and lightly spray with oil.
Cook for 20 minutes or until golden brown. Shake or turn the wedges every five minutes to help achieve a better cook.
Serve & Enjoy.
Recipe Tips
The cooking oil is optional, but it does help get the wedges deliciously crisp. Simply leave it out if you want to try and keep things as healthy as possible.
Cooking times may vary depending on the size of your wedges. However, you should not have problems as wedges tend to be roughly the same size.
Overloading the air fryer basket is not ideal as it will stop the wedges from cooking evenly. A single layer often works best. If your air fryer basket is full, it may be best to cook in batches instead.
The wedges should be gluten-free, but it is best to check on the package. Alternatively, you can make and season the wedges yourself.
Nutrition Information
Serving Size: 188g (6.6 oz)
Servings Per Recipe: 4
Calories Per Serving: 311
Amount Per Serving
Saturated Fat: 3.5g
Trans Fat: 0.3g
Dietary Fiber: 5g
Sugars: 1g
Cholesterol: 0mg
Sodium: 713mg
Protein: 5g
The information above is an estimate generated by an online nutrition calculator.
More Air Fryer Recipes
There are many different types of frozen vegetables that you can cook in the air fryer. Below are a couple of my favorites that I reckon you will love.
I absolutely love cooking some frozen sweet potato fries in the air fryer. They cook to be crispy and always go down a treat. I highly recommend giving them a try if you are a fan of the flavors of sweet potato.
If you have some frozen cauliflower, you can quickly cook it in the air fryer with very little effort. The result is deliciously hot and slightly crisp cauliflower. I love serving the cauliflower with a homemade cheese sauce.
I hope that you love air-fried frozen potato wedges as much as I do. If you have some feedback, please do not hesitate to leave a comment below.