The air fryer is perfect for cooking frozen corn dogs quickly. They turn out crispy, delicious and almost as good as deep frying them.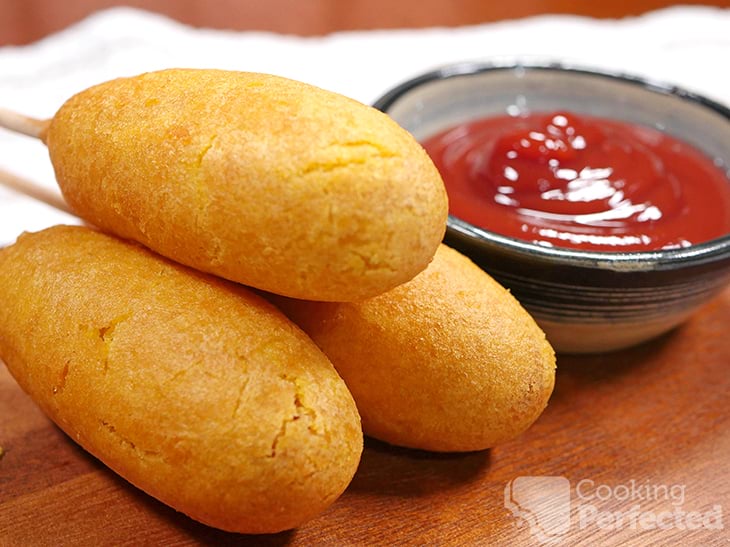 When you pull the corn dogs out of the air fryer, they will be deliciously crispy on the outside and hot on the inside. The sausage and batter will have lots of flavor and go great with some ketchup. I recommend buying decent corn dogs for the best result.
For those that don't know, a corn dog is a sausage dipped into a cornmeal batter and then deep-fried in very hot oil. It is a very popular food at festivals, fairs, parties, and more.
In some countries, the corn dog goes by different names. For example, in Australia, they are known as Dagwood dogs. In Japan, they are known as the American Dog. Lastly, in Canada, they are known as pogo.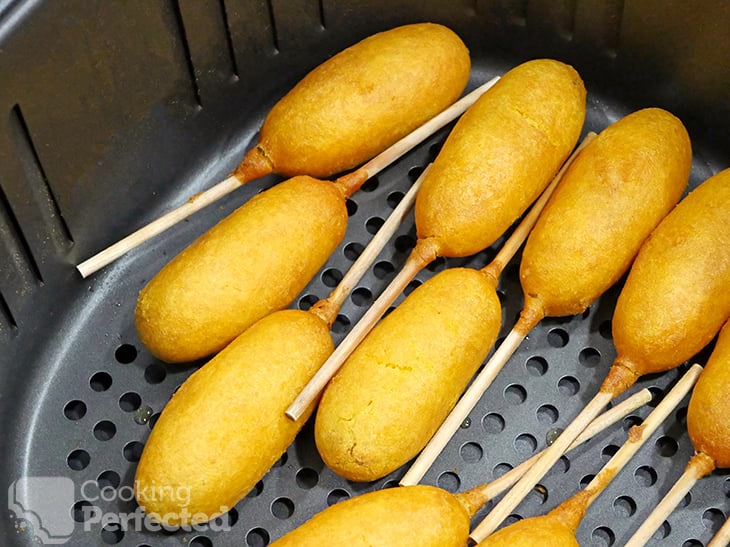 You will need to use frozen corn dogs for this recipe as you need the batter to stick to the sausage. Our homemade corn dog batter will not work as it will simply slide off before the air fryer can cook it.
A single batch of these corn dogs should feed roughly four people, but it heavily depends on whether you are feeding big eaters. If you need to feed a crowd, I suggest cooking some more food to go along with the corn dogs.
Corn Dog Serving Ideas
There are loads of condiments that go perfectly with corn dogs. My all-time favorite is ketchup, but others such as BBQ sauce, mayonnaise, or even ranch dressing are worth a try. Let us know which one you like to use the most.
Corn dogs go fantastic with a good serving of steak fries. You can try making some sweet potato fries for something more delicious and healthier.
If you live in Australia and crave even more comfort food, then consider cooking some dim sims and Chiko rolls in the air fryer as well. These will fit with the corn dogs if you have a large air fryer; otherwise, you may need to cook them separately.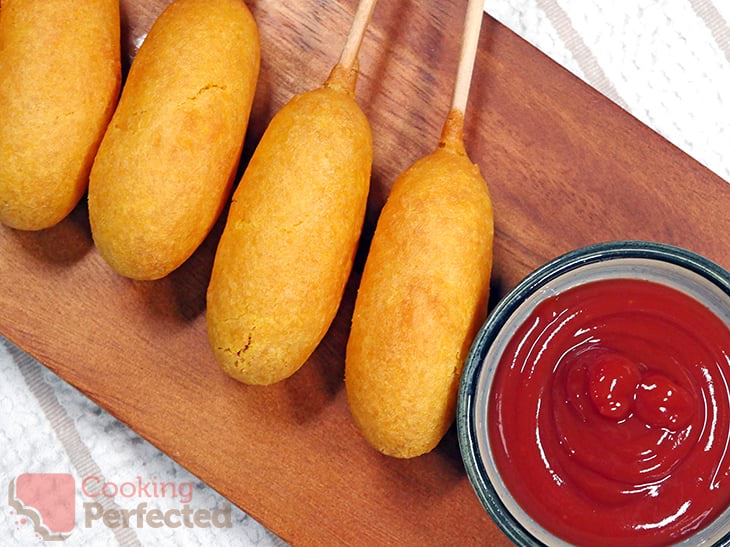 A good side salad will match nicely with these corn dogs. Personally, I love to make a delicious potato salad, but something easy like a green salad will also work.
The recipe below will take you through the few small steps to cooking corn dogs in the air fryer. Please let us know if you have any extra tips for getting the perfectly cooked corn dog.
Air Fryer Corn Dogs Recipe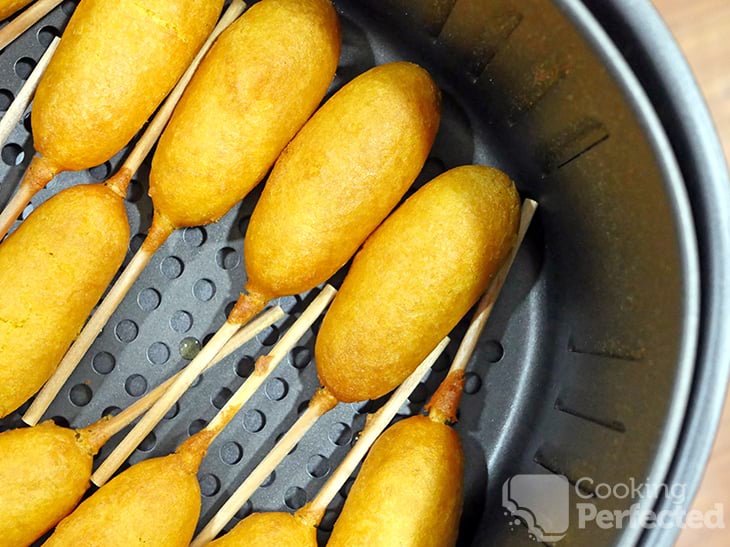 Ingredients
600 g (1.3 lb) frozen corn dogs
1 tsp cooking oil
Instructions
Preheat the air fryer to 200°C (390°F). It will take roughly 5 minutes to heat.
Place the frozen corn dogs into the air fryer.
Lightly spray the corn dogs with the cooking oil.
Cook for 10 minutes or until hot in the center. Flip halfway through cooking for an even cook.
Serve & Enjoy.
Recipe Tips
Using a meat thermometer is a great way to ensure that the corn dogs are cooked all the way to the center.
The cooking oil is optional, but it does help ensure the corn dogs get a lovely crispy batter.
You may be able to fit more corn dogs in the air fryer than the recommended amount. Try not to add too many as it may cause inconsistent cooking.
The nutritional information below is an estimate from an online nutrition calculator. For more accurate information, refer to the box.
Mini corn dogs will work best as they fit more easily into the air fryer.
Nutrition Information
Serving Size: 151g (5.3 oz)
Servings Per Recipe: 4
Calories Per Serving: 385
Amount Per Serving
Saturated Fat: 5.4g
Trans Fat: 0.3g
Dietary Fiber: 2g
Sugars: 11g
Cholesterol: 66mg
Sodium: 1002mg
Protein: 13g
The information above is an estimate generated by an online nutrition calculator.
More Delicious Air Fryer Recipes
There are plenty more air fryer recipes that are worth checking out. Below are a couple of my favorite recipes that I reckon you will love.
The air-fried pork belly is one of the most delicious dishes that you can make in the air fryer. The pork belly cooks to be beautifully tender and has a deliciously crunchy crackling. I highly recommend giving it a try if you love pork.
I absolutely love cooking chicken thighs in the air fryer as they always turn out incredibly delicious. The seasoning adds loads of flavor and helps keep the chicken moist. It is one of our most popular recipes, so it is well worth a try.
I hope that the air fryer corn dogs are delicious and a huge hit with whomever you are cooking for. If you have some feedback, then please do not hesitate to leave a comment below.