Sweet potato fries are a dieter's best friend as they taste amazing and are pretty good for you. No longer do you have to feel like you're missing out on all those tasty meals.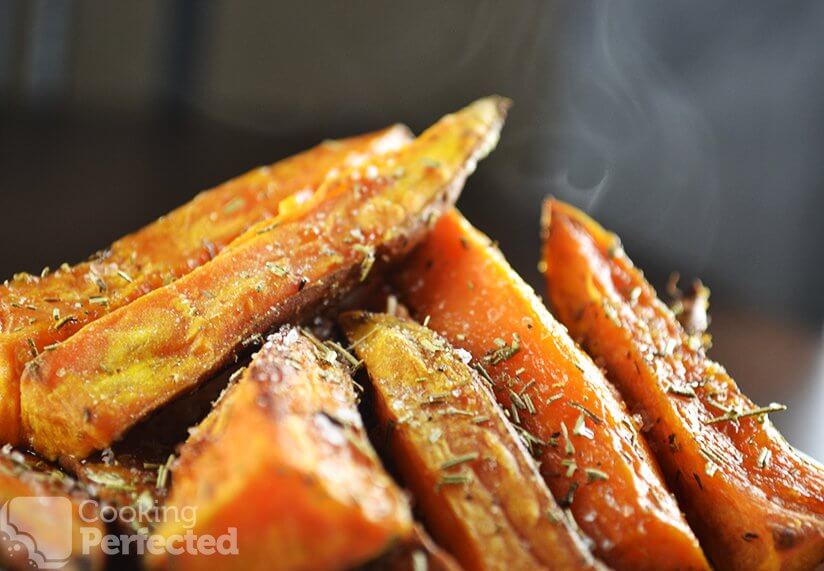 These fries cook to be deliciously tender on the inside and slightly crispy on the outside. They also have a lovely sweet potato flavor with a slight hint of rosemary. I love making them as a side dish, but they're also great as a meal.
This recipe is pretty easy to follow, and all you need to have is a good roasting tray, an oven, and of course, the three ingredients.
Even though sweet potato is considered paleo, make sure you don't go overboard as they are still very high in carbohydrates. They always make for a great treat.
What to Serve with Sweet Potato Fries
There are so many meals and sides that will go great with these paleo-friendly sweet potato fries. Below are just a couple of suggestions on what you can do.
Condiments are a great way of enhancing the flavors of foods. To go with these fries, I recommend making some Paleo mayonnaise, homemade ketchup, or even a tartar sauce.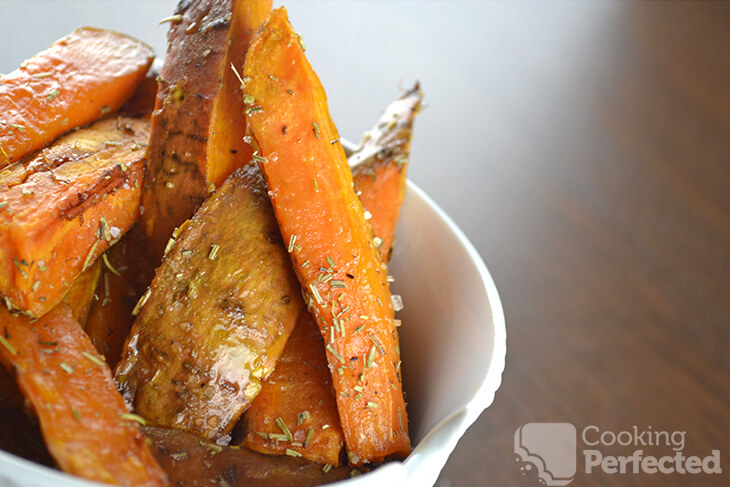 Lots of meals work nicely with these fries on the side, so feel free to make whatever you feel like. My personal recommendation is to make some coconut crusted chicken. The chicken works perfectly with these fries and creates a very fulfilling meal.
With all that said, these fries are perfect by themselves as a snack or meal. If you have any suggestions, then we will love to hear them, so please don't hesitate to leave a comment at the bottom of this page.
Personalizing the Recipe
I like how this recipe currently is, but there is a lot of different tweaks that you're able to do. Below are just a couple of ideas that I recommend doing if you want to change the recipe.
Spices like paprika and garlic powder are an excellent way of adding even more flavor to these fries. I would leave out the herbs, so you don't have too much going on in terms of flavors.
To get the crispiest fries, people often use cornstarch, but if you are trying to keep things Paleo, I recommend not using it. You could use tapioca starch instead, but it will make these fries slightly less healthy. I suggest roughly a tablespoon if you end up adding something.
If you want to see how I make my sweet potato fries, then check out the video below. If you like what you see and would like more of it, then make sure you follow us on social media so you can stay up to date.
Sweet Potato Fries
Ingredients
2 sweet potatoes, cut into wedges
¼ cup coconut oil, softened
2 Tbsp rosemary
Salt
Instructions
Preheat an oven to about 215°C  (420°F).
In a bowl, add the softened coconut oil, herbs, salt, and sweet potato wedges.
Mix the ingredients so that the sweet potato becomes well coated.
Place the sweet potato fries onto an oven tray while making sure they're not overlapping.
Now place the tray in the oven and cook for 30-45 minutes. They might take longer to cook, depending on the thickness of the sweet potato.
To test if they're cooked, use a sharp knife, and if it cuts into the potato easily, then it is ready to eat.
Serve & Enjoy.
Recipe Tips
If you want to get these as crispy as possible, you can try putting them on a cooling rack. Make sure the cooling rack is on top of a tray; otherwise, your oven could get very dirty fast.
This sweet potato fries recipe is super easy to cook for a crowd. However, make sure you have the room to cook them in your oven. If you stack the fries on top of each other, they can get soggy fast, and no one likes soggy fries.
These fries also make a great side dish, so if you're cooking up something like chicken cacciatore, then you should certainly make these as they go great together.
You can use lard instead of coconut oil. Either choice will result in some delicious sweet potato fries.
I recommend using fresh herbs to get the best results, but with that said, dried herbs are an excellent alternative.
Nutrition Information
Serving Size: 160g (5.6 oz)
Servings Per Recipe: 2
Calories Per Serving: 247
Amount Per Serving
Saturated Fat: 6.2g
Trans Fat: 0g
Total Carbohydrate: 43.9g
Dietary Fiber: 7.6g
Sugars: 0.8g
Cholesterol: 0mg
Sodium: 15mg
Protein: 2.5g
The information above is an estimate generated by an online nutrition calculator.
More Delicious Recipes
We have lots more Paleo recipes that you should try, and below are a couple of my favorites that should be on the top of your list.
I love a good hearty chili to have alongside these fries. You can even dip the fries into the chili for an amazing combination of flavors. To go one step further, you could make some paleo-friendly loaded chili fries, but you will need to skip on the cheese.
These fries go great with our extremely tasty paleo-friendly beef burgers. The burgers are similar to traditional burgers, but they instead use a couple of portobello mushrooms rather than burger buns. I highly recommend giving them a try if you want a good hearty meal.
As always, if you have a variation that you would love to share or you want to leave some feedback on these yummy sweet potato fries, please feel free to leave a comment below.