This easy chicken cacciatore is the perfect dish for when you need to feed a couple of people.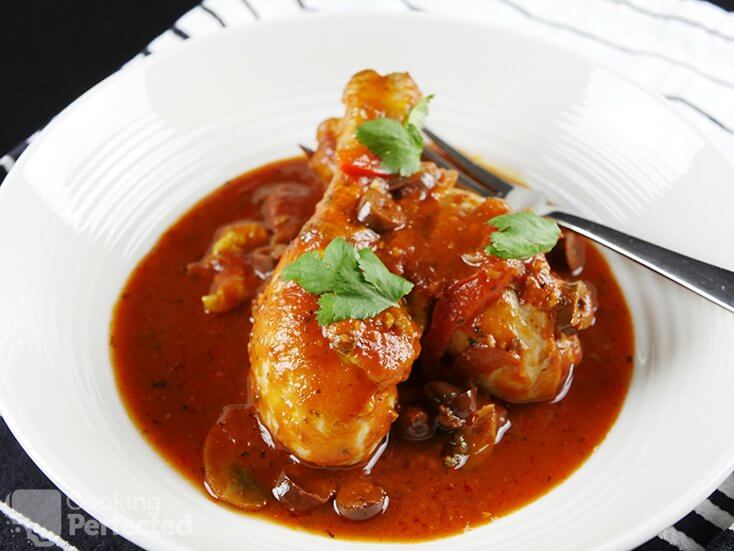 Chicken cacciatore is loaded with flavors thanks to the delicious range of ingredients. The hearty aromas will fill your home and make you excited about what's cooking on the stove.
You might also know this dish as hunter's chicken stew, this is because hunter in Italian is cacciatore. Having originated in Italy, this classic can be found in restaurants and households across the world. There are also many different takes on this classic dish.
This dish is great for feeding a crowd without needing to do a huge amount of preparation. Once you have prepped your ingredients, all you need to do is dump the ingredients into one pot and cook.
You should be able to feed roughly four people without having to alter the recipe. If you need to feed more, then simply double or triple the recipe.
If you end up with some leftovers, make sure you keep them as they will reheat nicely. Just keep stored in the fridge until required and then heat in either the oven, over the stove, or microwave.
What to Serve with Chicken Cacciatore
Chicken cacciatore is great on its own without any extras. However, with that said, there is a tremendous number of side dishes that will work nicely with this delicious dish.
One of my favorite combinations is to serve this dish on the top of some creamy mashed potatoes. If you are trying to be healthy, then you can try making creamy mashed cauliflower instead.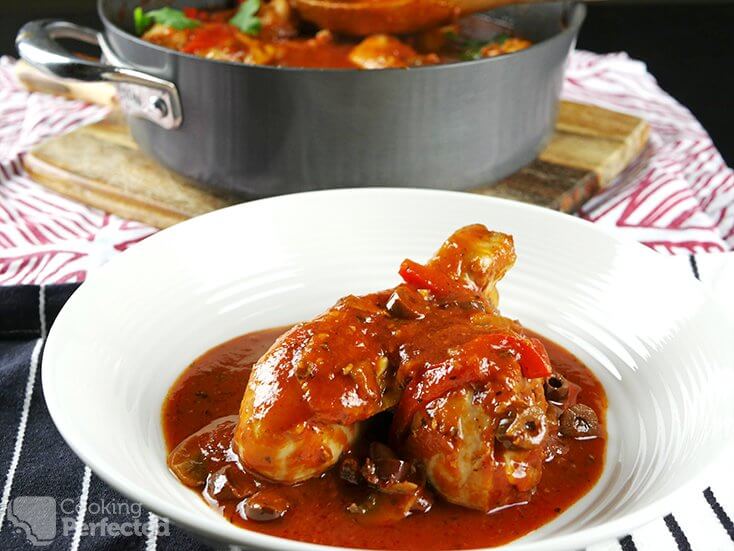 A simple but delicious side dish is some steamed rice. I tend to make it in a rice cooker as it is super easy. However, cooking the rice over the stove is always an option. A healthier option is to make cauliflower rice.
The choice of a side dish comes down to what you feel like eating and how much time you have to spare. Personally, I love eating this stew by itself.
Best Cut of Chicken to Use
You can use any cut of chicken for this recipe. However, some cuts of chicken work better than others.
Personally, I prefer to stick to chicken cuts with the bone-in, such as drumsticks. I find they add a bit more flavor to the dish and cook nicer over long periods of time.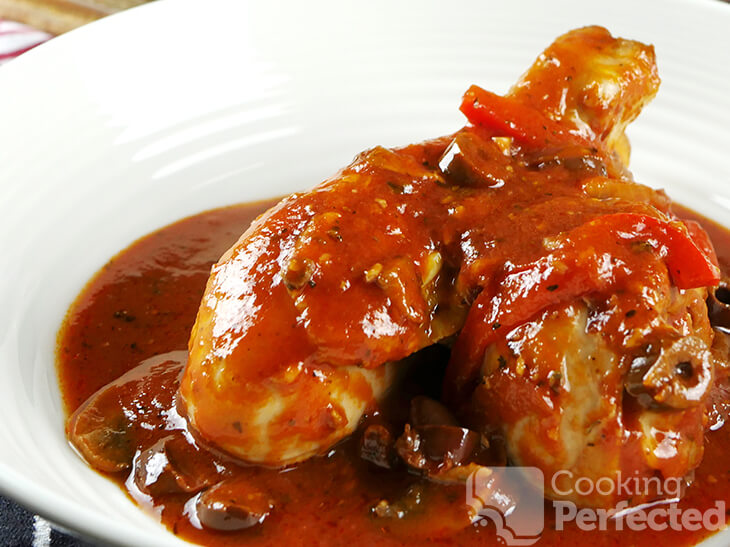 Boneless chicken breast or thigh are still good meat choices, but you might find that the flavor is not nearly as good.
Be sure to check out the video below as it shows you how to make this easy chicken cacciatore. Alternatively, a full written recipe is below the video.
Easy Chicken Cacciatore Recipe
Ingredients
1 Tbsp cooking oil
1 kg (2.2 lb) chicken pieces
1 onion, sliced
2 tsp garlic, crushed
1 red bell pepper, sliced
1 cup mushrooms, sliced
½ cup red wine
600 g (1.3 lb) pasta sauce
½ Tbsp dried basil
½ cup pitted Kalamata olives
Instructions
In a large deep frypan over medium heat, add the oil.
Once hot, add the chicken pieces in batches and cook until slightly brown. Once browned, put the chicken to the side.
Add the onion, garlic, bell pepper, and mushrooms to the frying pan. Cook for 2-3 minutes.
Return the chicken to the pan and add the red wine, pasta sauce, and basil. Simmer for 30 minutes.
Stir in the olives and season with salt and pepper.
Serve & Enjoy.
Recipe Tips
The olives are optional and can be left out without any drastic effect on the overall dish.
You can make chicken cacciatore paleo-friendly by leaving the wine out of it.
The half a cup of red wine will help add a lot more depth to this dish. However, much like the olives, this is optional and is not required for a tasty dish.
Make sure the oil is hot when you add the chicken as you want to sear the chicken and not stew it.
Passata is an excellent alternative to pasta sauce.
Nutrition Information
Serving Size: 500g (1.1 lb)
Servings Per Recipe: 4
Calories Per Serving: 381
Amount Per Serving
Saturated Fat: 2.5g
Trans Fat: 0g
Dietary Fiber: 4g
Sugars: 7g
Cholesterol: 162mg
Sodium: 1026mg
Protein: 54g
The information above is an estimate generated by an online nutrition calculator.
More Delicious Recipes
There are a ton of easy chicken recipes that you can cook up. For example, you might be interested in something a bit sweeter such as the baked honey mustard chicken. It is super easy to prepare and does not need a massive amount of dishes to make.
You can make this chicken cacciatore in the slow cooker, making it perfect if you love to get your dinner prepared and slowly cooking in the morning. It is perfect if you love to come home to a cooked meal that is ready for eating.
If you have any feedback regarding this easy chicken cacciatore recipe that you would like to share, then feel free to leave a comment below. I always love hearing your feedback so I can improve future recipes or adjust this one.