These gluten-free chicken nuggets are juicy on the inside and crunchy on the outside. They are one hundred percent homemade and are very easy to make.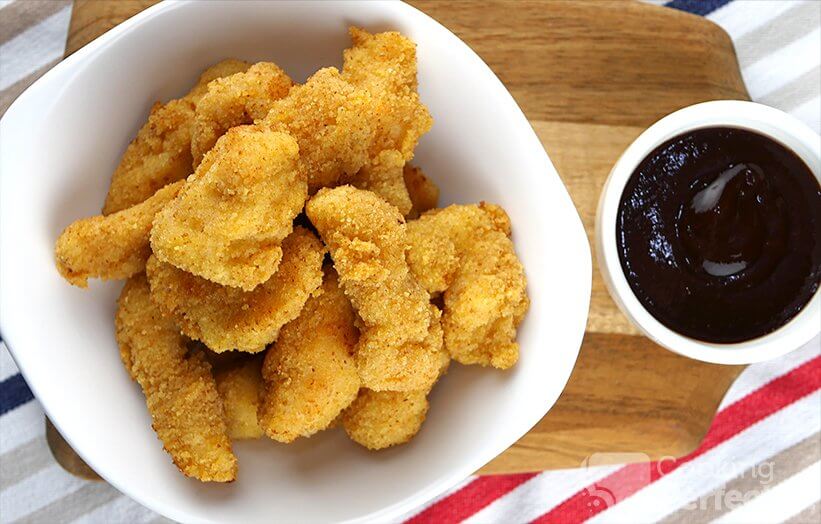 These nuggets are perfect on their own, but they are even better with a delicious dipping sauce. They are also the perfect food for movie night, date night, or just a regular dinner.
The method you use to cook the nuggets is entirely up to you. I typically fry the chicken nuggets, but sometimes baking them is a better alternative. I have left instructions in the cooking tips on how to bake these in the oven.
You will be able to feed roughly four people from a single batch of this recipe. You can easily double the recipe or make some extra side dishes if you need to feed a crowd.
Leftover chicken nuggets can be kept in the fridge for a couple of days. You can reheat the leftover nuggets and use them in something like a sandwich or salad.
What to Serve with Chicken Nuggets
There are so many different meals and condiments that go great with chicken nuggets.
If you want an accompanying sauce, then a nice ranch dressing or a gluten-free homemade mayonnaise is always good. I love to dip the nuggets into a sauce, it is usually a delicious combination.
Chicken nuggets and chips are an excellent match and are often for sale at restaurants and fast food outlets. I love regular steak fries, but sweet potato fries are also pretty good.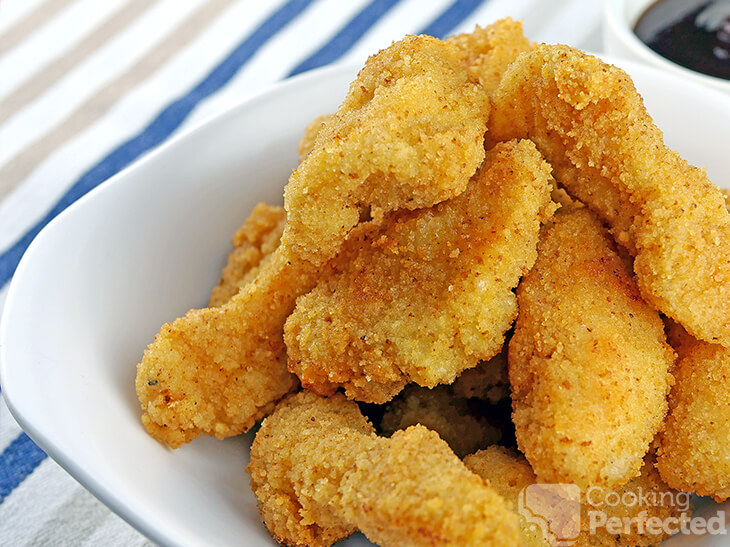 Lastly, these chicken nuggets are great as part of a salad. My ideal salad is lettuce, tomatoes, sliced red onion, gluten-free croutons, parmesan cheese, and a delicious Caesar salad dressing.
There is lots more that these nuggets will work nicely with, so if you have any ideas, then please do not hesitate to leave a comment at the bottom of this page.
Tweaking the Crumb Mixture
One of the best things about making your own chicken nuggets is that you can change the recipe to your liking.
If you love herbs, you can add some oregano, thyme, or rosemary to the breadcrumbs. You will need to chop the herbs as much as possible for the best result.
Shaved parmesan cheese is a perfect addition if you love cheese. You will need to be careful not to burn the cheese when you cook your nuggets. I find parmesan is pretty good as it does not tend to burn super-fast.
Some extra spices can be added in with the flour for a little bit more flavor. Paprika, cumin, or even Cajun seasoning will add a ton of flavor to the chicken nuggets. However, be careful as spices can quickly overpower everything.
You can find the full recipe for these gluten-free chicken nuggets right below.
Gluten-Free Chicken Nuggets Recipe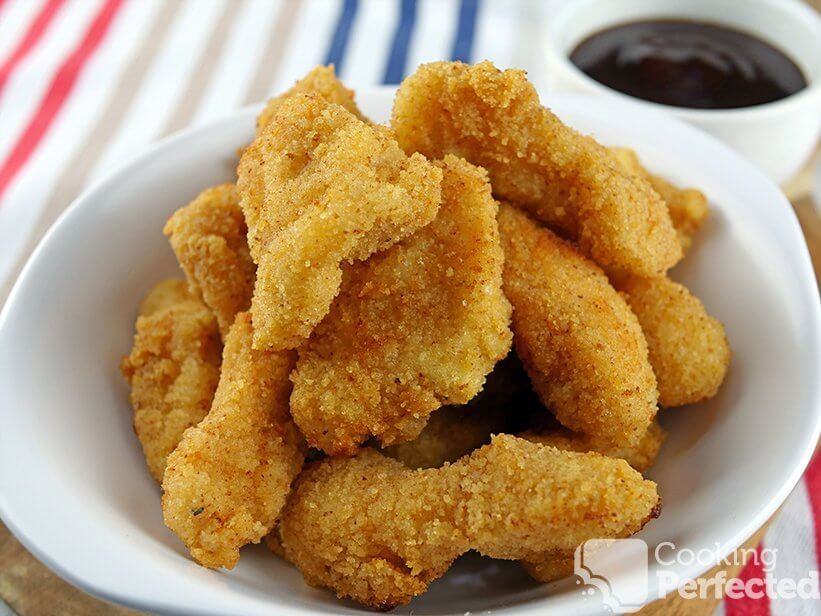 Ingredients
Instructions
In a bowl, combine the gluten-free plain flour, onion powder, and garlic powder.
Crack the egg into a separate bowl and beat slightly.
Lastly, add the breadcrumbs into yet another bowl.
One by one, coat the chicken in the following order. First, gluten-free plain flour mix, secondly; the beaten egg, and thirdly; the breadcrumbs. Repeat until you have coated all the chicken.
Heat the oil in a deep fryer until it is 175°C (350°F).
In batches, cook the chicken. Four minutes per side should be enough to cook the chicken and brown the crumb.
Once cooked, transfer to a plate lined with some paper towel.
Serve & Enjoy.
Recipe Tips
You can bake these in the oven rather than deep-frying. Just preheat an oven to 180°C (350°F). Turn them halfway through cooking or use a wire rack. These techniques will ensure an evenly cooked chicken nugget.
If you are unsure whether the chicken is cooked, either slice into one or use a meat thermometer to check the temperature. If you are using a meat thermometer, make sure the center of the chicken gets to 75°C (165°F).
Try to cut the chicken into even pieces. Uneven pieces will all cook at different speeds, which may lead to some being overcooked while others are undercooked.
If you love a thick coating on your nuggets, then simply repeat step four. This will add another layer of breadcrumbs on top of the current layer of breadcrumbs.
Nutrition Information
Serving Size: 126g (4.4 oz)
Servings Per Recipe: 4
Calories Per Serving: 257
Amount Per Serving
Saturated Fat: 2.8g
Trans Fat: 0.1g
Dietary Fiber: 1g
Sugars: 1g
Cholesterol: 97mg
Sodium: 127mg
Protein: 22g
The information above is an estimate generated by an online nutrition calculator.
More Chicken Recipes
If you're not quite feeling like eating chicken nuggets, then a chicken peanut curry might take your fancy. It goes great with some freshly cooked rice. Indeed, worth giving a try if you love a good curry.
The oven-baked honey mustard chicken is an excellent easy recipe that is perfect for when you need to feed a crowd. It is loaded with flavor and goes great with some steamed rice.
I hope that this gluten-free chicken nuggets recipe has helped you make a delicious meal. If you have some feedback, variations, or anything else, please do not hesitate to leave a comment below.