The Instant Pot is perfect for cooking lamb shanks until they are beautifully tender.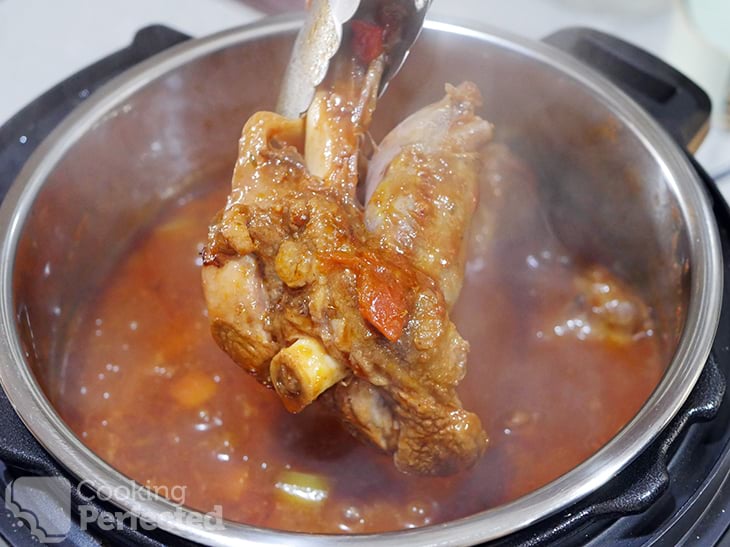 These lamb shanks are deliciously tender and match great with the rich tomato sauce. You can serve these without any extras, but mashed potatoes are the perfect match if you want a treat.
Without adjusting this recipe, you should be able to get roughly four serves out of it. If you need to feed more people, I highly recommend that you double the number of lamb shanks. However, you might need a bigger Instant Pot.
You can slow cook the lamb shanks for several hours instead of pressure cooking them. Both methods yield excellent results. Personally, I love my food being ready faster, so the pressure cooker is the best option for me.
Leftover lamb shanks are incredibly delicious and well worth keeping. The leftovers should last for roughly three days in the refrigerator or three months in the freezer.
Lamb Shanks Serving Ideas
A good serving of mashed potatoes matches perfectly with the sauce and lamb. You will need to make the mashed potatoes in another Instant Pot, slow cooker, or over the stove. For a healthier alternative to mashed potatoes, I recommend trying mashed cauliflower.
Creamy polenta is an excellent choice to go with these lamb shanks. It will require a bit of extra time in the kitchen but is well worth the effort. I highly recommend giving it a go.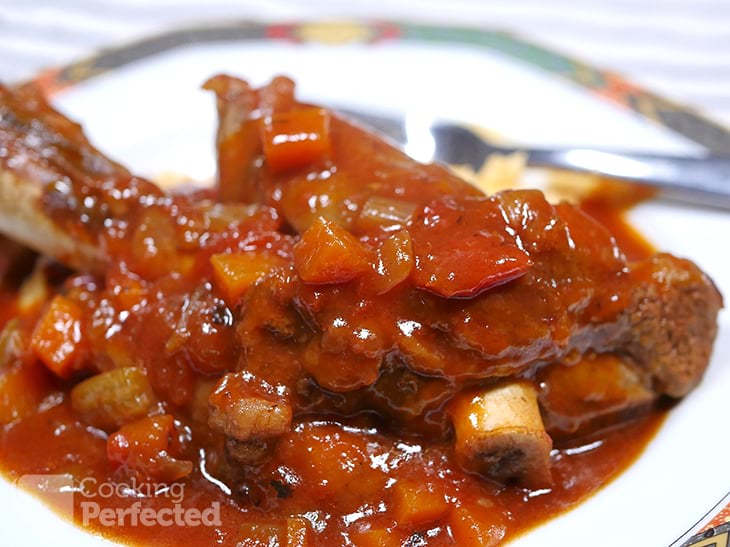 Steamed rice will work very nicely with the flavors of this dish. You can cook rice in an Instant Pot, but you will need one spare. Alternatively, a rice cooker or over the stove will work great. I recommend giving cauliflower rice a try if you want a healthier alternative.
Steak fries, hasselback potatoes, or roast potatoes are a delicious option for a side dish. If you want to go one step further, steamed vegetables will also work very nicely.
Perfecting the Recipe
More vegetables are a great way to add even more flavor to the sauce and lamb. It is also a great way of bulking out the dish to feed more people. Vegetables such as mushrooms, potatoes, sweet potatoes, or bell peppers will be delicious.
You may need to thicken the sauce if it is too runny. I recommend mixing roughly two tablespoons of water and cornstarch and adding it to the sauce. I highly recommend that you cook the sauce for a further five minutes to help remove any floury taste.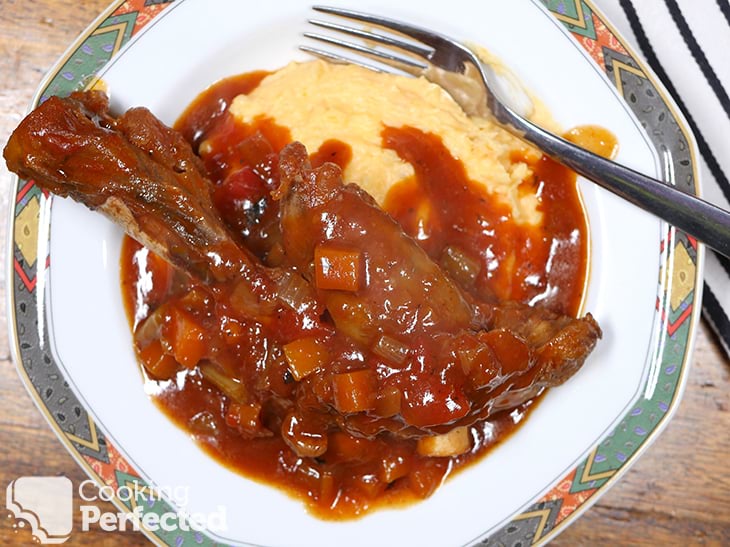 You can make this recipe gluten-free by replacing the plain flour with gluten-free cornstarch or gluten-free plain flour. The result should be roughly the same. Alternatively, you can remove the flour completely.
Food burn is a dreaded message that appears on the Instant Pot when it thinks food is burning to the bottom of the pot. To fix this, you may need to add more liquid and try to remove anything that might be burning on the bottom of the pot.
The recipe below will take you through all the steps to cooking lamb shanks in the Instant Pot. Be sure to leave us some feedback if you decide to make this delicious recipe.
Instant Pot Lamb Shanks Recipe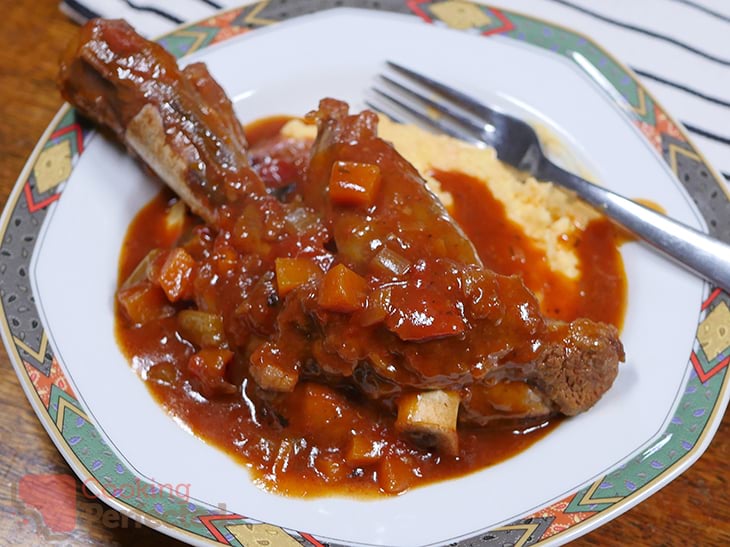 Ingredients
Lamb Shanks
4 lamb shanks
60 g (2.1 oz) plain flour
1 tsp salt
½ tsp pepper
4 Tbsp oil
Stew
1 onion, chopped
1 Tbsp garlic, crushed
2 celery stalks, chopped
2 carrots, chopped
125 ml (4.2 fl oz) red wine
1 tsp sugar
1 tsp thyme
800 g (1.8 lb) diced tomatoes
2 Tbsp Worcestershire sauce
2 Tbsp tomato paste
1 bay leaf
250 ml (8.5 fl oz) cup chicken stock
Instructions
In a bowl, add the flour and combine with the salt and pepper.
Coat each lamb shank in the flour.
Set the instant pot to sauté and add the oil.
Cook the lamb shanks in batches. Cook until each side is browned (Roughly 3-5 minutes). Once cooked, place the lamb shanks to the side.
Add the onion, garlic, celery, and carrots. Cook for 1 minute.
Next, add the red wine and cook for one minute.
Now, add the sugar, thyme, diced tomatoes, Worcestershire sauce, tomato paste, bay leaf, and chicken stock. Mix until combined.
Lastly, add the lamb shanks so that they are covered with the stewing liquid.
Secure the lid and seal the Instant Pot. Cook on high pressure for 45 minutes.
Allow to sit for 10 minutes before manually releasing the pressure.
If the sauce is runny, you might want to thicken it by mixing in a cornstarch paste. I recommend combining two tablespoons of cornstarch with two tablespoons of water, then mixing it into the sauce. Set to sauté and cook for 5 minutes or until thickened.
Season to taste with salt and pepper.
Serve & Enjoy.
Recipe Tips
If you get the dreaded food burn message on your Instant Pot, you may need to add a bit more fluid. Try not to add too much fluid as the sauce will end up super thin and require thickening.
You can make this recipe gluten-free by either omitting the flour or replacing it with a gluten-free alternative.
The meat should be almost falling off the bone when you remove it from the Instant Pot. If it is not, you might want to cook it for a bit longer.
Depending on the size of your Instant Pot, it may be easier to brown the lamb shanks in a separate pan. Alternatively, you can skip browning the shanks and add them once you have prepared the stewing liquid.
Nutrition Information
Serving Size: 601g (1.3 lb)
Servings Per Recipe: 4
Calories Per Serving: 474
Amount Per Serving
Saturated Fat: 4.4g
Trans Fat: 0g
Dietary Fiber: 6g
Sugars: 16g
Cholesterol: 130mg
Sodium: 1286mg
Protein: 48g
The information above is an estimate generated by an online nutrition calculator.
More Instant Pot Recipes
There are loads more Instant Pot recipes that are worth making. Below are a couple of my favorite recipes that I highly recommend giving a try.
The salsa chicken is an absolute must-try. The dish is loaded with shredded chicken, salsa sauce, and loads of cheese. It is always a huge hit whenever I make it for the family.
If you love curries, I highly recommend trying the beef Rogan josh. The beef cooks to be deliciously tender and matches perfectly with the hearty curry sauce.
I hope that these lamb shanks cook perfectly in the Instant Pot and that you do not run into any problems. If you have some feedback, then please do not hesitate to leave a comment below.