Cooking a beef Rogan josh in the Instant Pot will guarantee tender meat and a delicious sauce in less than half an hour.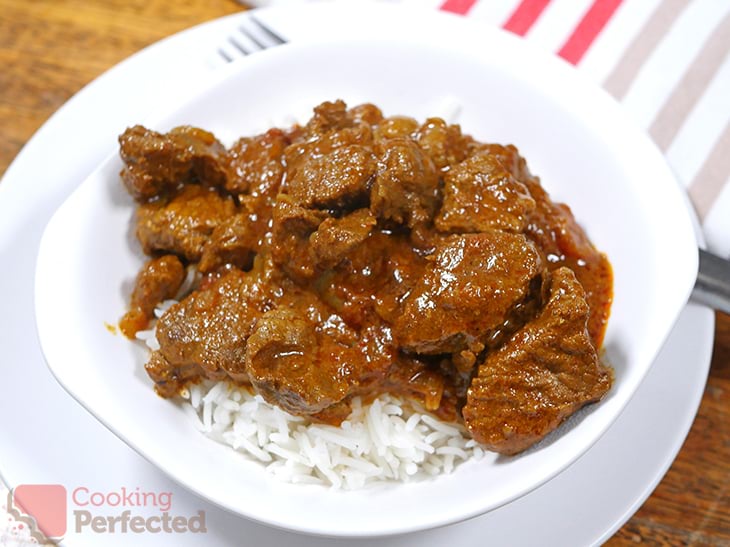 The Instant Pot produces a super delicious beef Rogan josh that the entire family will enjoy. The beef is deliciously tender, and the curry sauce is loaded with flavor thanks to the homemade curry paste.
Without making any adjustments, you should be able to feed roughly four to six people. I recommend making some additional side dishes to go with the curry so you can feed even more people.
Leftover curry is excellent for a quick lunch or dinner. I love to store the curry with some rice, so all I need to do is reheat it. The leftovers should last for three days in the refrigerator or three months in the freezer.
Serving Ideas for Curry
Homemade curry always goes great with some freshly cooked steamed rice. I recommend cooking it in either a rice cooker or another Instant pot for the best result. An excellent healthier replacement for steamed rice is cauliflower rice.
Naan bread is always a must when it comes to curry. I love to make it at home as it is super easy to do. Our gluten-free naan bread is an absolute must-try. Alternatively, store-bought naan bread is also pretty good.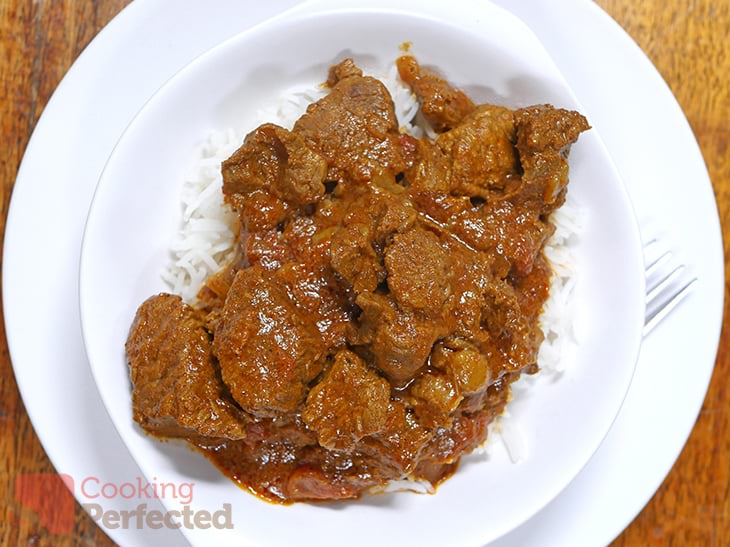 A Rogan josh goes great with a dollop or two of yogurt on top. I recommend Greek yogurt or unsweetened plain yogurt for the best results. If you decide to do this, you can also leave the yogurt out of the curry itself.
Homemade or Store-Bought Curry Paste
I love to make homemade curry paste as it is easier to control the flavors and get them perfect. However, it can be easier to mess up and requires having quite a few spices on hand.
Store-bought curry paste is the best easiest solution as it requires no extra measurements. It will also guarantee your curry will taste great with minimal effort. You can buy Rogan josh curry pastes at most good supermarkets or online at places such as Amazon.
Choose the curry paste option that works best for you. Both options work great and will result in a super delicious curry.
Tweaking the Recipe
There are a few different ways to tweak the recipe so that it is more to your liking. Below are a couple of ideas on what you can do. Feel free to share with us any of your own ideas.
If you want an extra saucy curry, then consider doubling the tomatoes that we use. You may also need to increase the amount of curry paste to ensure that the Rogan Josh flavor does not get too diluted.
The yogurt helps mild the curry a little, but it is optional. You may have issues when adding the yogurt, as the hot curry may cause it to split super easy. You can avoid this by warming the yogurt first.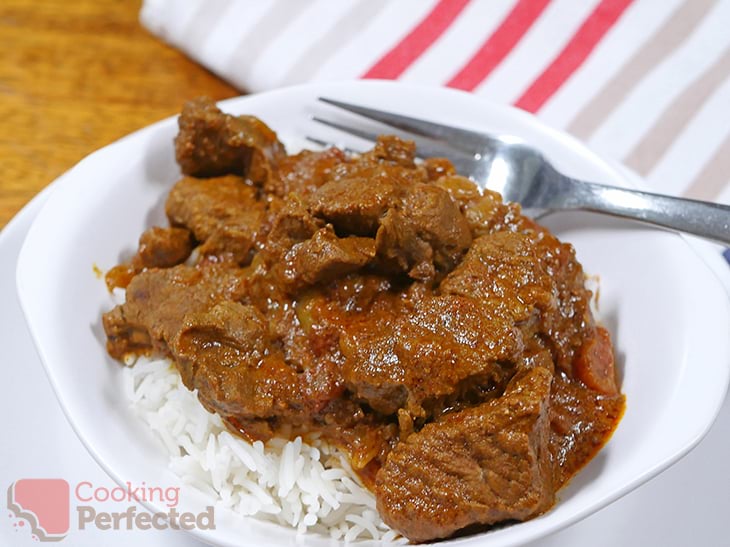 Adding more vegetables is a great way of bulking out the curry so you can feed more people. Vegetables such as carrots, potatoes, or even lentils will work great. Some vegetables such as carrots or potatoes may require a bit of extra cooking.
The curry sauce can be thickened by using a mixture of cornstarch and water. Simply mix the water and cornstarch until it forms a paste, then stir into the curry sauce. Roughly two tablespoons of each should be enough.
Below is the full recipe that will take you through all the steps to making a delicious beef Rogan josh in the Instant Pot.
Instant Pot Beef Rogan Josh Recipe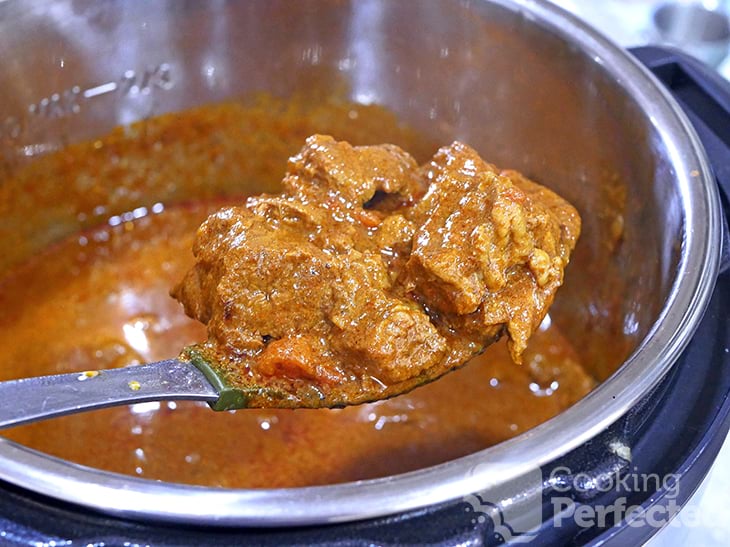 Ingredients
1 oil
1 onion, diced
1 kg (2.2 lb) chuck beef, cut into bite-sized cubes
400 g (14.1 oz) diced tomatoes
~150 g (5.3 oz) Rogan Josh curry paste
Yogurt
½ cup plain yogurt or Greek yogurt
Homemade Curry Paste (Optional)
1 Tbsp ginger, crushed
1 Tbsp garlic, crushed
1 tsp chili paste
1 Tbsp tomato paste
1 Tbsp coriander, ground
2 tsp cumin, ground
2 tsp cardamom, ground
1/2 tsp cloves, ground
1 tsp turmeric, ground
1 tsp garam masala
Instructions
Set the Instant Pot to sauté and add the oil and onion. Cook for 2-3 minutes or until softened.
Add the beef and cook until slightly browned.
Add the Rogan Josh curry paste and cook until fragrant.
Add the diced tomatoes and place the lid onto the Instant Pot.
Set the Instant pot to low pressure and cook for 15 minutes.
Allow to sit for 10 minutes before manually releasing the pressure.
Season with salt and pepper.
Optional, stir in the yogurt. (Read recipe tips)
Serve & Enjoy.
Recipe Tips
You can thicken the sauce by combining two tablespoons of cornstarch and water until they form a paste. Stir the paste into the curry sauce after step six and cook on sauté for five minutes.
The yogurt may split when you stir it into the curry sauce. You can avoid this by heating the yogurt slightly. Another option is to mix it with some cornstarch before mixing it into the curry.
Either homemade or store-bought curry pastes are excellent options. If you want to make this recipe as easy as possible, then I recommend sticking to store-bought paste.
Nutrition Information
Serving Size: 308g (10.9 oz)
Servings Per Recipe: 6
Calories Per Serving: 378
Amount Per Serving
Saturated Fat: 3.4g
Trans Fat: 0.6g
Dietary Fiber: 16g
Sugars: 6g
Cholesterol: 124mg
Sodium: 305mg
Protein: 42g
The information above is an estimate generated by an online nutrition calculator.
More Instant Pot Recipes
There are plenty more recipes that you can cook in the Instant Pot. Below are a few of my favorite recipes that I highly recommend giving a try.
The Instant Pot Korean beef features a delicious range of flavors from our homemade sauce. The beef cooks to be so tender that it will melt in your mouth. It is a wonderful combination of flavors that is well worth making.
Another recipe that I reckon you will love is the homemade pulled pork. It cooks very quickly in the Instant Pot and tastes amazing. I absolutely love making it whenever I need to feed a crowd.
I hope that you love this Instant Pot beef Rogan josh as much as I do. If you have some feedback, then please do not hesitate to leave a comment below.