Using the Instant Pot is a great way to cook some deliciously good Mongolian beef. It is always a huge hit and pleases even the fussiest of eaters.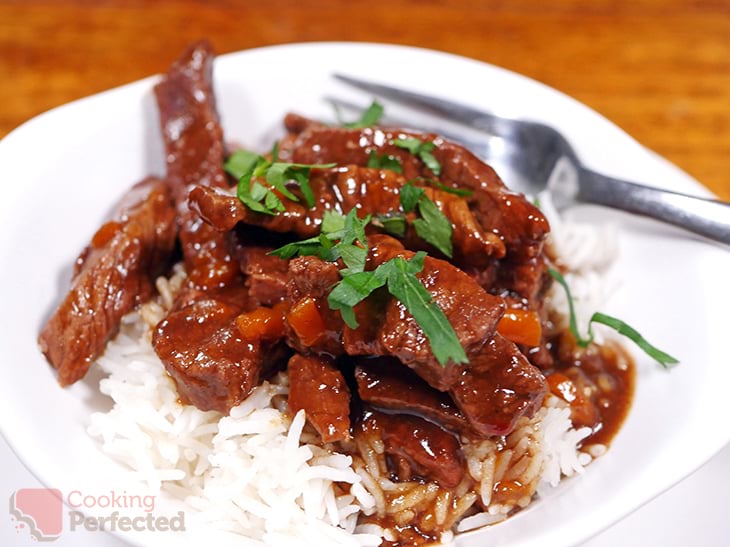 When you take a bite of this dish, you are greeted with incredibly tender beef that is coated in a delicious homemade Mongolian sauce. The sauce consists of ginger, garlic, soy sauce, hoisin sauce, beef stock, and a touch of sugar. It is a truly delightful combination.
A single batch of this dish will feed roughly four people. You can easily feed more by doubling or tripling the recipe. I do highly recommend that you make some side dishes to go with the beef.
This dish works surprisingly well in a slow cooker. So, if you are not in a rush, you can slow-cook the dish for a few hours and achieve some deliciously good food. Do not forget that your Instant Pot can act as a slow cooker.
You can also cook a crispy beef version of this dish. However, it involves cooking with a frying pan as you need to get oil to high heat. Nevertheless, it is certainly worth a try if you love this style of food.
If you somehow end up with leftovers, then they are great for an easy lunch or dinner. They should last for three days in the refrigerator or three months in the freezer.
Serving Ideas for Mongolian Beef
My personal favorite side dish for Mongolian beef is some freshly cooked steamed rice. I recommend cooking the rice in a rice cooker or another Instant Pot. If you are feeling adventurous, then cauliflower rice is an excellent alternative to regular rice.
For something slightly different, mashed potatoes will actually work pretty well with the tender beef and Asian-style sauce. You can make mashed cauliflower if you want to keep everything slightly healthier. Both are great options.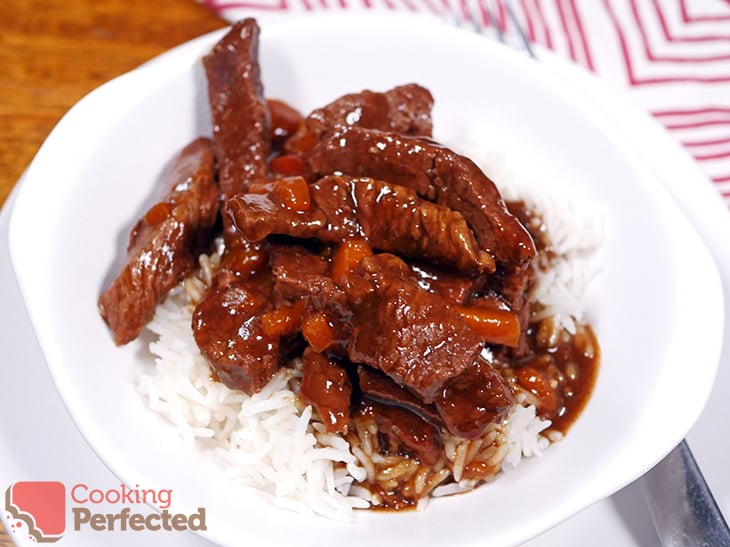 You can also serve the beef on top of some lovely stir-fried vegetables. I typically use bok choy, bell peppers, baby corn, sugar snaps, and broccoli florets. However, feel free to use whatever you like the most.
Lastly, most types of Asian noodles will work very nicely with this dish. Some of my favorite types of noodles include udon noodles, soba noodles, or rice noodles. Pick the type that you like the most.
Below is the full recipe for cooking Mongolian beef in the Instant Pot. If you have any feedback, do not hesitate to leave a comment at the bottom of this page.
Instant Pot Mongolian Beef Recipe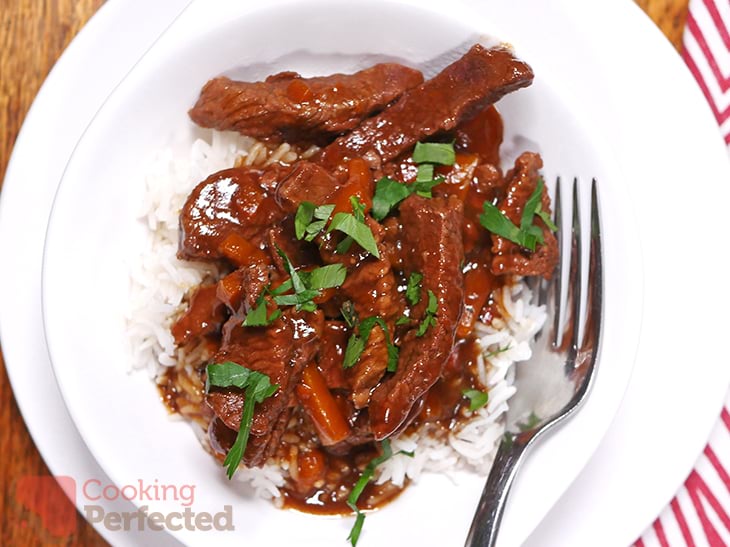 Ingredients
1 Tbsp cooking oil
500 g (1.1 lb) chuck beef, sliced
2 carrots, sliced
1 tsp garlic, crushed
1 tsp ginger, minced
1 tsp red chili flakes
4 Tbsp soy sauce
4 Tbsp hoisin sauce
250 ml (8.5 fl oz) beef stock
50 g (1.8 oz) brown sugar
Thickener
2 Tbsp cornstarch
3 Tbsp water
Instructions
Set the Instant Pot (5.7L/6 qt) to sauté and add the cooking oil.
Add the carrots and cook for roughly three minutes.
Now, add the beef, and cook until the beef is slightly browned.
Next, add the garlic, ginger, and chili flakes. Cook for 2-3 minutes. Switch the Instant Pot off.
Add the soy sauce, hoisin sauce, beef stock, and brown sugar.
Seal the pressure cooker and set to cook on high pressure for 15 minutes.
Allow to sit for 10 minutes before manually releasing the pressure.
Remove the lid and set the Instant Pot to sauté.
Combine the cornstarch and water until smooth. Pour into the Instant Pot and stir until thickened.
Serve & Enjoy.
Recipe Tips
To ensure that this recipe is gluten-free, double-check the ingredients on the soy sauce and hoisin sauce. Both these sauces have gluten and gluten-free varieties available.
I recommend using a cheap cut of beef. It is a great way to save a bit of money and still have a delicious tasting dish.
The chili flakes are optional and can be left out if you do not want the dish to have a hint of heat.
Soy sauce can vary heavily in terms of saltiness from brand to band. If you are worried about the dish becoming too salty, swap the soy sauce for a low sodium alternative.
You can increase the quantity of brown sugar if you want the dish to be sweeter. Personally, I will not go above 100 g (3.5 oz).
Nutrition Information
Serving Size: 253g (8.9 oz)
Servings Per Recipe: 4
Calories Per Serving: 287
Amount Per Serving
Saturated Fat: 2.1g
Trans Fat: 0.4g
Dietary Fiber: 1g
Sugars: 17g
Cholesterol: 93mg
Sodium: 1520mg
Protein: 29g
The information above is an estimate generated by an online nutrition calculator.
More Instant Pot Recipes
There are loads more recipes that you can cook in the Instant Pot. Below are a few of my favorites that I highly recommend giving a try.
Another beef dish that I reckon you will love is Korean beef. The dish has a wide variety of flavors thanks to the delicious sauce, and the beef cooks to be incredibly tender. Much like Mongolian beef, Korean beef goes great with some steamed rice.
The sweet and sour chicken cooked in the Instant Pot is an absolute delight, and I highly recommend giving it a try. The sauce is delicious and matches perfectly with all the vegetables and chicken. It goes great with some noodles or steamed rice.
I absolutely love this Instant Pot Mongolian beef and hope that you do too. If you have some feedback, please do not hesitate to leave a comment below.