This Instant Pot sweet and sour chicken is incredibly delicious and surprisingly easy to make.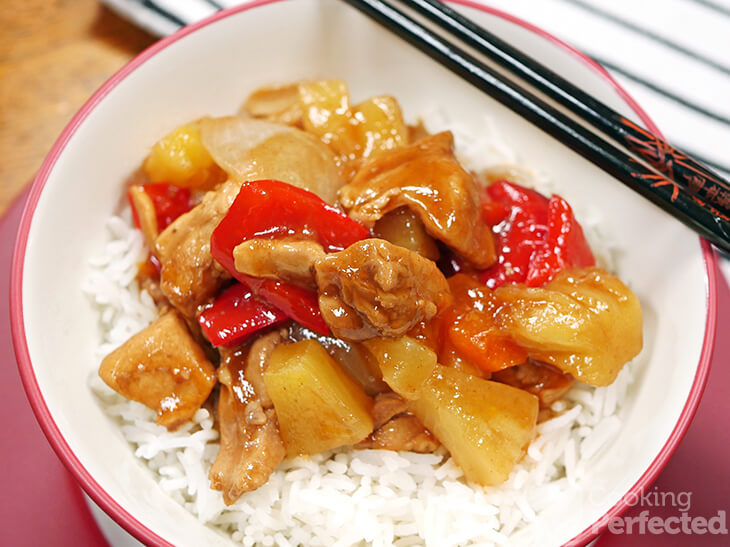 I love making sweet and sour chicken in the Instant Pot as it always comes out tasting great. You get a wonderful range of flavors thanks to the beautiful homemade sauce, tender pieces of chicken, and loads of great vegetables. It is an incredible combination that is well worth the time and effort.
You should be able to feed roughly four people from a single batch of this recipe. However, you can easily double or triple the recipe if required. I recommend that you check the size of your Instant Pot before doubling the recipe.
Using a slow cooker is perfect for slow cooking sweet n sour chicken. You can also use your pressure cooker as most of them have a slow cooker function. The result will be roughly the same, but slow cooking is perfect if you want to get dinner cooking early.
The leftovers are great as an easy lunch or dinner as you can quickly just reheat them in the microwave. The leftovers should last for roughly three days in the refrigerator or three months in the freezer.
Sweet n Sour Chicken Side Dishes
Below are some of my favorite serving ideas for sweet and sour chicken. If you have any suggestions, please let us know by leaving a comment at the bottom of this page.
My favorite is to serve this dish with a good amount of freshly cooked steamed rice. For something a little healthier, you can give cauliflower rice a try. It is very similar to steamed rice but has a lot less carb and is best pan-fried.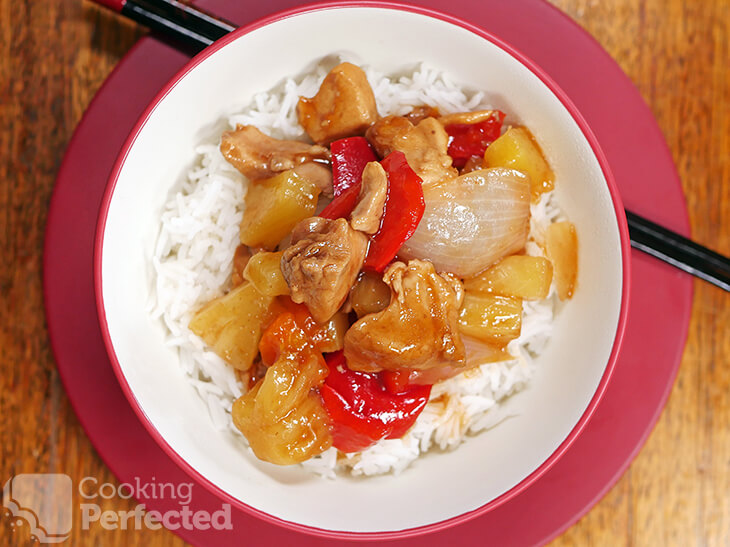 Noodles are great with almost any kind of Asian style dish. I recommend serving the chicken with something like soba noodles, udon noodles, or even rice noodles. They will work great and are super easy to prepare.
For something a little different, you can serve the chicken over the top of some mashed potatoes. It is certainly not going to appeal to everyone but is surprisingly good tasting. If you want to be healthier, you can always give mashed cauliflower a try.
Ideas for Adjusting the Recipe
Increasing the amount of cornstarch that you use in this recipe will thicken the sauce quite a bit. I recommend doubling the cornstarch if you love extra thick sauces.
The cut of meat that you use in this recipe is entirely up to you. I recommend something like chicken thighs or chicken breasts. However, other cuts such as chicken tenderloins will work nicely.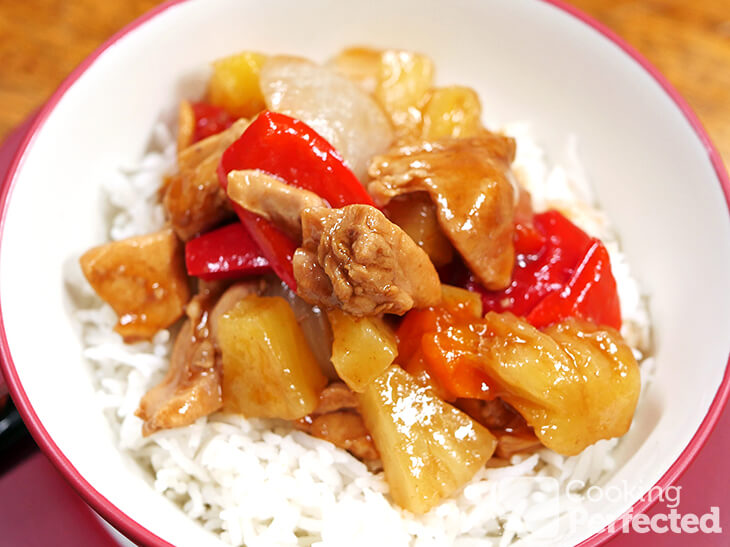 I recommend apple cider vinegar, but it can easily be changed to a different type of vinegar, such as malt vinegar. The ketchup can also be replaced with tomato paste or something similar.
Adding more vegetables to this dish is a great way to add more flavor, texture, and colors. Baby corn, green beans, or even bean shoots will be great additions to this dish. The vegetables may require more or less cooking than other ingredients.
Below is the recipe that will take you through all the steps to making sweet and sour chicken in the Instant Pot. I recommend checking out the recipe tips as well.
Instant Pot Sweet and Sour Chicken Recipe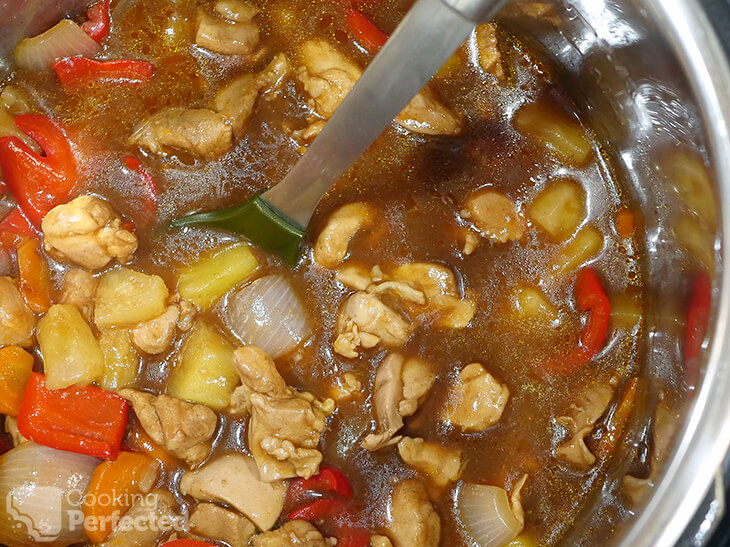 Ingredients
500 g (1.1 lb) chicken thigh, cubed
1 Tbsp cooking oil
1 onion, quartered
1 tsp garlic, crushed
1 tsp ginger, minced
1 carrot, peeled & sliced
1 large red bell pepper, chopped
3 Tbsp brown sugar
4 Tbsp ketchup
2 Tbsp soy sauce
¼ cup apple cider vinegar
440 g (15.5 oz) can pineapple pieces with unsweetened juice (Do not drain)
Thickener
2 Tbsp cornstarch
2 Tbsp water
Instructions
Set the Instant Pot (5.7L/6 qt) to sauté and add the cooking oil.
Once hot, add the chicken. Cook until slightly browned.
Add the onion, garlic, ginger, carrot, and red bell pepper. Cook for 2-3 minutes.
Next, add the brown sugar, ketchup, soy sauce, apple cider vinegar, pineapple pieces, and pineapple juice. Stir together.
Seal the pressure cooker and set it to pressure cook on high for 5 minutes.
Allow to sit for 10 minutes before manually releasing the pressure.
Remove the lid and set the Instant Pot to sauté.
Combine the cornstarch and water until smooth. Pour into the Instant Pot and stir until thickened.
Serve & Enjoy.
Recipe Tips
You may need to add more cornstarch if you like your sweet and sour sauce thick.
Chicken breast is an excellent alternative to chicken thigh. Both cuts of meat will work fine in this recipe.
Tomato paste is a great alternative to ketchup.
More vegetables can be added to this dish. For example, ingredients such as bean shoots, baby corn, or even green beans will work nicely.
To ensure this dish is gluten-free, double-check the ingredients on the ketchup, soy sauce, and cornstarch. There are gluten-free varieties available for these ingredients.
Nutrition Information
Serving Size: 379g (13.4 oz)
Servings Per Recipe: 4
Calories Per Serving: 440
Amount Per Serving
Saturated Fat: 5.7g
Trans Fat: 0.1g
Dietary Fiber: 3g
Sugars: 30g
Cholesterol: 123mg
Sodium: 776mg
Protein: 23g
The information above is an estimate generated by an online nutrition calculator.
More Chicken Recipes
There are loads more chicken recipes that I reckon you will love. Below are just a couple of my favorite recipes that I highly recommend that you check out.
The Instant Pot salsa chicken is certainly a must-try. It features chicken coated in some taco seasoning and a delicious salsa sauce. It is served with a generous amount of cheese and is certainly a must-try dish.
For a paleo-friendly chicken dish, I highly recommend checking out our paleo-friendly sweet and sour chicken. It is an incredibly delicious dish that is best served alongside some cauliflower rice. I highly recommend giving it a try if you want to stick to a diet.
I love this Instant Pot sweet and sour chicken, and I hope that you do too. If you have some feedback, then please do not hesitate to leave a comment below.