This Instant Pot salsa chicken cooks to be incredibly tender and loaded with flavor. It is the perfect easy meal.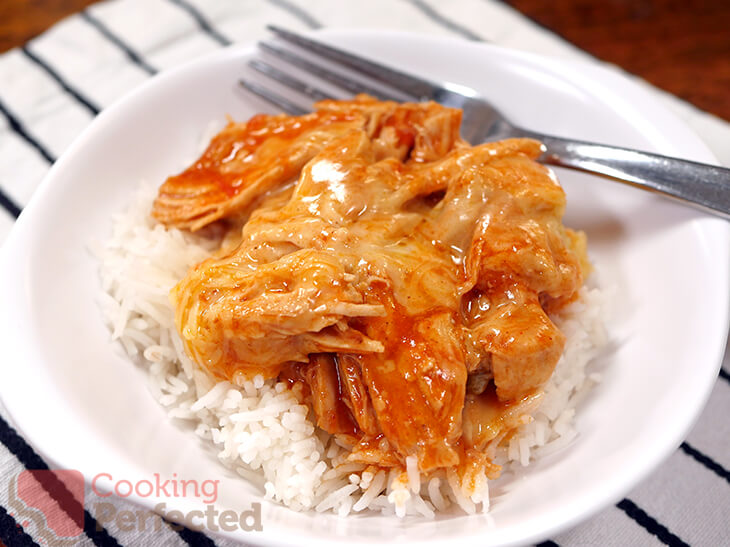 When you take a bite of this dish, you are greeted with deliciously tender chicken and a flavor-packed salsa. For the best result, I top the chicken with a generous amount of cheese.
You can also make this salsa chicken in the slow cooker. Using the slow cooker is a great option if you rather have the meal slowly cooking. The Instant pot has a slow cooker function, so you can use that instead of the pressure cooking option.
A single batch of this chicken will make enough to feed roughly six people. To feed as many people as possible, I recommend cooking some side dishes to go with the chicken. For example, I love to cook steamed rice to go alongside this dish.
The leftovers of this dish will reheat nicely, so I highly recommend that you keep them. You should be able to keep the chicken for roughly three days in the refrigerator or three months in the freezer. The leftovers are delicious as an easy lunch.
Salsa Chicken Serving Ideas
There are so many different side dishes that match nicely with this chicken.
The easiest and one of the tastiest options is to simply serve this chicken with some steamed rice. For something a little healthier, you can try making some cauliflower rice to go with it. They are all great options, so pick whatever takes your fancy.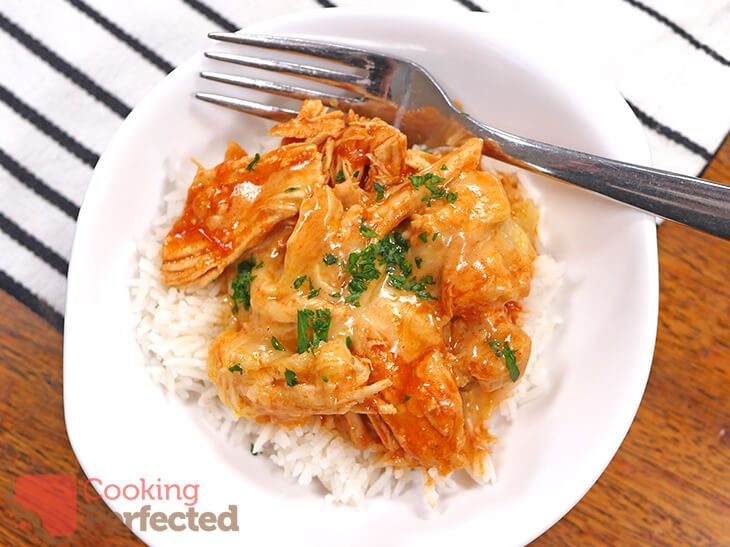 This chicken will work great in a taco with some additional ingredients. I love to load the tacos with chicken, lettuce, cheese, tomatoes, and some red onion. However, feel free to get a little creative.
There are loads of condiments that will work nicely with this dish. For example, guacamole, sour cream, refried beans, or even some diced jalapenos will work nicely. A combination of any of these condiments will work great.
Tweaking the Recipe
You can tweak this recipe a few ways so that it is more to your liking. Below are a couple of great ways that you can alter this recipe.
The type of salsa you use is entirely up to you. I love to use mild salsa, but a hot salsa will work great. If that is not hot enough for you, then you can always consider adding some chopped jalapenos.
You can cut the chicken into bite-sized pieces rather than shredding it. It essentially comes down to personal preference. Personally, I do not mind either option.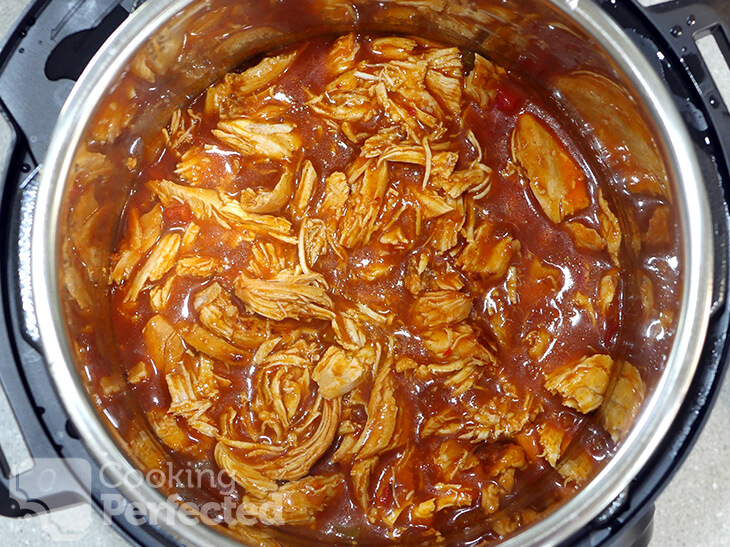 There are more ingredients that you can add to this recipe. For example, mushrooms, onions, or even bell peppers will be a great addition to this delicious recipe. It is a great way to add some additional flavor to this delicious dish.
To learn all the steps to making salsa chicken in the Instant Pot, simply follow the recipe below. If you have some feedback, then please leave us a comment.
Instant Pot Salsa Chicken Recipe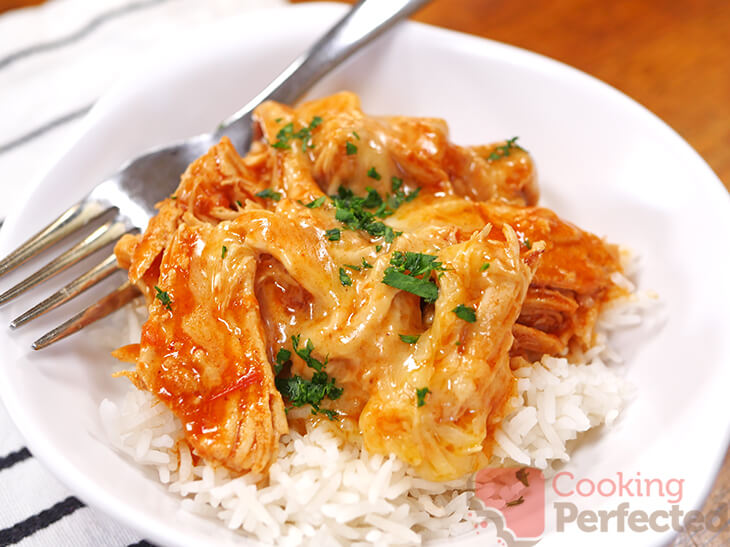 Ingredients
1 kg (2.2 lb) chicken breasts
500 g (1.1 lb) salsa
2 Tbsp taco seasoning
125 g (4.4 oz) cheddar cheese, shredded
Instructions
Add the chicken breasts to an Instant Pot (pressure cooker) and coat with the taco seasoning.
Pour the salsa over the chicken.
Seal the pressure cooker and set it to pressure cook on high for 15 minutes.
Allow to sit for 10 minutes before manually releasing the pressure.
Shred the chicken using two forks.
Top with the shredded cheese. Set to sauté for 10 minutes or until the cheese is melted.
Serve & Enjoy.
Recipe Tips
You can make taco seasoning at home with just a few household spices. It is a great way to save money and is perfect if you like to tweak flavorings.
Any cut of chicken will work fine for this recipe. I like to use boneless chicken as it is much easier to shred.
I recommend ten minutes for cooking, but you may need to adjust the timing. If you have exceptionally large chicken breasts, then I recommend increasing the cooking time by five minutes.
The cheese is optional, but I do find that it adds loads of flavor to the chicken.
If your chosen salsa is too thick, you may need to add some more fluid into the pressure cooker. Without the extra liquid, the Instant Pot might not be able to hit the required pressure.
Nutrition Information
Serving Size: 274g (9.7 oz)
Servings Per Recipe: 6
Calories Per Serving: 357
Amount Per Serving
Saturated Fat: 5.6g
Trans Fat: 0.2g
Dietary Fiber: 2g
Sugars: 5g
Cholesterol: 115mg
Sodium: 1127mg
Protein: 39g
The information above is an estimate generated by an online nutrition calculator.
More Delicious Recipes
There are so many more chicken recipes that you should try. Below are a couple of recipes that are incredibly delicious.
Homemade chicken cacciatore is a classic hearty meal that you can easily make at home. It has loads of vegetables, tender chicken and is incredibly easy to make.
For something a little different, I recommend giving the orange chicken a try. It is battered chicken that is coated in a lovely tangy orange sauce. It is a simple combination but incredibly tasty. Again, I reckon you will love the flavors.
I hope that you love this Instant Pot salsa chicken as much as I do. If you have some feedback, then please do not hesitate to leave a comment below.