The Instant Pot is great for cooking a deliciously creamy sausage and potatoes casserole.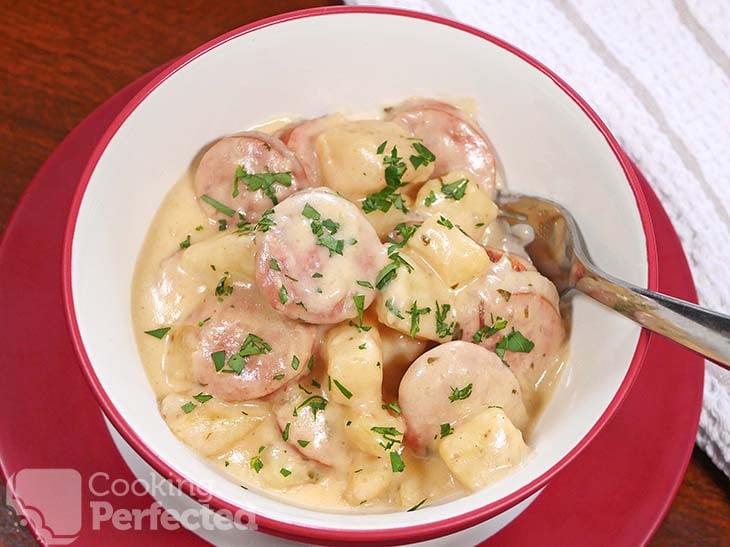 This creamy casserole is loaded with a huge range of flavors thanks to the smoked sausage, Dijon mustard, chicken stock, herbs, and cream. It is a super fulfilling dish that will easily satisfy a crowd.
A single batch of this casserole will feed roughly four to six people. I recommend doubling or tripling the recipe if you need to feed more people. Alternatively, some side dishes will help make the casserole go further.
The leftovers of this casserole are worth keeping but will need to be stored in the fridge or freezer. I recommend keeping leftovers for a maximum of three to four days in the refrigerator or three months in the freezer.
You can also slow cook this sausage and potato casserole if you want to prepare it earlier on in the day. The Instant Pot has a slow-cook function, or you can cook it in a dedicated slow cooker instead.
Side Dishes That Go Great with Casseroles
One of my favorite side dishes to serve with this casserole is some lovely homemade garlic bread. You can bake the garlic bread in the oven or use an Air Fryer. Both methods will work out great.
If you do not mind the extra carbs, some lovely freshly cooked rice will work great alongside the casserole flavors. I usually use a rice cooker, but cooking it over the stove or in the Instant Pot will work fine.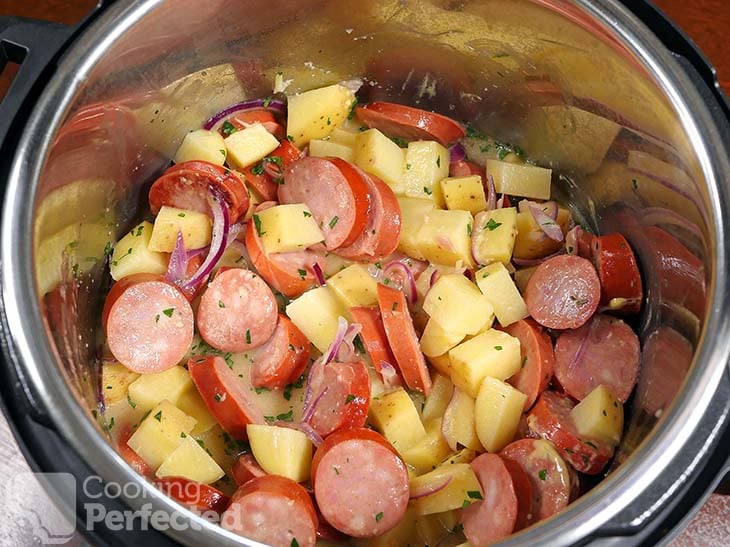 A light green salad is a fantastic side dish as it helps break up this very heavy casserole. I usually do a simple combination of cherry tomatoes, lettuce, red onion, feta cheese, cucumber, and avocado. Any salad dressing will work fine, but I love to keep it basic and use balsamic vinegar.
Some potato fries are perfect as a side dish if you feel like eating lots of comfort food. However, you may want to remove the potatoes from the casserole if you are worried about a potato overload. I recommend cooking the fries in an oven, air fryer, or deep fryer.
Tweaking the Recipe
Additional herbs can be added to the sauce for a bit more flavor. Basil, chives, thyme, rosemary, or even oregano will work great with the other ingredients.
Add a handful or two of shredded cheddar cheese in the last fifteen minutes of cooking for a cheesy sauce. Other cheeses such as cream cheese, provolone, or mozzarella will work great. You could even try a combination of cheeses.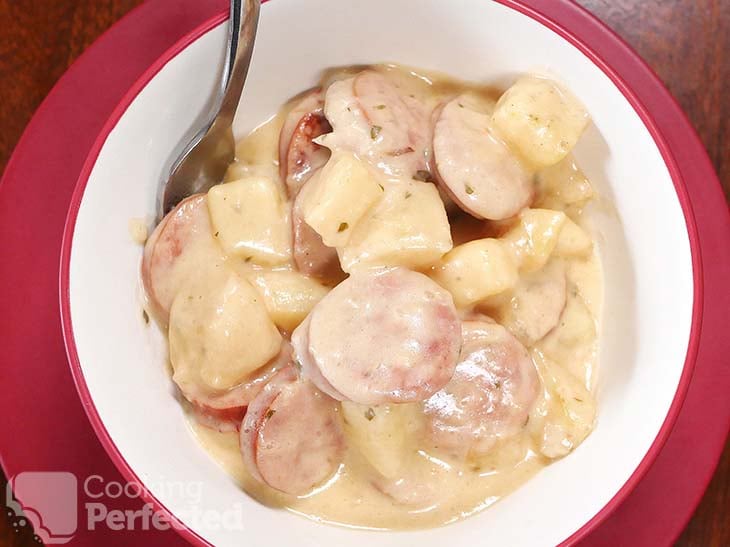 You can add vegetables for more flavor and nutrition. For example, mushrooms, carrots, green beans, or even sweet potato will work great with the flavors of this dish.
Smoked sausages work fantastic in this casserole, but you can easily swap them for a different type of sausage. For example, Italian sausages are great but will require pre-cooking before you can easily slice them.
The recipe below will take you through all the steps to cooking this sausage and potatoes casserole in the Instant Pot. Please let us know if you have any feedback.
Instant Pot Sausage and Potatoes Recipe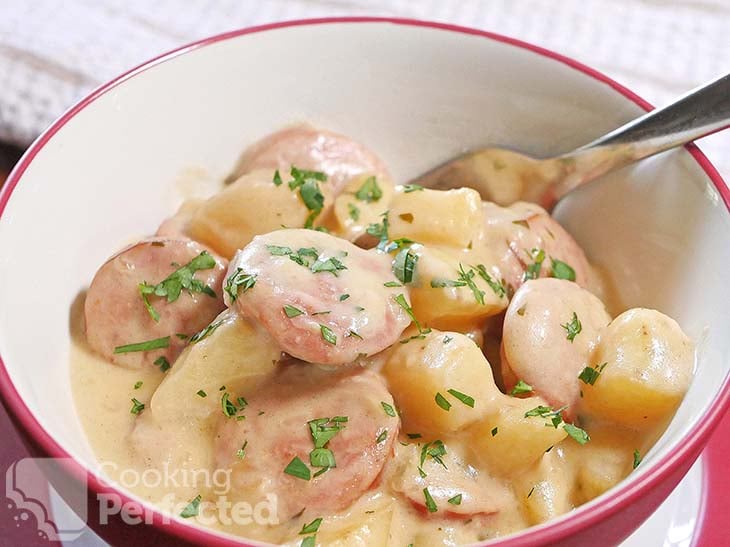 Ingredients
1 Tbsp cooking oil
1 onion, sliced
2 tsp garlic, crushed
500 g (1.1 lb) smoked sausage, cut into 1cm (0.4 in) pieces
500 g (1.1 lb) potatoes, cut in chunks
1 Tbsp Dijon Mustard
250 ml (8.5 fl oz) chicken stock
2 tsp parsley, chopped
250 ml (8.5 fl oz) heavy cream
Thickener
3 Tbsp cornstarch
2 Tbsp water
Instructions
Set the Instant Pot (5.7L/6 qt) to sauté and add the cooking oil.
Once hot, add the onion, garlic, and sliced sausage. Cook for 2-3 minutes.
Next, add the potatoes, Dijon mustard, chicken stock, and parsley.
Seal the pressure cooker and set it to pressure cook on high for 10 minutes.
Allow to sit for 5 minutes before manually releasing the pressure.
Remove the lid and set the Instant Pot to sauté.
Combine the cornstarch and water until smooth. Pour into the Instant Pot along with the cream and stir until thickened.
Season with salt and pepper.
Serve & Enjoy.
Recipe Tips
This recipe is gluten-free, but you will need to double-check the ingredients of the cornstarch. Typically, it is gluten-free.
I prefer to use a smoked sausage such as kielbasa or chorizo. However, Italian sausages will work great as well. I recommend browning the Italian sausages first.
You can use any potato in this casserole, and it will work out fine.
Depending on where you live, heavy cream can also be known as thickened cream (Australia) or whipping cream (United Kingdom).
You can use herbs to add more flavor to the casserole. We use a little bit of parsley, but you can add herbs such as oregano, rosemary, or even thyme.
Nutrition Information
Serving Size: 292g (10.3 oz)
Servings Per Recipe: 6
Calories Per Serving: 524
Amount Per Serving
Saturated Fat: 17.9g
Trans Fat: 0g
Dietary Fiber: 2g
Sugars: 4g
Cholesterol: 118mg
Sodium: 819mg
Protein: 14g
The information above is an estimate generated by an online nutrition calculator.
More Instant Pot Recipes
We have plenty more recipes that work great in the Instant Pot, so I highly recommend looking at them as well. Below are a couple of my favorite recipes that I recommend giving a try.
Our sweet and sour chicken recipe for the Instant Pot is a delicious meal. It features an incredible sauce, tender chicken, and a fantastic range of vegetables. It is one of my all-time favorite recipes.
The cauliflower cheese soup is simple but very delicious. You can tweak the cheese to get the best tasting soup possible. I love to serve the soup with some fresh bread. I highly recommend adding the recipe to your try list.
This Instant Pot sausage and potatoes casserole was terrific for me, and I hope it is for you too. If you have some feedback, please do not hesitate to leave a comment below.