I absolutely love this hearty sausage casserole as it always easily pleases a crowd. It features a delicious gravy, loads of sausages, and a cheesy rice topping.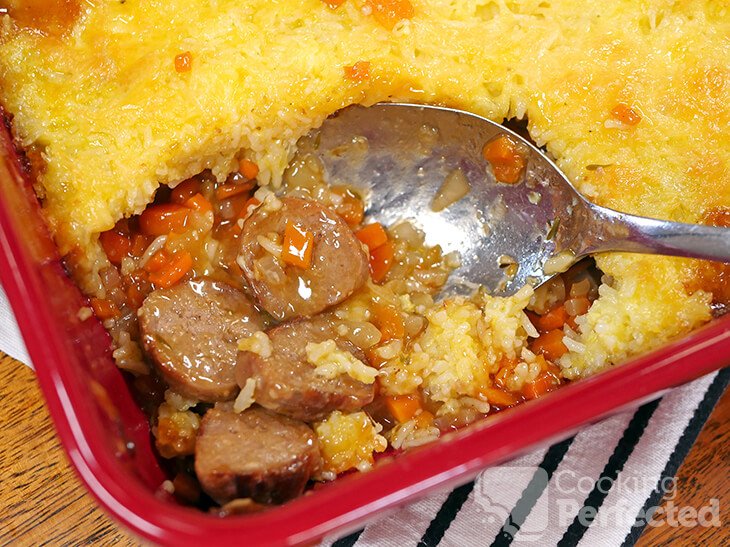 This delicious casserole is loaded with tender pieces of sausage, carrots, and onions. These sit in a gravy loaded with flavor thanks to the beef stock, Worcestershire sauce, and thyme. Lastly, we top the casserole with delicious cheesy rice that compliments the sausages and gravy perfectly.
You can also make a sausage casserole in the slow cooker. The recipe is remarkably similar to this one but does not have the cheesy rice topping. It is perfect if you want to get dinner cooking early in the day.
The leftovers of this casserole are great for an easy lunch or dinner the next day. You should be able to keep the leftovers for roughly three to four days in the refrigerator. I have not tested how this casserole performs frozen.
Sausage Casserole Side Dish Suggestions
There are loads of different side dishes that you can make to go along with this casserole. Personally, I think the casserole will produce enough food for quite a few people without the need for side dishes.
The easiest and healthiest option is to make a delicious salad to have alongside the casserole. Something basic such as lettuce, tomatoes, red onion, avocado, and cucumber will work fine. Other salads might start to get a bit too heavy to go with this casserole.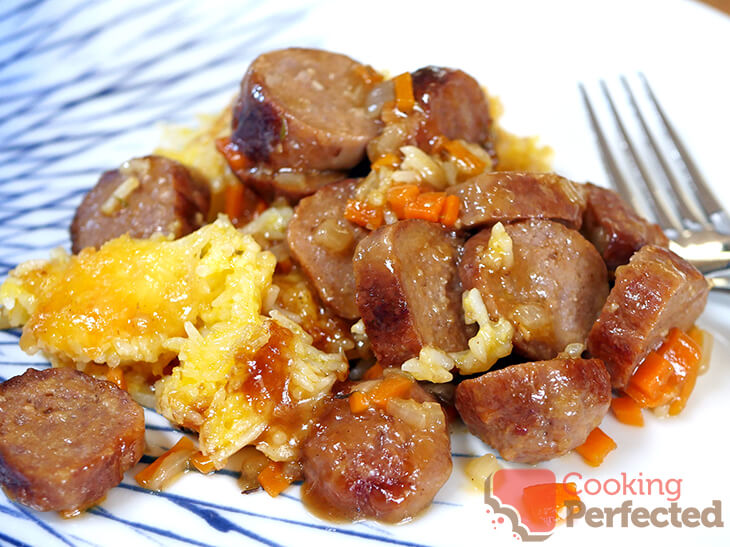 Garlic bread is always a huge hit, so I highly recommend making some if you are feeding big eaters. If you do not have time, then store-bought garlic bread is just as good as homemade garlic bread.
Homemade fries always go down a treat and will work perfectly as a side dish to this casserole. For something a little healthier, you can try sweet potato fries. I do not recommend making the rice topping if you have fries as a side dish; otherwise, it will be carb overload.
Adjusting the Recipe
More vegetables can easily be added to this recipe for a bit more nutrition and flavor. Sometimes, I like to add some mushrooms as they match nicely with the rest of the ingredients.
I use beef sausages, but you can use any type of sausage that you want. I believe that Italian sausages will work best, so it is probably best to avoid smoked sausages or anything similar. Chicken, pork, or lamb sausages will work just fine.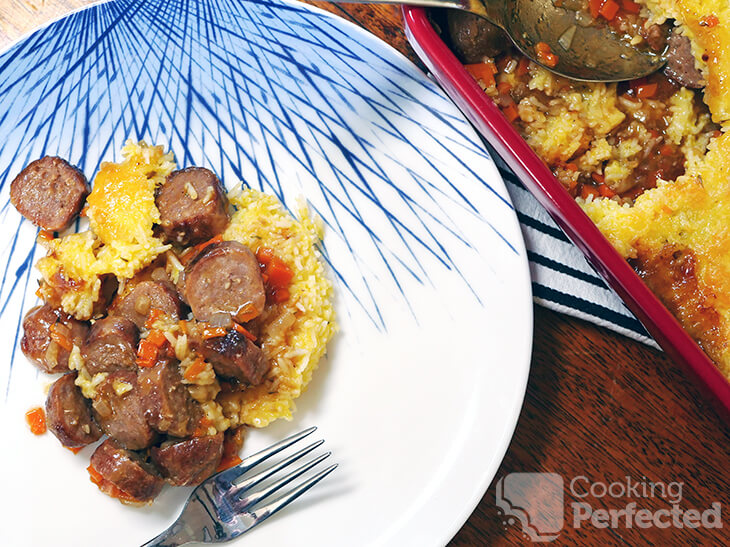 I talk about using rice topping in this recipe, but you can easily replace it with something else. For example, I love to thinly slice potatoes and use them as a topping. I always finish it off with a bit of cheese, of course. Lastly, you can skip the topping entirely.
Below is the full recipe on how to make this delicious sausage casserole.
Sausage Casserole Recipe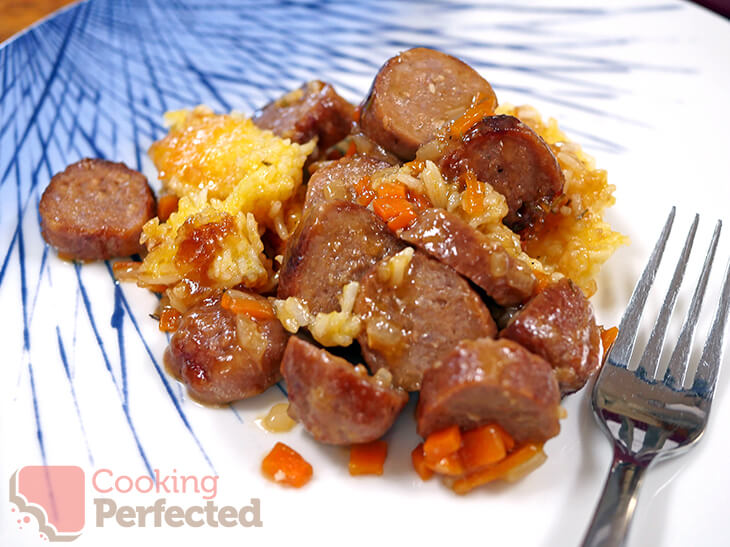 Ingredients
750 g (1.7 lb) beef sausages
3 Tbsp butter
2 onions, diced
1 Tbsp garlic, crushed
2 carrots, diced
2 Tbsp cornstarch
500 ml (16.9 fl oz) beef stock
½ tsp thyme
1 bay leaf
3 Tbsp Worcestershire Sauce
Topping
1 cup freshly cooked long grain rice
2 eggs, lightly beaten
200 g (7.1 oz) cheddar cheese, grated
Instructions
Preheat an oven to 180°C (355 °F).
In a frypan over medium heat, brown the sausages on each side.
Remove the sausages from the frypan and cut them into bite-sized chunks.
In the same frypan, add the butter.
Once the butter has melted, add the onion, garlic, and carrots. Cook until the onions are translucent or softened.
Add the cornstarch and mix in well.
Gently pour in the beef stock while continually stirring. Also, add the thyme, bay leaf, and Worcestershire sauce.
Return the sausages to the pan and simmer for 5 minutes. Season to taste with salt and pepper.
Place the sausage mixture into a large casserole dish and cover with foil. Cook in the oven for 40 minutes.
Meanwhile, combine the rice, eggs, cheddar cheese, and a pinch of salt and pepper.
Pull the sausages out of the oven and discard the bay leaf. Top with the rice mixture.
Cook in the oven for 20 minutes or until the top is browned.
Serve & Enjoy.
Recipe Tips
I recommend using beef sausages, but any type of sausage will work great.
The topping is optional, so you can save some time by skipping it.
You can use different types of  cheese in the topping for different flavored rice.
To ensure this recipe is gluten-free, make sure you double-check the ingredients on the Worcestershire sauce, cornstarch, and sausages. All these ingredients usually have gluten-free variants that you can pick up at your local store.
Nutrition Information
Serving Size: 366g (12.9 oz)
Servings Per Recipe: 6
Calories Per Serving: 734
Amount Per Serving
Saturated Fat: 24.7g
Trans Fat: 0.6g
Dietary Fiber: 1g
Sugars: 4g
Cholesterol: 199mg
Sodium: 1418mg
Protein: 31g
The information above is an estimate generated by an online nutrition calculator.
More Sausage Recipes
We have so many sausage recipes, so it is hard to suggest them all. Below are a couple of my personal favorites that I highly recommend that you make.
An absolute classic that is perfect for feeding a crowd is toad in the hole. If you have never heard of it, then it is essentially sausages cooked in Yorkshire pudding batter. It is a simple but super delicious dish.
Our homemade curried sausage recipe is another recipe that you have got to try. The sausages are cooked in a delicious blend of spices. It is on the spicy side, but it is certainly delicious. I highly recommend giving it a try if you love curries.
I hope that you love this sausage casserole as much as I do. If you have some feedback, then please do not hesitate to leave a comment below.