This easy gumbo features both chicken and chorizo as the main ingredients. It is a perfect dinner dish if you are looking for something incredibly tasty to eat.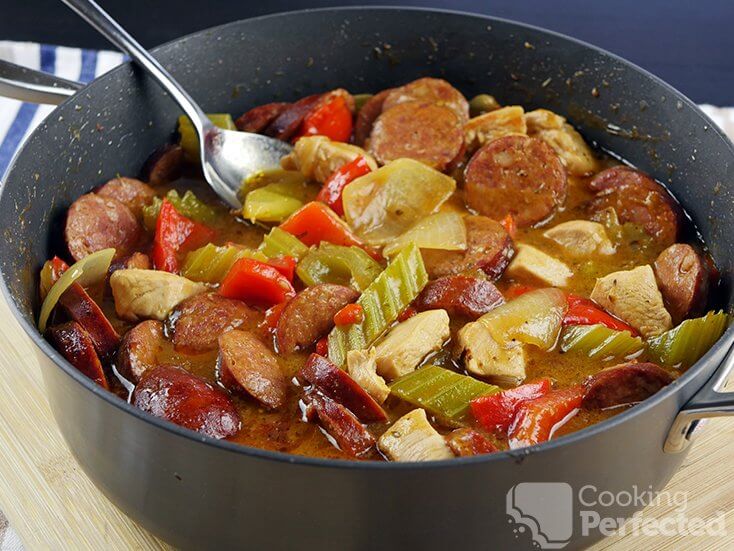 A typical gumbo is loaded with flavor thanks to the wide range of vegetables, meat, and seasonings used. In this recipe, I make use of chicken, chorizo, celery, bell peppers, onion, and much more. It is hard to go wrong with this delicious dish.
This dish is essentially a one-pot meal. So, it is perfect if you do not want to make a large amount of washing up, but you still want an incredibly good tasting soup.
Make sure you do not throw out the leftovers as they will keep fine in the fridge for a few days. The leftovers reheat surprisingly well, so it is perfect if you need a quick and easy lunch the next day.
I love to make an oven-baked bread pudding to have for dessert after this delicious soup. It is the perfect way to finish this delicious meal.
What to Serve with Gumbo
Gumbo can be eaten just by itself but also goes great with a wide variety of accompaniments.
You can serve gumbo over some freshly cooked rice. Personally, I tend to cook rice in a rice cooker as it is much easier than doing it over the stove. For something a little healthier, you can try making cauliflower rice instead of regular rice.
Fresh, crunchy bread to dip into the gumbo is a great way to experience this delicious dish. I love to make some homemade garlic bread as it matches quite nicely with the flavors of the gumbo.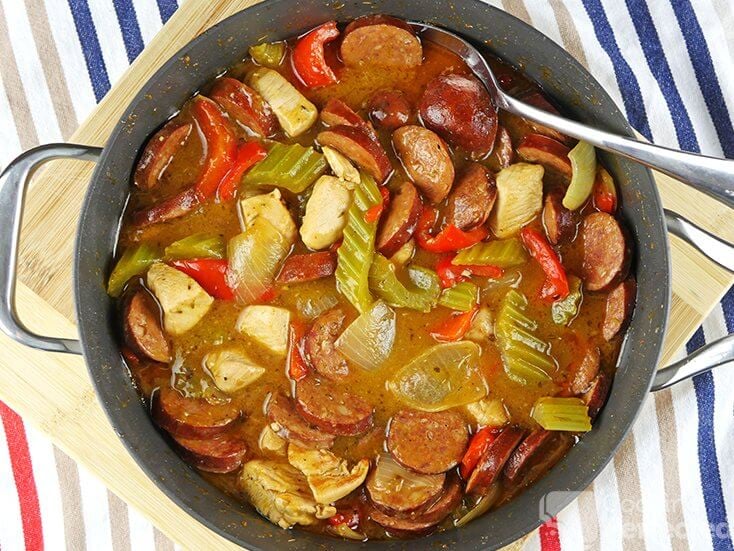 A potato salad is a typical side dish for Cajun food. It typically consists of mayonnaise, red potatoes, mustard, pickle relish, and a touch of paprika. However, most potato salads will work just fine.
Some homemade cornbread also goes nicely alongside this delicious dish. I love to make it from scratch, but you can sometimes find it for sale at bakeries and supermarkets.
Personally, I find that this gumbo is perfect just by itself, but having some rice or bread would be a great way to bulk out this recipe.
Adjusting the Recipe
Prawns are a perfect addition to a gumbo if you are looking for something extra to add. Only add these at the end of cooking to prevent them from overcooking and becoming like rubber. They should only need about five to ten minutes of cooking.
Okra is very hit and miss, and it can be hard to find in some countries. If you can get your hands on some, then it is well worth adding it to the dish. One cup of chopped okra should be more than enough.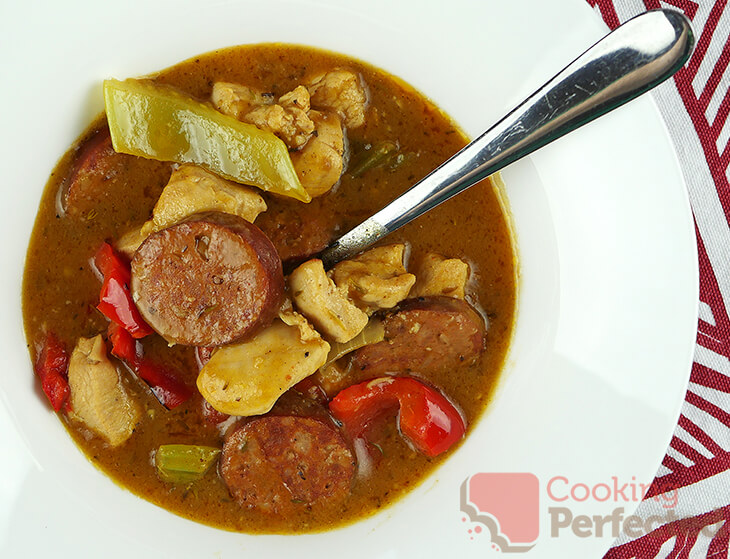 Other combinations of meat can be used if you do not feel like chicken and chorizo. Gumbo is sometimes made with duck meat, beef, rabbit, crab, oysters, or even fish. Feel free to experiment a little to get the best combination.
If you want to see how to make this delicious gumbo dish, then be sure to check out the video below. Alternatively, you can find the full detailed recipe right under the video.
Easy Gumbo Recipe
Ingredients
2 chorizo sausages, sliced
2 chicken breasts, cubed
2 Tbsp butter
2 Tbsp plain flour
1 onion, cut into chunks
2 tsp garlic, crushed
2 celery stalks, roughly chopped
1 red bell pepper, chopped
2 tsp Cajun seasoning
1 tsp thyme
2 cups chicken stock
Instructions
In a large deep pot over medium heat, add the chorizo, chicken, and cook until browned. Once browned, remove from the pot, and put them to the side.
Add the butter.
Once the butter has melted, add the plain flour, and cook for 2-3 minutes or until it is a brown color.
Add onion, garlic, celery, bell pepper, Cajun seasoning, thyme, and cook for 4-5 minutes.
Return the chicken and chorizo to the pot.
Stir in the chicken stock and bring to the boil.
Simmer for 20 minutes.
Season with salt and pepper.
Serve & Enjoy.
Recipe Tips
Constantly stir when making a roux, and do not walk away from it. Otherwise, it will likely burn, and you will need to start over. You may find a whisk easier when it comes to stirring it.
If you do not have any Cajun seasoning around, you can make it from scratch. You can also get the seasoning tasting perfect since you are able to adjust the ingredients.
You can get this gumbo cooking way ahead of time so the flavors can develop more. I recommend doing the gumbo in the slow cooker as it will gently cook over a few hours. It is a little different from this recipe but worth checking out if you love to slow cook.
Nutrition Information
Serving Size: 363g (12.8 oz)
Servings Per Recipe: 8
Calories Per Serving: 272
Amount Per Serving
Saturated Fat: 6g
Trans Fat: 0.1g
Dietary Fiber: 0.7g
Sugars: 1.6g
Cholesterol: 90mg
Sodium: 516mg
Protein: 24.9g
The information above is an estimate generated by an online nutrition calculator.
More Chicken Recipes
There are lots more chicken recipes that you can make. Below are a couple of my favorites that I highly suggest giving a try.
While a chicken and chorizo gumbo is amazing, you may be interested in something like the jambalaya. It is very similar to this dish but instead is a rice-based dish that is incredibly tasty. Well worth checking out if you love this sort of food.
For something a little different, I recommend making the crispy fried orange chicken. It is deliciously crispy pieces of chicken coated in a sweet orange sauce. I always get lots of positive comments whenever I make it at home.
I hope this easy gumbo works out to be as amazing as it did for me. If you come across any issues or have some feedback, then please do not hesitate to leave a comment below.