Back to Recipe
Print Recipe
Easy Gumbo Recipe
---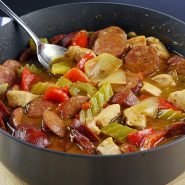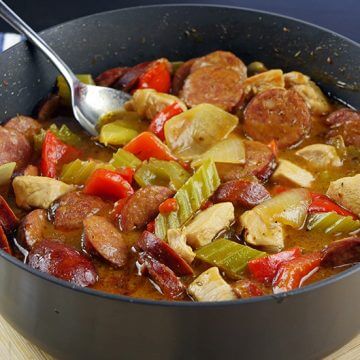 Prep time: 10 Minutes
Cook time: 45 Minutes
Total time: 55 Minutes
Serves: 4
Ingredients
2 chorizo sausages, sliced
2 chicken breasts, cubed
2 Tbsp butter
2 Tbsp plain flour
1 onion, cut into chunks
2 tsp garlic, crushed
2 celery stalks, roughly chopped
1 red bell pepper, chopped
2 tsp Cajun seasoning
1 tsp thyme
2 cups chicken stock
---
Instructions
In a large deep pot over medium heat, add the chorizo, chicken, and cook until browned. Once browned, remove from the pot, and put them to the side.
Add the butter.
Once the butter has melted, add the plain flour, and cook for 2-3 minutes or until it is a brown color.
Add onion, garlic, celery, bell pepper, Cajun seasoning, thyme, and cook for 4-5 minutes.
Return the chicken and chorizo to the pot.
Stir in the chicken stock and bring to the boil.
Simmer for 20 minutes.
Season with salt and pepper.
Serve & Enjoy.
---
Recipe Tips
Constantly stir when making a roux, and do not walk away from it. Otherwise, it will likely burn, and you will need to start over. You may find a whisk easier when it comes to stirring it.
If you do not have any Cajun seasoning around, you can make it from scratch. You can also get the seasoning tasting perfect since you are able to adjust the ingredients.
You can get this gumbo cooking way ahead of time so the flavors can develop more. I recommend doing the gumbo in the slow cooker as it will gently cook over a few hours. It is a little different from this recipe but worth checking out if you love to slow cook.
Did you make this recipe?
We want to see! Tag
@cookingperfected
on Instagram or use the hashtag
#cookingperfected
so we can find you!
---