This gluten-free cornbread cooks to be soft, moist, and loaded with flavor. It's the perfect bread to have as an accompaniment to another dish.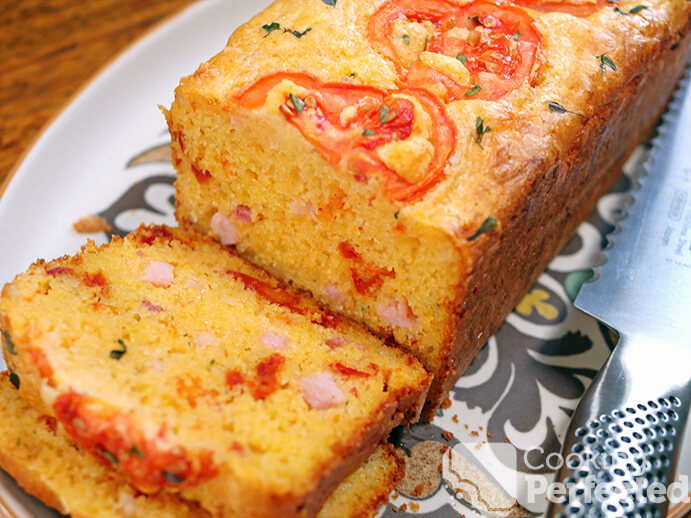 This bread has delicious bits of bacon and semi-dried tomatoes throughout it that help pack it with flavor.
The mixture will have a moist, cheesy taste with a slight hint of cornmeal. It's a delicious combination that has you going back for seconds, thirds, or even fourths.
Serving the Cornbread
I prefer this cornbread with another meal such as a delicious broccoli cheese soup. With that said, it's excellent for breakfast just on its own or with bacon and eggs. You could even make an egg in a hole using cornbread instead of regular bread.
A single loaf of this cornbread should be able to feed roughly four to six people. The number of people can vary depending on whether you are eating it with something or how hungry people are. Luckily it is very easy to make multiple loaves if you need to feed a crowd.
Personalize this Cornbread Recipe
There are quite a few slight changes that you can make to this recipe, so it's more to your liking. I will suggest a few changes that you can make.
Mix up the type of cheese that you're using for a completely different flavor. For example, you could replace a quarter of the cheddar cheese for blue cheese. It's worth giving a try, especially if there is a cheese that you're very fond of.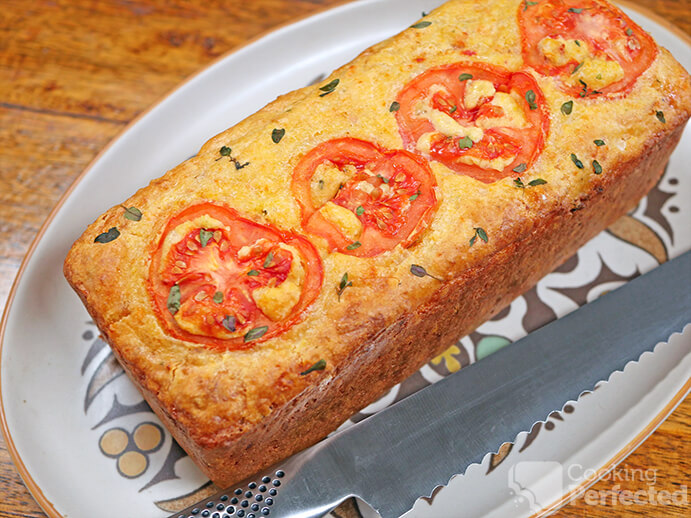 Different types of bacon will add different flavors to this cornbread. For example, you can try using some maple glazed bacon. The maple bacon will add a lovely maple flavor to the bread.
Semi-dried tomatoes can be swapped for regular tomatoes. You do lose a bit of flavor, but it's still a delicious loaf of bread.
Try not to get too experimental with different flavors as it might end up ruining the bread. I love the recipe as is so don't recommend changing it unless you really want to.
How Long Does Cornbread Last?
This particular cornbread recipe is best eaten as fresh as possible. I love eating it when it is still lovely and warm from coming out of the oven. It's so good with some butter spread on it.
Even though it's best fresh, you can store the bread for up to two days. Make sure you tightly wrap the bread in plastic as it doesn't take long for this bread to become a bit dry and stale.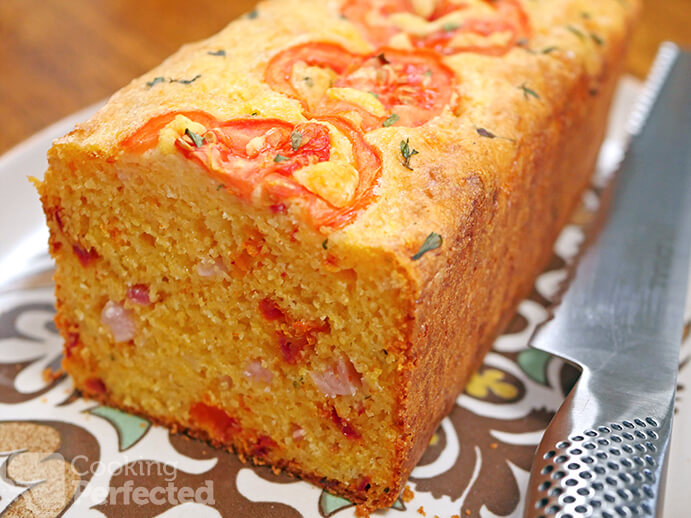 If the bread does become a bit stale, try toasting it and spreading it with a little bit of butter. It's a pretty good combination.
The recipe for making this gluten-free cornbread from scratch is right below.
Gluten-Free Cornbread Recipe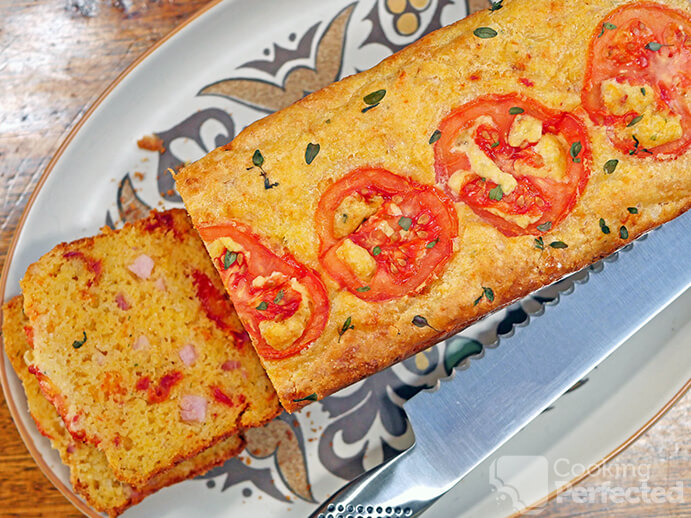 Ingredients
150 g (5.3 oz) gluten-free self-rising flour
1 Tbsp caster sugar
2 tsp baking powder
1 tsp salt
110 g (3.9 oz) fine cornmeal
120 g (4.2 oz) cheddar cheese, shredded
100 g (3.5 oz) bacon, chopped
100 g (3.5 oz) semi-dried tomatoes, chopped
1 tsp thyme, chopped
2 eggs, beaten
250 ml (8.5 fl oz) milk
80 ml (2.7 fl oz) olive oil
1 tomato, sliced
Instructions
Preheat an oven to 180°C (350°F). Also, line a 20×10 cm (8×4 in) loaf tin with baking paper.
In a bowl, gently combine the self-rising flour, sugar, baking powder, salt, cornmeal, cheese, bacon, semi-dried tomatoes, and the thyme. Make a well in the middle.
Add the eggs, milk, and oil into the well. Gently mix until well combined.
Pour the mixture into the prepared loaf tin.
Layer the top with the sliced tomatoes and sprinkle with some thyme leaves.
Bake for 45 minutes or until a skewer comes out clean.
Remove from the tin and allow to cool slightly on a wire rack.
Serve & Enjoy.
Recipe Tips
If the middle of the cornbread is still uncooked, but the top is starting to burn, then place some aluminum foil over the top. This method will allow the bread to continue to cook but help prevent the top from burning.
This recipe uses raw bacon, but you can use crispy cooked bacon instead.
Polenta and cornmeal are the same thing so you can use either one.
Nutrition Information
Serving Size: 172g (6.1 oz)
Servings Per Recipe: 6
Calories Per Serving: 452
Amount Per Serving
Saturated Fat: 4.4g
Trans Fat: 0.1g
Dietary Fiber: 2g
Sugars: 5g
Cholesterol: 66mg
Sodium: 1488mg
Protein: 13g
The information above is an estimate generated by an online nutrition calculator.
More Recipes Worth Trying
There are so many more recipes that you might like. I will go through just some of my favorites that I highly recommend you give a try.
The gluten-free banana bread is something that you need to try. It's a delicious sweet bread that's perfect as a dessert or breakfast. I'm a huge fan of it as I always have loved a loaf of good banana bread.
If you're planning on making a curry, then some fresh naan bread always goes down well with it. I highly recommend that you give our recipe a go as we have always had such huge success making it. I always end up eating too much, but it's totally worth it.
Gluten-free diets can force you to miss out on lots of amazing meals. I highly recommend giving this pizza dough recipe a go if you're missing a delicious tasting pizza base. It's a go-to recipe for our household.
I really do hope that you enjoy this gluten-free cornbread as I certainly found it to be delicious. If you have any feedback, tips, or something else that you would like to share, then please don't hesitate to leave a comment below.